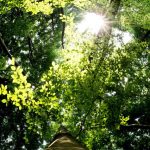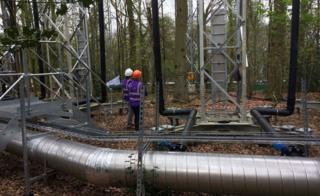 An industrial-scale experiment in a Staffordshire forest will help fill gaps in knowledge about climate change.
The project has created an outdoor laboratory by encircling trees with 25m masts gushing high levels of carbon dioxide.
The site is surrounded by a 3m anti-climb fence, and silvery tubes snake along the forest floor in what looks like a sci-fi alien invasion.
The scientists behind the experiment want to find how forests will respond to the levels of carbon dioxide expected in the atmosphere by the middle of the 21st Century.
That means full lab conditions: no food and drink in the woods, and no relieving yourself behind a tree.
Carbon locked up
The role of plants in taking up CO2 is one of the known unknowns in climatology. CO2 is a plant fertiliser and researchers think that as levels increase the trees will fix more of it into their trunks, roots and organic matter in the earth.
But they believe the fertilizing effect will be limited over time by other factors such as lack of nutrients, lack of water and rising temperatures.
Humans and forests currently participate in a mutually beneficial exchange in which trees are fed by increasing CO2, and the trees in turn lock up carbon that would otherwise remain in the atmosphere, heating the planet.
Trees are estimated to be storing between a quarter and a third of the carbon produced by burning fossil fuels, and the earth is becoming greener as a result.
One of the great imponderables in climate science is how long forests will continue to buffer climate change as CO2 levels continue to spiral.
The lead scientist in the woodland, Professor Rob Mackenzie, from Birmingham University, agreed that scientists had previously under-estimated the amount of carbon trees would fix.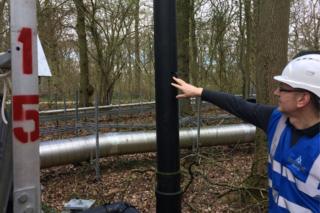 But he told BBC News: "We are confident that trees will continue to take in more CO2, though we are quite sure that there will be other things that will start to limit that. Rising temperatures will (also) change the ability of plants (to absorb CO2) – they are adapted to current temperatures."
Some scientists argue that the tree fertilization effect offers a reason to be less pessimistic about the effects of increasing CO2.
But Professor Mackenzie disagreed: "Not at all, not at all. The land is providing us with a fantastic free service by taking up carbon, and there are uncertainties about how much carbon is going into the land but there is no chance that will offset hazardous climate change."
Hunting ground
The experiment he is leading will be one of four in different countries measuring the effect of CO2 on trees in the forest environment.
It is the first of its kind in Europe.
The woodland, named Mill Haft, is part of the former hunting ground of the Earl of Lichfield.
It covers 25 hectares and is thought to have been under continuous tree cover for more than than 300 years. The dominant species is the English oak, Quercus Robur, of around 160-180 years.
Experiments in the woods will also examine the effects of CO2 at 550ppm levels on the whole ecosystem including leaves, soil, insects and diseases.
Professor Mackenzie said: "The impact of changing CO2 should show up in the leaf chemistry of exposed trees within days, and in the soil within weeks.
"Within three years stem growth, canopy structure, and a host of other structural forest elements should be different in the patches exposed to elevated CO2.
"Continuing out to 2026, the 'push' provided by the elevated CO2 will pass through all the checks and balances of a mature forest ecosystem, allowing, as each year passes, increasingly better estimates to be made of the extent and capacity of the land carbon sink in 2050 and beyond."
Stuff of dreams
He said his experiment might reveal other intriguing effects. So trees in a mature forest, in which intake and release of CO2 are in balance, might adapt to high CO2 levels by reducing their pores, which in turn would make them more tolerant to drought.
Professor Mackenzie describes the extraordinary site as "a scientist's dream all my Christmases come at once."
Scientists say it is vital to obtain more certainty about how much CO2 rises will be buffered by the sea and land.
Optimists hope that the ability of the natural world to soak up carbon can buy time for humans to wean themselves off fossil fuels.
A recent study estimated that the growing season had been extended on 25%-50% of vegetated land, largely as a result of more available CO2.
Carbon gesture
One of the co-authors, Professor Ranga Myneni from Boston University told BBC News: "Experiments do indicate a fertilization effect (from CO2) and higher water use efficiency. The same experiments also indicate diminishing effects over time.
"We do not know how much of what we observe in experiments translates into the real world. Much of this has to do with how nutrient limitations would play out when CO2 becomes abundant.
"Personally, I would not buy the fertilization benefit for the price of global warming and all the impacts that this warming implies, including global warming, loss of sea-ice, rise in sea level, severe storms and loss of biodiversity."
The experiment site in Staffordshire has been funded by a Birmingham alumnus and philanthropist, Professor Joe Bradwell, who made money selling diagnostic medical kits developed at the university – mainly in the US.
Professor Mackenzie said Professor Bradwell calculated that to offset his carbon footprint he needed to plant 300,000 trees – and the research project was part of his commitment.
Follow Roger on Twitter @rharrabin
Read more: http://www.bbc.co.uk/news/science-environment-39472425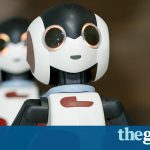 New report shows automation is already causing losses, depressing wages and likely to have lasting, devastating effect.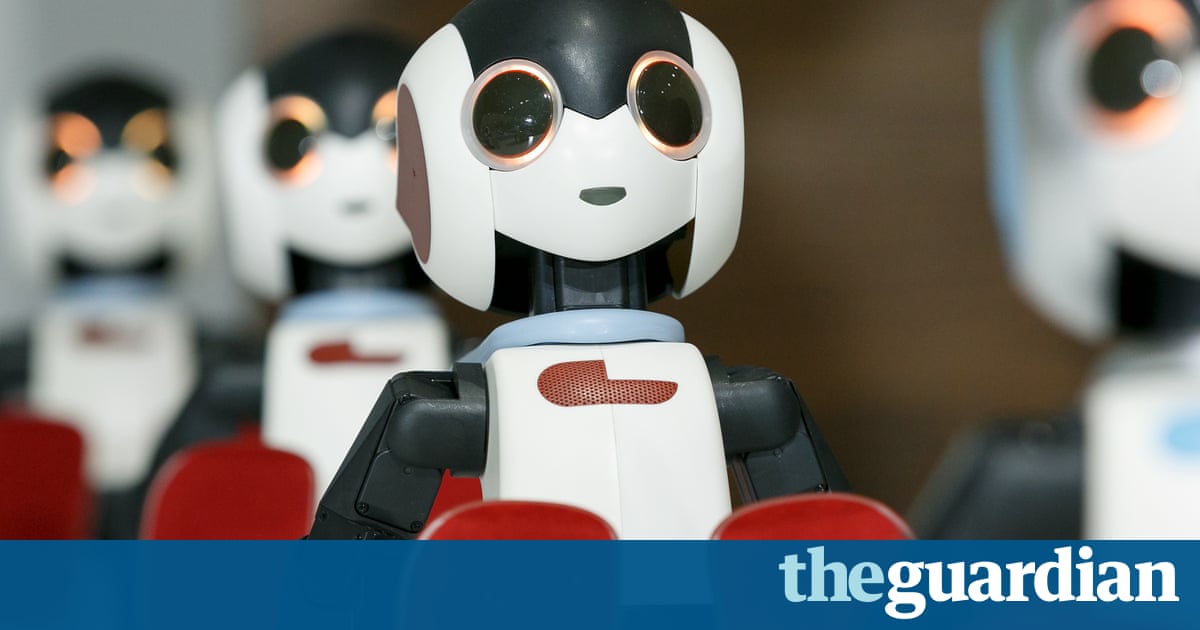 In 2013, the Oxford Martin School released a report that looked at the automation of work, assessing the likelihood that robots and other technologies would replace humans. It concluded that of the 702 job categories examined, 47% were susceptible to automation within the next 20 years. The report completely upended our ideas about the future of work.
Now, a new report by the National Bureau of Economic Research (NBER) in the United States is set to be an even bigger wake-up call. Written by economists Daron Acemoglu (MIT) and Pascual Restrepo (Boston University), it not only adds support to the Oxford Martin conclusions, it actually suggests the jobs are already lost and unlikely to come back.
It contends that in the US between 1990 and 2007, the addition of each robot into manufacturing industries resulted in the loss, on average, of 6.2 human jobs. It also suggests automation depressed wages by between a quarter and a half of one per cent. Using this approach, the report says, we estimate large and robust negative effects of robots on employment and wages across commuting zones.
There is another important insight: these jobs losses and lower wages are likely to have a lasting and devastating effect. Author Daron Acemoglu told the New York Times that, even if overall employment and wages recover, there will be losers in the process, and its going to take a very long time for these communities to recover. The market economy is not going to create the jobs by itself for these workers who are bearing the brunt of the change.
These are game-changing findings, so let me put them into context of the overall debate.
There has been a rather unproductive back-and-forth over whether or not robots are going to take our jobs. This dead end approach was something I warned about in my book Why The Future Is Workless when I wrote, Lets not go down the same route we have with climate change and mindlessly divide ourselves into camps of sceptics and advocates. Lets instead bypass the ultimately futile argument about whether or not robots will take our jobs (they will) and make the imaginative leap, together, into a workless future that can liberate us all.
Much of the argument has rested on the claim that technology ultimately creates as many jobs as it destroys (an approach that author Calum Chace calls the reverse Luddite fallacy).
Probably the most influential proponent of this argument is MIT economist David Autor. His important paper, Why Are There Still So Many Jobs?, although careful to allow for the fact that past behaviour is not always a great predictor of future outcomes, nonetheless notes that journalists and even expert commentators tend to overstate the extent of machine substitution for human labor and ignore the strong complementarities between automation and labor that increase productivity, raise earnings, and augment demand for labor.
As recently as last week, Australian economic commentator, Ross Gittins, ran a similar line in a strongly worded piece decrying so-called futurologists for scaring everyone about job losses. He wrote, improving the productivity of a nations labour increases its real income. When that income is spent, jobs are created somewhere in the economy. Technological advance doesnt destroy jobs, it displaces them from one part of the economy to another.
This claim, of course, was always as much a guess about the future of work as anything offered by dreaded futurologists, but the point is, the NBER report makes it even more tenuous than it was. In fact, Acemoglu and Restrepo specifically argue there is little evidence of new jobs being created, saying the results indicate a very limited set of offsetting employment increases in other industries and occupations.
What lends the NBER report added authority is it doesnt rely on modelling to predict what robots are likely to do to jobs in the future, but on hard data to look at what robots are already doing to jobs in the present. The results are so startling that even the authors were surprised, having previously taken a much more sceptical line.
So where does this leave us? Well, we need to keep things in perspective. The future of work is a hugely complex issue, social and political as much as technological, and one new report, however important, hardly settles the matter. Nonetheless, Acemoglu and Restrepos findings do give us a new baseline for our discussions.
In so doing, they will likely reanimate calls for a universal basic income, because if there really are fewer jobs, we are going to need new ways of distributing wealth.
The report also challenges the neoliberal tenet that unregulated markets are a surefire way to full employment, and it can reasonably be taken to imply a large role for governments in managing the change that is coming. Additionally, it undermines the persistent claim that technology will create enough jobs in the future because this is what happened in the past.
Most importantly, the results suggest politicians and others who carelessly promise jobs and growth need to stop waffling and start taking seriously the fact that the future of work is going to be a very different beast to the past and present of work. We are likely to face not just different sorts of work, but far fewer jobs.
How we respond to this reality will be a huge test for our democracies, and this report is an important contribution to the ongoing debate.
Read more: https://www.theguardian.com/sustainable-business/2017/mar/31/the-robot-debate-is-over-the-jobs-are-gone-and-they-arent-coming-back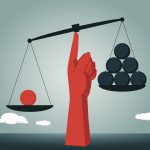 As global poverty continues to decline, another issue emerges. According to the World Economic Forum, rising income inequality and the polarization of societies pose a risk to the global economy, and may lead to increased polarization and lack of political stability.This, however, is not a global problem. In developing countries, inequality is decreasing and the amount of people living in extreme poverty is at an all-time low. Mobile technology is contributing to financial inclusion in countries without an established financial infrastructure, and global markets create trade opportunities.
However, the increase in inequality is affecting high- and middle-income countries, as labor-saving technology has replaced many blue-collar jobs that paid well. Those workers have had to switch to retail and home healthcare jobs, where the pay is typically lower.
The disparity between the rich and everyone else is larger than ever in the United States, and few places is this skewed wealth distribution more visible than in and around Silicon Valley. The chasm between tech multi-billionaires and the rest of the population in Northern California where an estimated 31 percent of jobs pay $16 per hour or less and the median income in the U.S. today is about the same as it was in 1995 has led to the conclusion that the tech sector is greatly contributing to increased inequality.
According to The Second Machine Age, by Erik Brynjolfsson and Andrew McAfee, this has been a slow train coming since the 1980s, when the PC invaded offices and homes. This change has gathered momentum ever since, and the exponential nature of technology is now accelerating this development. While technological innovation has replaced jobs for decades, it has always created more jobs than it has destroyed.
The next wave of intelligent automation will strike hard at another portion of the middle class: Classic middle-income white-collar jobs, such as bank tellers, insurance underwriters, loan officers and case-file workers. Basically, every job that includes following the rules and making few decisions. In the banking sector alone, thousands of jobs are at risk of being decimated through the use of artificial intelligence to perform tasks that were previously considered too complex for automation. At last years World Economic Forum in Davos it was stated that artificial intelligence is ushering in the fourth industrial revolution, which will change society as we know it. According to a recent report from McKinsey, half of the worlds jobs could be automated by 2055.
The winner-takes-all dynamics of the digital economy is contributing to strongly monopolistic markets, where companies like Facebook, Google, Apple and Amazon are disintermediating incumbent industries.
Blaming technology is merely an excuse to abdicate responsibility.
Some may argue that platforms like Uber are generating new income opportunities, but a recent court ruling where Uber was fined $20 million for misleading drivers with inflated wage statistics tells a different story. Sharing has little to do with caring in the sharing economy, and has more in common with quasi-monopolies where freelancers must compete in a hyper-competitive environment by the grace of the platform not so different from vassals in the feudal system.
Advancements in gene editing and biohacking, human augmentations and longevity is posed to enhance our lives, but may also lead to a new class divide, where an elite class emerges through both physical and mental upgrades.
While it is tempting to name technology as one of the main culprits for the rise in inequality, blaming technology is merely an excuse to abdicate responsibility.Technology does not cause income disparity, but enables increased efficiency and wealth creation. The problem is how we choose to distribute the wealth and benefits of increased efficiency. So far, we are not really doing a good job in this department.
As technology replaces human work, we should also give everyone a share of the benefits gained by increased productivity, the same way Finland is trialing universal basic income for all citizens. in order to equalize wealth distribution, both Bill Gates and Mark Zuckerberg have pledged to donate 99 percent of their fortunes to charity, and are encouraging others to do the same.
We have faced economic and social revolutions before, with the invention of the steam engine and mass production, and, just like the Luddites were sabotaging machinery in the Industrial Revolution, technology has always been considered a threat to social stability. Many may be claiming that this time is different, and they are completely right. Every time has been different, but we have still managed to transition successfully.
Read more: https://techcrunch.com/2017/03/29/is-technology-contributing-to-increased-inequality/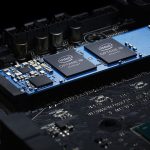 Intel is ready to unleash Optane.
If you've ever waited for a webpage to load, took a lap around the office while your computer rendered 4K video or watched in dismay as your favorite video game stuttered to life, you know that computers are struggling to keep up with all the data.
Intel isn't down with that. On Monday, the chip maker announced the ship date for Optane, a memory module that can change the data game. It takes the speed and fluidity of RAM and combines it with the storage capabilities of Flash memory.
"Storage needs dramatically increased over the last several years," said Intel Client Computing Group SVP Navin Shenoy who caught up with me to explain why Optane (unveiled at CES 2017) is a potential game-changer for computer users.
Working with system software, Optane can pre-cache frequently-used apps, which means they could load almost instantly. Even with system power turned off, the information remains (like a hard drive), and can be retrieved the moment the system is powered back on.
Since a lot of that information will be the core bits of the operating system your computer needs to run, boot times could be much, much faster.
There's a ton of data and not all of it is living in the cloud. According to Intel, 79% of the desktop market still uses a hard drive. Hard drives are great for data storage but not very efficient data movers (delivering data in milliseconds, as compared to memory's nanoseconds). And with more data, heavier webpages, 8K, HDR and an explosion in high-end, livestream gaming, the situation is only going to get worse.
Ten years in the making, Optane is not "incremental innovation," said Shenoy, adding that it represents a fundamental shift in memory technology.
Optane memory breaks with the near 50-year tradition of using transistors and charge to determine ones and zeros, explained Intel Senior Fellow Al Fazio. In the case of Optane memory, "We dont use transistors. We change the resistance of material to store ones and zeros," he said.
Essentially Optane memory uses material that stores information based on the state of atoms.
Fazio called it a "breakthrough in materiel science and physics" and one that Intel honed until they could achieve the performance and storage density necessary to make commercial products.
Optane memory also comes at a potential turning point in the personal computer market. After years of decline, the market has seen something of a design and market resurgence. IDC reported a rare jump in PC revenue growth for the last quarter of 2016. Those numbers have not gone up in years.
Optane modules promise to, according to Intel, dramatically speed up most of our core computer activities. Users will get, the company claims, a 28% overall system performance boost, plus:
Microsoft Outlook will load 6x faster
Chrome 5x faster
Games will launch up to 67% faster
It will, however, be weeks, if not months, before systems start shipping with integrated Optane memory modules. Optane is designed to work with Intel's Core i7 CPUs, which only just began shipping. Optane is not designed to work with all the Core i6 motherboards sitting inside many of today's desktops and laptops. In other words, an upgrade to Optane is likely a full-system upgrade.
Shenoy told me manufacturers like Acer, Asus, HP, Dell and Lenovo plan to ship pre-configured Optane desktops starting in the spring. Microsoft, which makes its Surface line of laptops and desktops, is not currently on the Optane adoption list. Nor is Intel customer Apple.
Optane memory may only be the beginning of a golden age of super-fast personal computing. Intel already has Optane storage and, according to Fazio, the lines between storage and memory will further blur. "The ultimate vision is where you bring Optane directly into memory buses and have the concept of persistent memory."
The modules, 16 GB ($44) and 32 GB ($77), will be available in April, but you'll need an Optane-compatible motherboard to use them. Shenoy told me there are already 130 compatible motherboards on the market.
Read more: http://mashable.com/2017/03/27/intel-optane-memory-ship-date/

Bryony Cole wants women to build the sex tech future they want.
Image: Shutterstock / WhiteHaven
We built the internet, we got online porn. We invented haptic engines that can automatically convey a remote sense of touch, we got teledildonics.
Technological advances and the shifting of sexual boundaries are intertwined, and this is the world Bryony Cole tackles on her podcast, Future of Sex.
After a career in technology, including a stint at Microsoft, she was fascinated by the way digital platforms were entering the bedroom. "I made it my mission to uncover what the hell was going to happen to our intimate lives," she laughed. And why not in audio-form?
Since October, she's spoken to industry leaders including Stephanie Alys, the excellently-titled chief pleasure officer at toy company, Mystery Vibe, as well as Cindy Gallop, creator of the site Make Love Not Porn, which shares videos of real people having sex.
In Brisbane, Australia, to address the Myriad startup festival (her speech was unfortunately rained out by Cyclone Debbie), Cole argued there's an enormous opportunity for women to take the lead in sex tech, and to move away from male-focused porn and cheaply manufactured intimate products.
"Finally, we're talking about female sexual health and female pleasure where we've never really done it before," she said. "We have examples of vibrators that match to erotic literature on your iPad, or we have vibrators that look like beautiful necklaces or pieces that could be in a gallery.
"There's a real focus on beautiful high-end design, but also the emphasis on research and engineering that never really was going into things like sex toys before."
Take Dame Products, which launched its Fin vibrator on Kickstarter in 2016. Founded by Alexandra Fine and Janet Lieberman, with backgrounds in sexual health and engineering respectively, the pair create small, elegant products with a focus on female pleasure.
Still, there's work to be done. Virtual reality porn, Cole argued, is still mostly shot from the male angle. "There's probably just a handful that exist from a female point of view. It's not quite there yet," she said.
Despite this gap in the market, Cole is particularly excited about the role VR can play in sex education. She pointed to BaDoink VR and one of its popular pieces of content, a program called Virtual Sexology. Developed with the help of marriage therapist Hernando Chaves, it's intended to help users learn bedroom skills as well as relaxation and confidence.
"You see VR being used for education in science and history already, so it makes sense that it would move over to sex education," Cole added. "It's nothing to do with the porn category, but people are hungry for information."
Despite the innovation and openness, Cole admitted some sex tech ideas remain partially taboo. There are plenty of questions to be asked about lab-grown genitals, for example, and while robot sex and sex dolls are themes explored by TV shows like Westworld, they're not the distant fantasy the Hollywood treatment may present them as.
In a Mar. 29 podcast episode, Cole spoke to the creator of RealDoll, Matt McMullen, whose company offers customised companions with highly realistic genitalia.
McMullen said his team are working on adding artificial intelligence to the dolls, a development that could see the dolls, mostly cast as female, become quasi-intelligent beings built for sex.
"What we're doing is developing an app that will allow a user to create a custom personality profile for an artificial intelligence," he said on the show. "The AI can be connected to the robotic components we're going to be introducing to the doll, including animated head, facial expressions, eye movement … face tracking, facial recognition."
While the basis of the AI is "really rather genderless," he admitted the introductory version will likely be female, as most of its dolls are sold as women.
If this makes you uncomfortable, you're not alone. As sex tech develops, the industry will have to ask if sexism and racism, not mention invasive corporate practices, are being hardwired into the algorithms and robotics that govern our most intimate moments. After all, internet-connected vibrators have already been caught and fined for data-mining users.
That's where Cole hopes the Future of Sex will come in to help you make sense of these sexual frontiers. As the podcast says, "Real talk. No b*******. That's the future of sex."
WATCH: SpaceX changed the space flight game and Elon Musk is beyond giddy
Read more: http://mashable.com/2017/04/02/future-of-sex-podcast-bryony-cole/