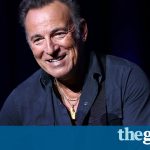 The Boss speaks out against Trump, and opens up about his approach to parenting, at an event in London to promote his autobiography, Born to Run.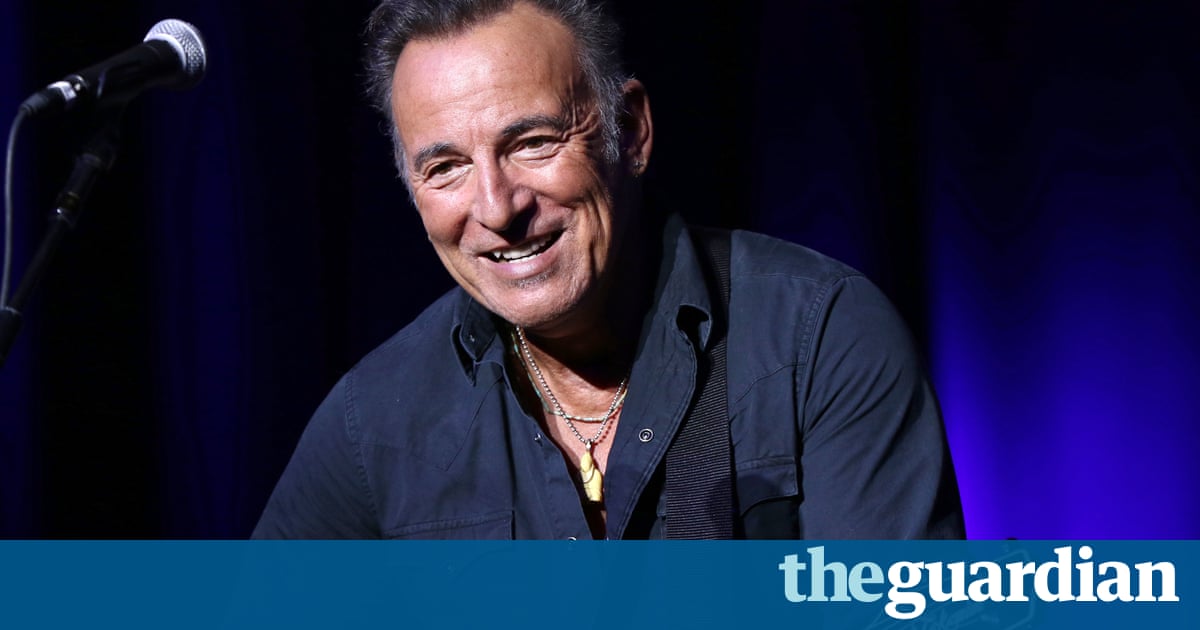 Bruce Springsteen has again condemned Donald Trump, with less than a month before the US presidential election. Springsteen, who had previously called the Republican presidential candidate a moron, told an audience in London: Its a terrible thing thats happening in the States. Hes undermining the entire democratic tradition.
Springsteen was speaking at an invitation-only event for European press at the Institute of Contemporary Arts in London to promote his autobiography, Born to Run. When asked by host Antoine de Caunes to explain to Europeans the appeal of Trump, Springsteen replied: Nobodys been able to explain that.
Springsteen also paid further tribute to Bob Dylan, following the latter winning the Nobel prize in literature. Like a Rolling Stone was the first time I heard a version of my country that felt naggingly real, he said. Long after all of us are forgotten, Bobs work is going to be ringing out loud and clear. He contrasted Dylans writing favourably with his own work: Bobs certainly a poet. Im a hardworking journeyman.
Born to Run dealt extensively with Springsteens family, covering not just his relationship with his parents and grandparents, but also the changes parenthood had wrought on his own life. He said the final section of the book, writing about everyone you know now, was the hardest to write. I showed my kids the things I wrote about them, he said. Patti [Scialfa, his wife] and I discussed that section of the book and she didnt change anything, [though] she wasnt necessarily comfortable with everything. There were some things I wasnt comfortable with myself. But she gave me a lot of room to explore.
Discussing how his troubled relationship with his father had affected his own parenting, he spoke of how people honour their own parents by trying to steer away from the things they had difficulty with and by passing on the things they did well. The difficult thing was not having a role model to pass on what it meant to be a good parent, he said. That meant being a father did not come naturally: the suspension of deep personal time; the giving over of yourself at any moment of the day. I was used to my work taking over my time. It was my sacred space. To have Hey! I need a ride to Billys house, was something it took me a while to get used to. But I have a good relationship with my kids. I wouldnt say I was perfect, but I did OK.
He spoke, too, about how playing live had helped him cope with the depression that had struck him at intervals over the past 30 years. Playing such long sets Springsteen routinely goes well past three hours when performing with the E Street Band meant he would be too tired to be depressed. To be depressed you need to have certain amount of energy, to go hunting through the weeds. Theres also a great centring element that wards off [the effects of depression]. It hardens your centre; that wards off self doubt and the unproductive questioning that comes with depression.
Read more: https://www.theguardian.com/music/2016/oct/17/bruce-springsteen-donald-trump-undermining-democratic-tradition-book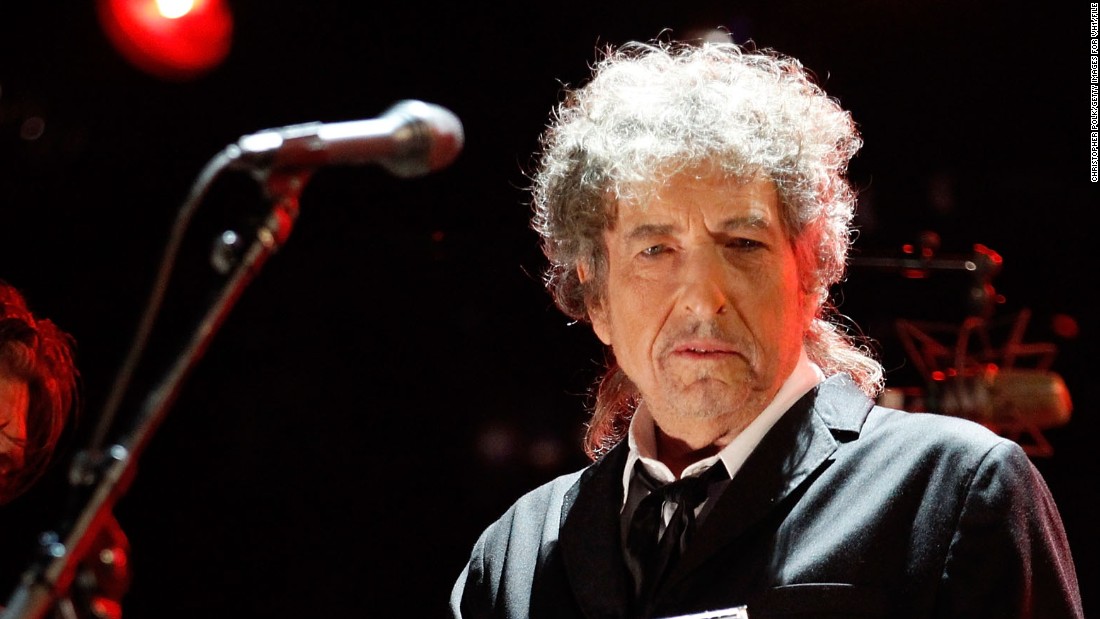 (CNN)Minutes from the Royal Swedish Academy Meeting, Stockholm, Sweden
Date: October 18, 2016
Subject: Bob Dylan
Elsa calls the 10 a.m. meeting of the Royal Swedish Academy to order.
"What's the status of the 'Dylan situation'?"
"Not good, Elsa," Viktor responds.
"How many times have we called him in Malibu?"
"Too many to count," Ludvig (the academy's secretary) says, popping his head through the open door on his way to get coffee.
Elsa taps her pencil against a yellow legal pad. "Any other ideas?"
Anton, already laughing uncontrollably, spits out his coffee into a napkin. "Erik, you gotta warn me first!"
The red telephone rings. Everyone freezes.
"Well, somebody answer it!" Erik says.
Elsa sets her pumpkin spice latte down and slowly reaches for the phone. "Hello?" she says, pushing the "speakerphone" button.
"Hey, is this the Royal Swedish Academy?" says a familiar voice. The sound of waves crashing can be heard in the background.
"Yes," Elsa says. Her eyes widen. She looks around the room, locking eyes with each academy member one by one.
"I was just thinking … I have an idea for you," says the caller, seemingly trying to suppress laughter.
"Yes, go on," Elsa says. "We're listening."
"Well, I have an idea for who should win the Nobel Prize for Chemistry this year."
Academy members look at each other.
"It's my … my neighbor. He's five years old. He came up with a cool new drink called Blue Bonanza with his chemistry set!" The caller laughs for about 30 seconds. Sounds of a hand slapping a table can be heard amid the crash of the surf.
"Maybe this whole thing was a bad idea," Elsa says. "Move to table this discussion until tomorrow?"
"So moved," says Viktor.
"All in favor?" Elsa asks.
Everyone raises their hands. Academy members leave the room one by one. The caller continues to laugh. "How about the Peace Prize to my neighbor down the street, a divorce attorney who got the Johnsons to agree to mediation?"
Elsa, left alone, hangs up the phone.
10:30 a.m. Meeting adjourned.
Read more: http://www.cnn.com/2016/10/18/opinions/nobel-prize-wheres-bob-dylan-wheeler/index.html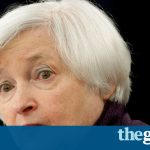 Three central bankers voted in favor of increasing rates amid easing risks of Brexit but experts still expect only one hike this year, after December meeting.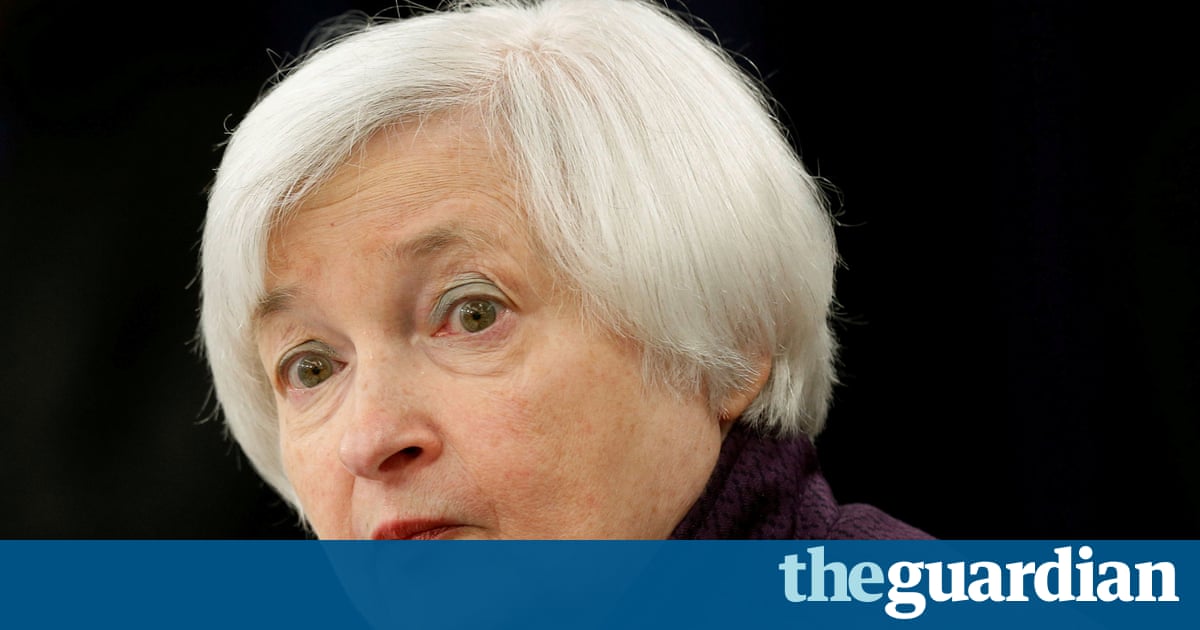 The Federal Reserves decision not to increase rates in September was a close call, the minutes released on Wednesday show. When the Federal Open Markets Committee (FOMC) met in September, three of the twelve members voted in favor of increasing interest rates as the US labor market continued to improve at a slower rate and the risks from Brexit, the UKs vote to leave the European Union, eased. Some members indicated that a rate hike might be appropriate relatively soon.
Up until September, Kansas City Fed president Esther George was the lone voice in favor of raising interest rates. Last month, she was joined by Cleveland Fed president Loretta Mester and Boston Fed president Eric Rosengren in her call to increase the target range to 0.50%-0.75%. The current range is 0.25%-0.50%, after it was increased last December for the first time in nearly a decade.
The FOMC which is the policy setting arm of the US central bank noted that the case for increasing interest rates has strengthened recently. After last years increase, the Fed was initially expected to hike rates four more times in 2016. With six FOMC meetings having come and gone, that forecast has now been revised down to just one rate hike. The Fed next meets in November, days before the presidential election, and once more in December.
Most economists expected the Fed to raise rates again in December, a year since its last hike.
Among the reasons for the delay were the continued slack in the labor market and inflation, which continues to run below the FOMCs 2% objective. According to the FOMC minutes, the majority of its members wanted to wait and see evidence of continued progress before hiking rates.
The majority of the members also agreed that the risks from Brexit had receded.
However, a few still judged that overall risks were weighted to the downside, citing various factors that included the possibility of weaker-than-expected growth in foreign economies, continued uncertainty associated with Brexit, the proximity of policy interest rates to the effective lower bound, or persistent headwinds to economic growth, according to the minutes.
The committee will continue to closely monitor global economic and financial developments.
On Tuesday, almost three weeks since the committees meeting, the pound recorded its worst four-day performance since the Brexit vote.
Those in favor of raising interest rates pointed to continuing job creation. September was the 78th consecutive month of private-sector job growth the longest streak of job creation on record. That month the US economy added 156,000 jobs even as the unemployment rate went up to 5%. The higher unemployment rate, however, was good news as it was a result of more people returning to the US labor market.
As the labor market has improved, people who were discouraged are coming back into the labor force, said William Dudley, president of New York Fed, on Wednesday. Thats allowing us to grow payrolls at a pretty decent clip without pushing down the unemployment rate.
The labor participation rate for September was 62.9%, up from 62.8% a month ago. In September 2008, when Lehman Brothers declared bankruptcy and the US economy shed 159,000 jobs, the labor participation rate was 66%. As the participation rate has remained near historic lows, the US Department of Labor has pointed out that a contributing factor are the many baby boomers who are leaving the labor market and retiring.
The central bankers voting in favor of a rate hike believe that the US labor market is nearing full employment, a condition where those willing and able to work are able to find jobs. According to these bankers, a further delay in raising the target range would unduly increase the risk of the unemployment rate falling markedly below its longer-run normal level.
Read more: https://www.theguardian.com/business/2016/oct/12/federal-reserve-minutes-september-interest-rates-hike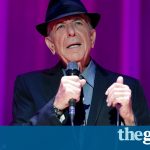 At an event in Los Angeles to launch his album, the 82-year-old singer-songwriter rows back on claims he was ready to die by saying he now wants to live for ever.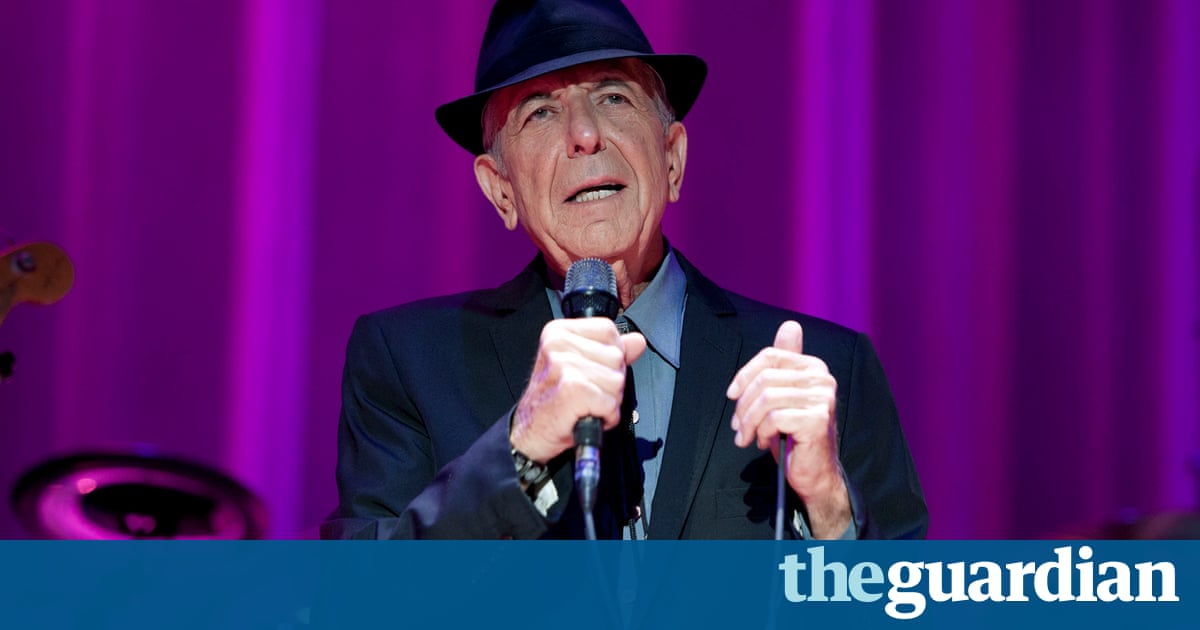 On Thursday, Bob Dylan was awarded the Nobel prize for literature, sparking controversy among musicians, novelists and fans. That evening in Los Angeles, his songwriting peer and friend Leonard Cohen gave his thoughts on Dylans award. To me, he said, [the award] is like pinning a medal on Mount Everest for being the highest mountain.
Cohen was speaking at a playback and Q&A for his forthcoming album, You Want It Darker. In a recent interview with the New Yorker, to the consternation of fans the 82-year-old had announced: I am ready to die. However, on Thursday evening seemed to have reconsidered his stance.
I think I was exaggerating, Cohen told the audience, according to Billboard. Ive always been into self-dramatization. I intend to live forever. At the end of the event, at which Cohen divulged his plans to release another pair of albums after You Want it Darker, the songwriter told the audience: I hope we can do this again. I intend to stick around until 120.
Cohen returned to the subject of Dylan when talking about the way he writes songs. I think that Bob Dylan knows this more than all of us: you dont write the songs anyhow, he said. So if youre lucky, you can keep the vehicle healthy and responsive over the years. If youre lucky, your own intentions have very little to do with this. You can keep the body as well-oiled and receptive as possible, but whether youre actually going to be able to go for the long haul is really not your own choice.
His own songs come slowly, he says: It comes kind of by dribbles and drops. Some people are graced with a flow; some people are graced with something less than a flow. Im one of those. He added: The fact that my songs take a long time to write is no guarantee of their excellence.
An ordained Zen Buddhist monk who nevertheless still cleaves to Judaism, Cohen has long explored religious themes in his work as has Dylan. Nevertheless, Cohen told the audience: Ive never thought of myself as a religious person. I dont have any spiritual strategy. I kind of limp along like so many of us do in these realms. Occasionally Ive felt the grace of another presence in my life. But I cant develop any kind of spiritual structure on that.
Cohen added: This biblical landscape is very familiar to me, and its natural that I use those landmarks as references. Once they were universal references, and everybody understood and knew them. Thats no longer the case today, but it is still my landscape. I try to make those references. I try to make sure theyre not too obscure. But outside of that, I cant I dare not claim anything in the spiritual realm for my own.
Read more: https://www.theguardian.com/music/2016/oct/14/leonard-cohen-giving-nobel-to-bob-dylan-like-pinning-medal-on-everest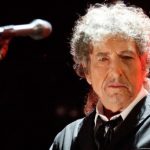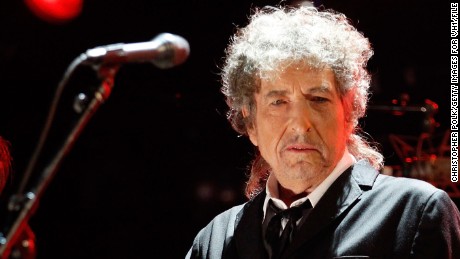 (CNN)For those who annually pay attention to such things (other writers, mostly), the Nobel Prize in Literature always offers an occasion for often-impassioned chatter over who won and, even more ardently, who didn't.
For every fan who delights over, say, Canadian Alice Munro being acknowledged by Stockholm three years ago for her long career achieving mastery of the short story, there are at least three or more spoilsports insisting that a Nobel Prize for American novelist Philip Roth and his formidable and influential body of work is long overdue.
This year? Hoo-boy.
Read more: http://www.cnn.com/2016/10/13/opinions/dylan-nobel-other-deserving-songwriters-seymour/index.html