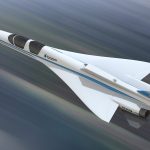 Boom has a new design for its XB-1 Supersonic Demonstrator jet, the working prototype aircraft it's creating to prove out its tech before beginning work on building real, commercial supersonic passenger aircraft. The new design was revealed Tuesday at the Paris Air Show, along with new business milestones: Boom has orders for 76 aircraft thus far, across five airline customers.
That's a lot of orders booked for an aircraft that doesn't actually exist yet, from a small startup, but you can tell why airlines are excited. Boom's promise is one of reducing flight time significantly on popular intercontinental business routes, with economics that will roughly match current business-class fares for travelers while offering sustainable economics for airplane operators at the same time.
The new design of the XB-1 includes refinements that the company says will offer better stability overall for the propulsion system and boost overall safety. Parts for the demonstrator had been undergoing stress testing recently, which has likely helped contribute to these design changes.
The most immediately apparent design change is the new, third inlet mounted on the tail, but there are other subtle changes to the wing and main body shape, too.
As for Boom's new bookings, the company notes that these reservations include non-refundable down payments, which will help with the bottom line in the near-term. And regarding what those will look like in production, Boom has offered up some concepts, including renders of luxury cabin appointments like lay-flat seats.
Boom is aiming to fly the XB-1 Demonstrator next year, first with subsonic tests near their HQ in Denver, then with supersonic flights to assess those capabilities at Edwards Air Force Base in Southern California.
Read more: https://techcrunch.com/2017/06/20/boom-has-orders-for-76-of-its-future-supersonic-passenger-jets/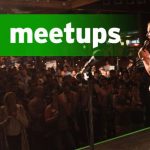 TechCrunch is headed to Seattle this Thursday for the annual Meetup + Pitch Off. And we are ready to announce our esteemed judges.
The pitch-off will consist of 10 startup companies presenting for 60 seconds on stage in front of TechCrunch Editors and tier 1 investors from the Pacific Northwest.
The winning team will get a free table at TechCrunch Disrupt SF Startup Alley this September. Second place gets two free tickets, and audience choice gets one free ticket.
Bummed you missed your chance to apply for the pitch-off? Fear not! TechCrunch has your back. We will randomly select 1 company from the audience to pitch their startup on stage as a part of the competition. So make sure to sign up for the meetup here.
And now for our fantastic judges:
Bill Bryant, DFJ
William K. (Bill) Bryant is a partner at DFJ. Bill has had early and instrumental involvement in more than 25 leading software, Internet, mobile, and digital media companies, as a founder, senior executive, investor, and board member. He has had founding roles with Visio (now part of Microsoft), Netbot (acquired by Excite), Qpass (acquired by Amdocs), Medio (Nokia), Mixxer, and Airworks. In these founding capacities, Bill drove definition of the core product and market strategy; raised >$150M in venture capital; recruited senior management teams; and built customer, partner and channel relationships in launching software products, Internet, and mobile services. Bill represents DFJ on the boards of Chef, Ping Identity, Yellowbrick, Reflect.io, Remitly and Bright Computing. In addition to his DFJ investments, he is an active angel investor with investments in Winshuttle, LiquidPlanner, Bonanza, and Socrata.
Linda Lian, Madrona Ventures
Linda joined Madrona in 2016 and works on identifying new investments and supporting the growth of Madronas portfolio companies.Linda loves working with passionate entrepreneurs to solve business challenges, evaluate options and make decisions about the future of their products and services.Prior to Madrona, Linda was at Lookout Mobile Security in San Francisco. Previous to that, she was with Morgan Stanleys Investment Banking group in NYC where she worked on strategic and sponsor-led transactions.Linda graduated magna cum laude and Phi Beta Kappa from Harvard concentrating in History & Literature with a secondary in Economics.She is particularly interested in consumerization of enterprise, dev-ops and software-defined infrastructure, security, and new mediums including AR/VR and live media.
James Newell,Voyager Capital
James has been working with high growth technology companies as an adviser and investor since 2005 and focuses on early stage and seed investments in the Pacific Northwest. He has served as a board member or observer at Casper, DoubleVerify, General Assembly, Sauce Labs and Zerto, among others.
Prior to joining Voyager, James worked for Institutional Venture Partners (IVP).. While with IVP, James worked on investments in AlienVault, Carbonite , Casper, Checkr, DoubleVerify, General Assembly, Kayak, LegalZoom, Prosper, Sauce Labs, SoFi and Zerto.
James previously worked with Maveron, a leading consumer focused venture firm based in Seattle and San Francisco and in business development for Zulily, a Maveron portfolio company. Earlier in his career, he worked in the Technology Investment Banking group of Bank of America Merrill Lynch.
James earned a B.A. in Economics and a B.A. in Business Administration with a concentration in Finance from the University of Washington. He has also earned his M.B.A. from the Wharton School at the University of Pennsylvania with a concentration in entrepreneurial management.
Jason Stoffer, Maveron
Jason joined Maveron in 2007 and is now a partner focused on investing in education, e-commerce and web-enabled consumer businesses. He is involved with the firms investments in General Assembly, Common, TrueFacet, Everlane, CourseHero, Dolls Kill and Dolly. Prior to joining Maveron, Jason served as senior director of strategic operations for Career Education Corp., where he co-founded and led admissions and marketing for IADT Online, a for-profit design school. He has also served as an associate at Spinnaker Ventures, an expansion-stage venture capital fund. Jason graduated Phi Beta Kappa with a BA in economics from the University of Michigan (Go Blue!), and an MBA from the Wharton School at the University of Pennsylvania.
Looking forward to seeing you all at the Showbox SoDo. There will be tons of time to connect with TechCrunch staff, the judges, and to grab a drink.
Buy tickets to the Seattle meetup on June 22 right here.
Sponsors make TechCrunch events possible. If you are interested in learning more about sponsorships with TechCrunch, shoot an email to sponsors@techcrunch.com.
Read more: https://techcrunch.com/2017/06/19/announcing-the-judges-for-the-seattle-meetup-pitch-off/
EU and IMF thrash out deal following months of disagreements, with funds to be released in July once European parliaments ratify the deal.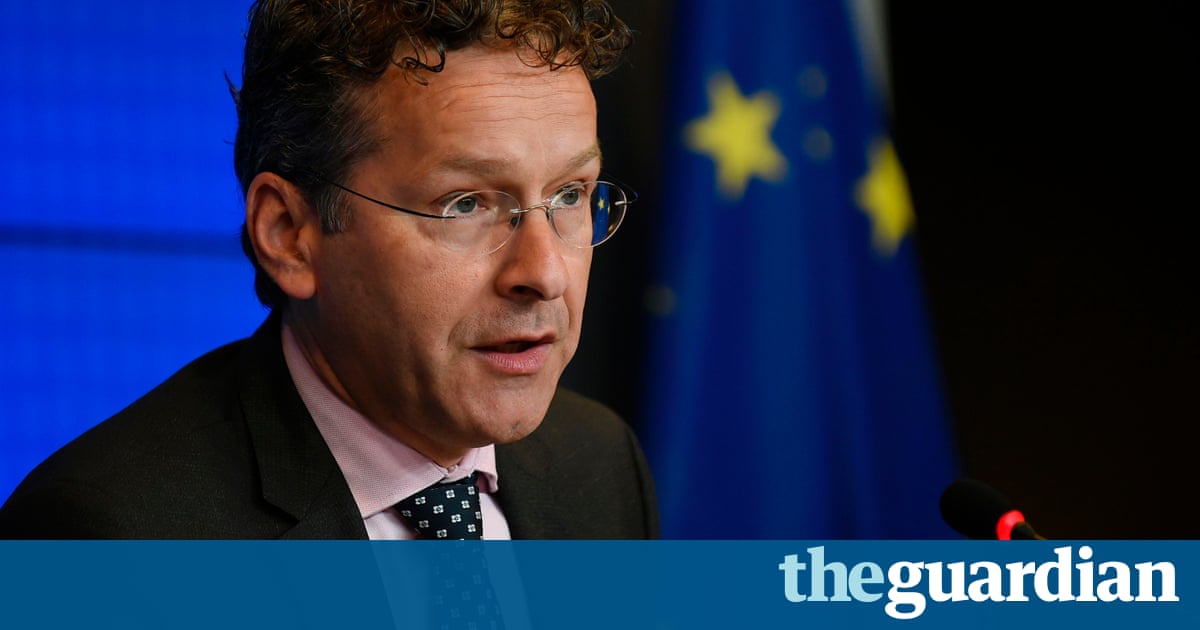 For the best part of a decade, Greece has wanted to become a normal country, and late on Thursday it appeared to begin that process, after creditors agreed to disburse 8.5bn (7.4bn) of bailout funds aimed at putting the debt-stricken nation back on the road to recovery.
The money, signed off after months of disagreement between the European Union and International Monetary Fund over how to reduce Athens' staggering debt pile, will be released in July, once European parliaments ratify the deal.
Around 7.4bn will be initially disbursed so that Greece can honour debt repayments that mature mostly to the European Central Bank. The rest will be handed over once creditors are satisfied that the nation has complied with reforms.
"I am pleased to announce that we have achieved an agreement on all elements," Eurogroup head Jeroen Dijsselbloem announced after a meeting of eurozone finance ministers in Luxembourg. The 19-nation bloc, he said, had also agreed that Greece could get further help with making its debt sustainable, including the possibility of extending repayments by 15 years and linking them to growth rates.
The deal though far short of the debt forgiveness prime minister Alexis Tsiprass leftist-led government had hoped for was greeted with jubilation. "There is now light at the end of the tunnel, the finance minister," Euclid Tsakalotos, told reporters, insisting that it provided the clarity Athens had long sought. We didn't want the perfect to be the enemy of the good.
The government said Greece had finally got what it wanted in the form of a clear commitment that Athens would complete its current bailout programme next summer and ultimately retap capital markets. Lenders had also agreed to reduce the primary budget surplus from 3.5% to 2% as of 2023.
The ECB, whose stimulus programme the recession-hit country has been yearning to join, also applauded the deal. "We take note of the Eurogroup discussion, which we see as a first step towards security debt sustainability," said a spokesperson.
But it fell short of saying when, or if, Greece could join the quantitative easing programme that the Frankfurt-based ECB has emphatically linked to the country's vast 324bn debt mountain (the equivalent of 180% of GDP) being rendered manageable.
Without that, Athens is unlikely to achieve market access any time soon: a negative sign for investors who would view the country's return to capital markets as evidence that after eight years of economic crisis and gruelling austerity the worst is behind it. Outside investment is seen as vital to Greece recouping some of the 27% loss in GDP it has suffered since its ordeal through bankruptcy began.
The IMF managing director Christine Lagarde described the deal as being the second best solution. While it had averted a credit default and renewed crisis given the scale of debt repayments looming next month it had not achieved the IMFs overall aim of making Greece's debt load sustainable.
As such the Washington-based IMF would agree to back the bailout programme in principle via a stand-by arrangement, but would only contribute around $2bn (1.5bn) to it once the eurozone could commit to debt relief. The agreement, she said, had allowed more time for those discussions to continue.
Germany, the main contributor to the 300bn in funds the thrice-bailed-out nation has received since its first rescue programme in May 2010, had made IMF participation a condition of additional disbursements.
While the breakthrough now puts any talk of Greece's ejection from the single currency to rest – and will be met with relief in EU capitals it had barely been announced before seasoned Greece watchers were denouncing it as a fudge, once again aimed at kicking the can down the road.
The Tsipras government had legislated a slew of extra austerity measures worth 4.6bn in savings in the hope of convincing creditors to finally give the Greek economy real breathing space through debt relief. Thursday's deal is unlikely to please many in his leftist Syriza party who had accepted to support the unpopular budget-cutting policies to be enacted once the current three-year bailout programme ends in August 2018 only on the condition that debt relief would be achieved.
Although the economy is growing again, more than a third of Greeks are estimated to be at risk of poverty.
Despite detente between the creditors, the IMF and the eurozone are likely to remain at odds over the long-term prospects for the Greek economy. IMF officials do not believe EU assumptions that Greece can run a budget surplus (minus debt servicing) of 3.5% for years to come.
The IMF is not calling for Greek debts to be cancelled but wants to ease terms, by extending repayment holidays and deadlines. Creditors agreed on short-term debt relief last year, but the IMF had been pressing for specifics on the long-term. It has previously warned that Greece's debts could spiral to 250% of GDP by 2050 without help.
Additional reporting Jennifer Rankin in Brussels
Read more: https://www.theguardian.com/world/2017/jun/16/creditors-agree-terms-to-disburse-greeces-85bn-bailout-funds