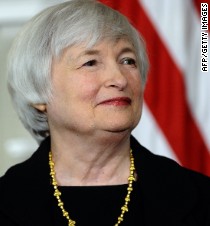 (CNN)Here's a look at the life of Janet Yellen, the first female Federal Reserve chair.
Personal:
Birth date: August 13, 1946
Birth place: Brooklyn, New York
Birth name: Janet Louise Yellen
Marriage: George Akerlof (1978-present)
Children: Robert
Education: Brown University, B.A. in Economics, 1967; Yale University, Ph.D. in Economics, 1971
Other Facts:
Met her husband while they were both working at the Federal Reserve in 1977.
Her expertise is in macroeconomics and the mechanisms of unemployment.
Timeline:
1971-1976 – Assistant professor at Harvard University.
1977-1978 – Serves on the Federal Reserve's Board of Governors as an economist.
1978-1980 – Lecturer at the London School of Economics and Political Science.
1980 – Becomes a faculty member at the University of California at Berkeley.
August 1994 – Takes a five year leave from Berkeley.
1994-1997 – Member of the Board of Governors of the Federal Reserve System.
1997-1999 – Chair to the Economic Policy Committee of the Organization for Economic Cooperation and Development.
June 2001 -Co-authors "The Fabulous Decade: Macroeconomic Lessons from the 1990s" with Alan S. Blinder.
June 14, 2004 – Becomes president and chief executive officer of the Federal Reserve Bank of San Francisco. Serves until 2010.
2007 – Throughout the year, Yellen gives numerous warnings regarding the housing market. The housing market crashes late in the year.
October 4, 2010 – Begins a four-year term as the vice chair of the Board of Governors of the Federal Reserve System, as well as a 14-year term as a board member.
February 3, 2014 – Is sworn in as chair of the Federal Reserve.
Read more: http://www.cnn.com/2013/09/25/us/janet-yellen-fast-facts/index.html
David Hill: Interview with US scientist Dennis McKenna on powerful Amazon hallucinogen, plant intelligence and environmental crises
Ayahuasca, as it has come to be known internationally, is a plant medicine that has been used in the Amazon for centuries for healing and spiritual purposes. Renowned for the often extraordinary visions it induces – not to mention the deep vomiting – it is made from an Amazonian vine known to western science as Banisteriopsis caapi and usually at least one other plant.
Over the last 25 years or so ayahuasca has gone global, with many 1000s of people travelling to Peru and other South American countries to drink it, and expert healers – curanderos, shamans, ayahuasqueros, maestros – travelling abroad to hold ceremonies. Many drink ayahuasca because theyre looking for healing, some are just curious, some mistake it for a recreational drug.
One of ayahuascas pioneer scientific researchers is Dennis McKenna, a US ethnopharmacologist and younger brother of the legendary ethnobotanist and author Terence. Some years ago, in an article titled Ayahuasca and Human Destiny published in the Journal of Psychoactive Drugs, McKenna emphasised the contribution ayahuasca can make to physical and spiritual healing – if it is ever afforded its rightful place in medical practice – and addressing potential environmental catastrophe.
[Ayahuasca is] the conduit to a body of profoundly ancient genetic and evolutionary wisdom that has long abided in the cosmologies of the indigenous peoples of the Amazon who have guarded and protected this knowledge for millennia, who learned long ago that the human role is not to be the master of nature, but its stewards, McKenna wrote. Our destiny, if we are to survive, is to nurture nature and to learn from it how to nurture ourselves and our fellow beings. This is the lesson that we can learn from ayahuasca, if only we pay attention.
Below are edited excerpts from an interview between McKenna, in the US, and the Guardian, in Iquitos, a city in Perus Amazon which the scientist calls the epicentre of the global ayahuasca movement:
DM: What can [ayahuasca] do for the environmental movement? I think a lot of people, especially if they come to South America, come away with a really renewed appreciation for our connection to and the importance of nature. I think that ayahuasca is a catalytic influence in changing global environmental consciousness, which is something thats got to happen if were going to get out of the mess were in. The main challenge we have as a species is – getting on the soap-box for a minute – we have forgotten our connection to nature. Weve come to the conclusion that we own nature, it exists for us to exploit, and were busy doing that. Were destroying it in the process. Were destabilising all of these global mechanisms that keep the biosphere habitable by life. I think ayahuasca is waking up a lot of people and reminding them that, No, thats not the way it is. You monkeys are not running the show. The plants are running the show, by sustaining life on earth, if nothing else. There needs to be a global shift of consciousness. People need to understand this before they can really begin to change, and so in that sense I think ayahuasca is an ambassador from the community of species. The message is basically, Wake up, you monkeys! Youre wrecking the place! Its very important and interesting that so many people come away with this strong message that theyve really been moved and touched by something that they feel is an intelligent entity – an intelligent representative of the natural world.
Read more: https://www.theguardian.com/environment/andes-to-the-amazon/2016/jul/30/ayahuasca-changing-global-environmental-consciousness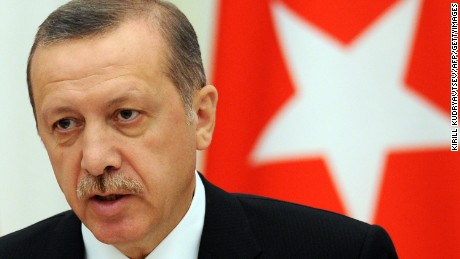 (CNN)Here's a look at the life of Recep Tayyip Erdogan, president and former prime minister of Turkey.
Personal:
Birth date: February 26, 1954
Birth place: Istanbul, Turkey
Birth name: Recep Tayyip Erdogan
Father: Ahmet Erdogan, coastguard and sea captain
Mother: Tenzile Erdogan
Marriage: Emine (Gulbaran) Erdogan (July 4, 1978-present)
Children: Two daughters and two sons
Education: Marmara University, Faculty of Economics and Administrative Sciences, 1981
Other Facts:
Active in Islamist circles in the 1970s and 1980s.
Before his political career, Erdogan was a semi-professional football (soccer) player.
Erdogan is considered a polarizing figure: supporters say he has
improved the Turkish economy
, introduced political reform, and has made significant progress in ending the 30 years of guerrilla war with Kurdish separatists.
Erdogan has also been heavily criticized for failing to protect women's and human rights, curbing freedom of speech and attempting to curb Turkey's secular identity.
Has called social media "the worst menace to society."
Timeline:
1984 – Elected as a district head of the Welfare Party.
1985 – Elected as the Istanbul Provincial Head of the Welfare Party and becomes a member of the central executive board of the party.
1994-1998 – Mayor of Istanbul.
1998 – The Welfare Party is banned. Erdogan serves four months in prison for inciting religious hatred after reciting a controversial poem.
August 2001 – Co-founds the Islamist-rooted Justice and Development Party (AKP).
2002-2003 – Erdogan's AKP wins the majority of seats in parliamentary elections, and he is appointed prime minister.
2003-2014 – Serves as prime minister.
June 2011 – AKP wins by a wide margin in the parliamentary elections, securing a third term for Erdogan.
December 2013 – Corruption probe begins which investigates more than 50 suspects, including members of Erdogan's inner circle. The following month, the government dismisses 350 police officers amid the investigation. Ten months later, the prosecutor drops the inquiry.
August 10, 2014 – Erdogan is elected president during the first ever direct elections.
November 2014 –
At a summit hosted by a women's group in Istanbul, Erdogan says that
women and men are not equal "because their nature is different."
It's not the first time the Turkish leader has made controversial comments about women: he has previously told Turkish university students that they shouldn't be "picky" when choosing a husband and has called on all Turkish women to have three children.
June 7, 2015 –
In Turkey's parliamentary elections,
AKP wins 41% of the vote
. This falls short of the majority, disabling Erdogan's hopes to transfer power from parliament to the presidency.
Read more: http://www.cnn.com/2015/11/26/middleeast/recep-tayyip-erdogan-fast-facts/index.html