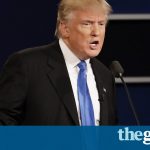 From making coal great again to cancelling the Paris accord, industry analysts say his ideas are farfetched and his talk of climate change as a hoax is dangerous.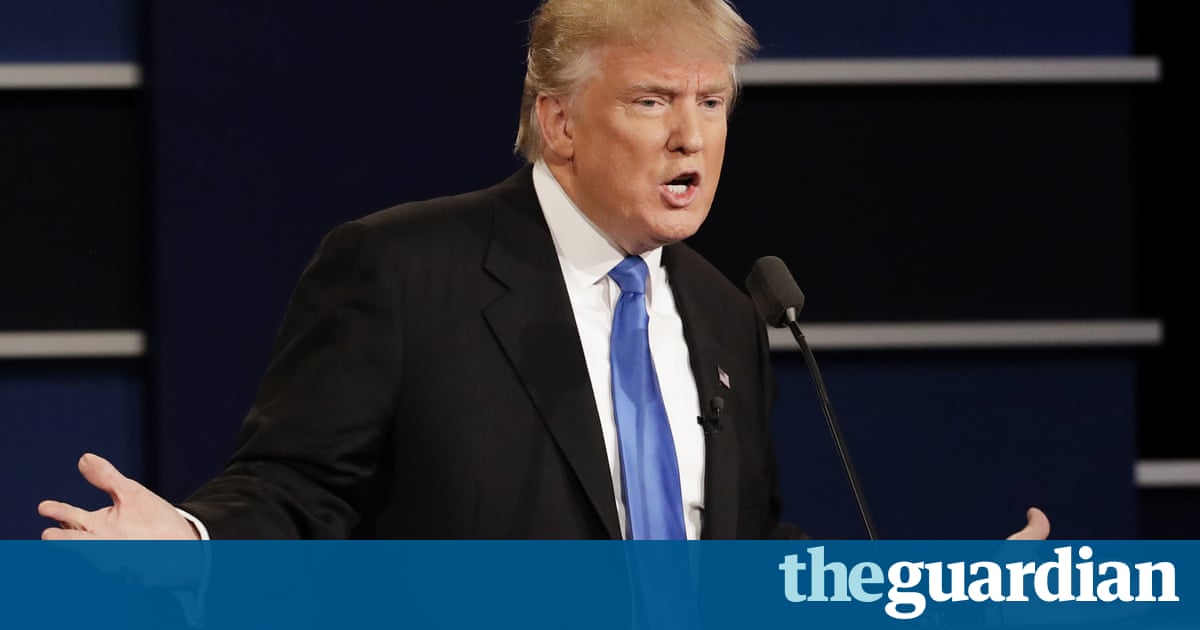 Donald Trump's energy agenda which includes pledges of complete energy independence, making coal great again and ditching the Paris climate deal is drawing bipartisan fire from industry analysts, former members of Congress, and even one coal mogul.
All of them, to varying degrees, fault the billionaires basic premises and call his promises farfetched and at times contradictory.
They say the Republican presidential candidate uses faulty math to tout his vision of America's energy independence, fails to understand energy economics in his pledge to revive the coal industry, and is peddling a big myth by claiming that global warming is a hoax.
Some energy analysts also observe that Trump's energy prescriptions, including big regulatory cutbacks that have long been industry wishes, are politically expedient and unrealistic. In making his promise to save the coal industry, for instance, Trump has backed slashing environmental rules, taking that message to West Virginia earlier this year, when he pledged that the states miners, as well as those in Ohio and Pennsylvania, "are going to start to work again, believe me."
But Charles Ebinger, a senior fellow at Brookings for energy security and climate issues, told the Guardian that coal jobs arent coming back and for Mr. Trump to say theyre coming back is erroneous and fanciful. Noting that cheap natural gas has been the primary driver behind years of decline for the coal industry, Ebinger added that Trump seems to be pandering to coal miners.
Other analysts concur. Donald Trumps promise to revive the US coal sector can only be realized by reining in hydraulic fracking, said Jerry Taylor, the president of libertarian thinktank the Niskanen Center.
That's because low-cost natural gas (courtesy of fracking) has done far more to shut down coal-fired power plants and, correspondingly, reduce demand for US coal than has EPA regulations. Given that he promises exactly the opposite moving heaven and earth to increase US natural gas production Trump's promises are empty.
Even Trump backer and coal mogul Bob Murray, who runs Murray Energy, which has given $100,000 to a pro-Trump Super Pac, says that the coal industry wont ever be great again. I dont think it will be a thriving industry ever again, Murray told an energy publication this year. The coal mines cannot come back to where they were or anywhere near it.
Likewise, Trump used dubious data when he spoke at an energy event in May in North Dakota arranged by fracking billionaire Harold Hamm, a key Trump policy adviser who has been mentioned as a possible energy secretary and recently hosted a big campaign fundraiser.
Echoing some of Hamms priorities, Trump pledged to lift moratoriums on energy production in federal areas, to revoke policies that limit new drilling technologies and to cancel the Paris agreement.
Trump also promised complete energy independence, a bullish commitment since about a quarter of US energy needs are met by imports, and one that relied on flawed projections of proven oil reserves. Trump stated that the US had 1.5 times the oil of all Opec countries combined. But at the end of 2014, the US had proven reserves of just under 40bn barrels, while Saudi Arabia alone had proven reserves of 268bn barrels.
Similarly, Trump claimed that constructing the Keystone XL pipeline which, unlike Hillary Clinton, he backs would create and support 42,000 jobs. But industry projections suggest that building the pipeline would yield about 6,000 jobs directly, and another 7,000 jobs indirectly.
Ex-Conoco Phillips lobbyist Don Duncan compared Trump's energy proposals to those of an old snake oil salesman, saying: "Trump's energy cures are based on a lot of numbers that clash with energy industry data and scientific studies."
Trump's penchant for ignoring facts and hard evidence is also underscored by his attacks on global warming and the Paris accords.
Trump famously tweeted in 2012 that the concept of global warming was created by and for the Chinese in order to make U.S. manufacturing less competitive. Taylor called this risible.
Not one scintilla of evidence exists to back the charge up, he said. Its another example of his willingness to say anything at all no matter how ridiculous or dishonest to justify the know-nothingism of his base.
Trump denied during Monday's presidential debate having said such a thing, but in a speech last December he referred to global warming as a hoax three times in one sentence.
Former US congressman Bob Inglis, a South Carolina Republican who runs a group promoting free enterprise climate change ideas, said Trump's global warming views were dangerous. People who presume to be leaders by offering false hope and inflaming passions are disqualifying themselves for leadership.
Read more: https://www.theguardian.com/us-news/2016/sep/29/donald-trump-energy-proposals-coal-natural-gas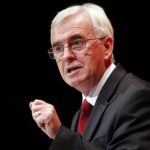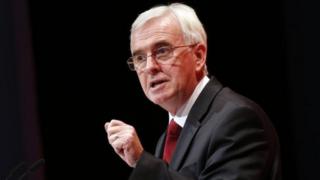 John McDonnell promised he would reveal a new "interventionist" underpinning to Labour's economic policy.
And the shadow chancellor did not disappoint.
New rules on takeovers to guarantee pay and pension payments, a doubling in size of the co-operative sector by giving workers rights to own businesses at the point of change of ownership or closure, bringing back "sectoral" collective bargaining "across the economy", and a change in tax emphasis from income to "wealth" – which could mean new taxes on assets, possibly homes.
But the biggest intervention was on the minimum wage, or as Mr McDonnell described it, Labour's plans for a "real Living Wage".
He suggested that it should be set at above 10 an hour.
That is a major increase – and well above the current government's plan to hit 9 an hour by 2020.
Mr McDonnell said he wanted to go further, making the bold statement that under a Labour government "everyone will have enough to live on".
Unions welcomed the move.
"Workers' difficulties keeping up with the cost of living has become a crisis across the country and it's up to the UK government to ensure that the lowest paid aren't left behind by the rising costs of rent, bills and essentials that threaten to overwhelm them," said David Hamblin of the GMB.
'Difficult decisions'
I am sure Mr McDonnell was ready for expressions of disapproval from business groups worried about costs.
"If a 10 minimum wage was to be introduced it would mean very difficult decisions for many small businesses – they would have to look at their business models," Adam Marshall, the acting director general of the British Chambers of Commerce, told the BBC.
"They may have to reduce their workforce, shift jobs overseas or look to automation.
"We should not be playing politics with these decisions. The rate should be set by the Low Pay Commission and be determined by the state of the economy.
"We criticised the [former] chancellor for his decision on raising the minimum wage to 9 an hour and we will criticise the shadow chancellor for proposing raising it to 10 an hour."
Higher costs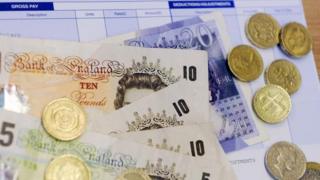 An extra 1 or 2 an hour may not sound like very much.
But for a business, over a year, it can make a considerable difference to the wage bill – often the largest part of any company's costs.
A 10-plus an hour minimum wage would raise an annual salary for the lowest paid to 19,250, according to the manufacturers' trade body, the EEF.
That would mean a business paying around 23,000 for each employee given the extra costs faced by employers such as national insurance contributions.
Labour has said that it will expand the Employment Allowance to mitigate the impact on the smallest businesses.
But nevertheless, the EEF fears that could make "entry-level jobs", often given to younger people and apprentices, far less attractive to businesses.
'Arms race'
Of course, that is not to argue that most businesses do not want fair wages.
It is just that, in economic terms, many argue that income levels need to be balanced with employment rates and how robustly the economy is growing.
The highly respected Resolution Foundation has done a substantial amount of research on how minimum wage policies best work.
One of their spokespeople said to me immediately after Mr McDonnell sat down: "Our view is that the national living wage should be linked to the strength of the economy; i.e. pegged to typical pay growth, rather than cash targets."
A little later Conor D'Arcy, Resolution Foundation policy analyst, told me: "The focus should be on tackling wider low pay problems, such as helping people progress off the wage floor and into higher pay roles, rather than engaging in an arms race."
The danger many businesses highlight is that the living wage is becoming politicised, a battle between two political parties keen to show the effort they are making on low levels of pay.
The Low Pay Commission – which has guided increases in the minimum wage since its inception in 1999 – was mandated to balance income levels with impact on employment and the strength of economic growth.
Many businesses believe it is a mandate that should not be abandoned lightly.
Read more: http://www.bbc.co.uk/news/business-37470492
The US imports about 91% of its seafood, half of which is farmed in aquaculture facilities. Should the US do more to kickstart its own industry?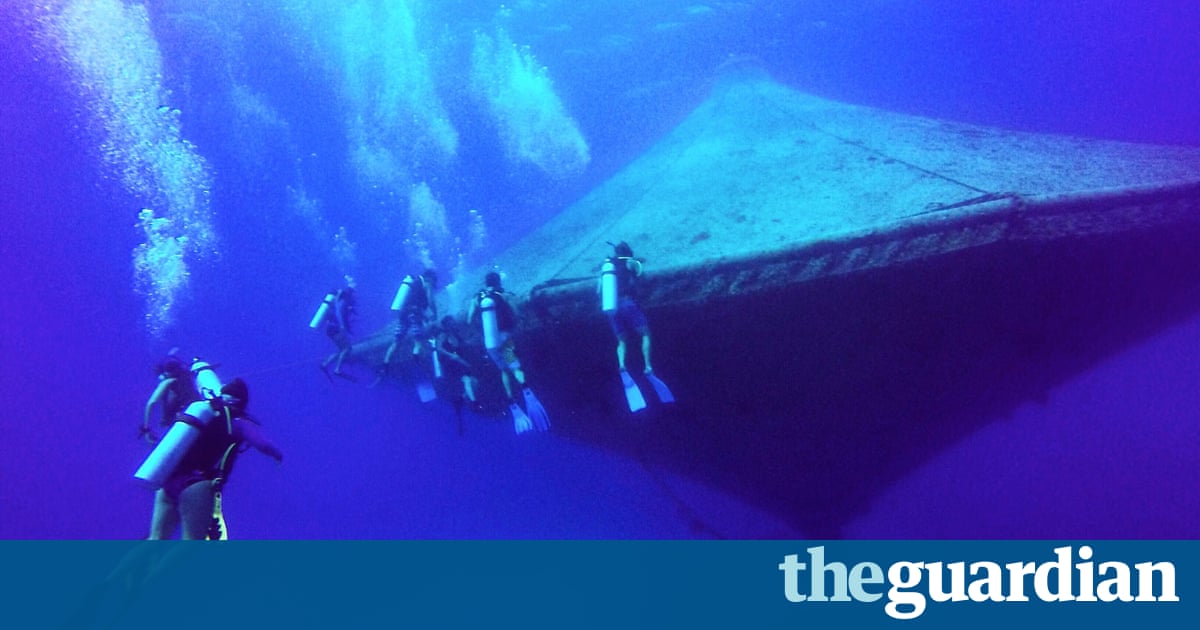 Off the coast of San Diego, Americas eighth largest city, commercial fishermen harvest about 1,100 metric tons of seafood from the Pacific every year.
That sounds like a lot. But it isnt much to Don Kent, who says he can do better with just one fish farm.
If Kent gets his way, he would raise 5,000 metric tons of yellowtail jack and white sea bass in a grid of net pens measuring about a square mile, anchored four miles off San Diego in federal waters. The species are prized in Southern California sushi restaurants, which now serve their customers imported fish almost exclusively, most of it from China, Japan, Greece or Chile.
The US imports about 91% of its seafood. Whether consumers know it or not, about half of that is farmed in aquaculture facilities much like the one Kent wants to build. While the federal government has permitted shellfish farming for years, it didnt allow farming of finfish such as bass and salmon until earlier this year.
Why are we buying all of our yellowtail from farms in Japan when I could grow them four miles off our coast and lower the carbon footprint and the trade deficit at the same time? says Kent, president and CEO of Rose Canyon Fisheries, which aims to build the project. This is done around the world. Its just not done here.
But Kent isnt likely to get approval soon, because the location is all wrong. The government is eager to promote offshore fish farming to alleviate pressure on overfished wild species. But it wants that to happen first in the Gulf of Mexico. The National Marine Fisheries Service adopted its first rules for finfish farming in federal waters for the gulf region in January this year. Next up is the Pacific Islands region around Guam, Hawaii and Samoa, where in August the agency began preparing a report to analyze the environmental impact of aquaculture.
The mismatch between the proposals location and the new rules reflects the governments difficulties in incubating a new industry. Kents proposal, first submitted in October 2014, is the only fish farm proposal that the federal government has received so far. A lawsuit filed in February contends the new rules for the Gulf of Mexico could significantly harm the environment and commercial fishing, and it may be keeping away potential applicants who want to wait for the cases resolution before filing plans.
We shouldnt be doing this on an industrial scale until we have better information, says Marianne Cufone, a professor of environmental law at Loyola Law School in New Orleans. Its very possible the Gulf of Mexico will be altered forever if we move forward.
Raising fish in coastal farms isnt a new phenomenon. It just hasnt happened yet in federal waters, which range from 3-200 miles offshore. Several states allow aquaculture in coastal waters under their control, which extend out three miles from shore, including Maine, Washington and Hawaii.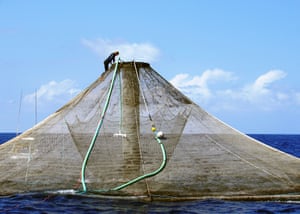 Read more: https://www.theguardian.com/sustainable-business/2016/sep/25/offshore-fish-farms-imported-seafood-aquaculture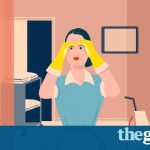 The Long Read: When I took a job cleaning expensive Manhattan apartments, I had no idea what I would find out about my clients.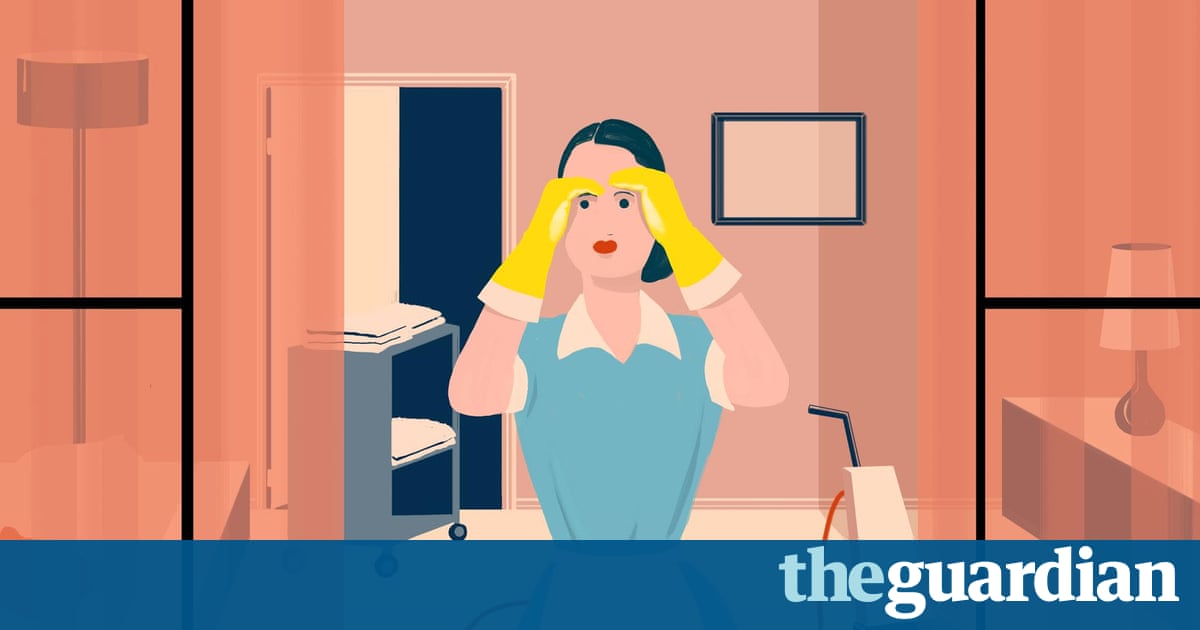 I heard about the cleaning company from a friend's boyfriend, a musician who had supported himself by cleaning houses for years. I was living in an apartment in Brooklyn, sharing a windowless bedroom with a friend. She worked at a health food store on Sixth Avenue, ringing up sandwiches she brought home the ones that didnt sell and we ate them for dinner. I had an internship at a dance company, which I loved because I could take the dance classes at the studio for free.
The cleaning company was a boutique, environmentally friendly deep clean service owned by a woman who usually paid in cash. The company specialised in expensive one-time detoxes, rather than routine cleanings: shed send you to a different apartment almost every time. You never knew what youd find when you walked through the door, but most clients considered the service to be a special occasion, like a nice haircut or a spa day, and so were polite and often tipped.
I wrote to the owner of the cleaning company the next day. How did one convey ones aptitude for cleanliness over email? I am detail oriented, committed, and capable, I wrote, adept at dish washing and scrubbing of all kinds. I went on to say that I'd often lived in small spaces and knew the satisfaction that can be found in finding ways to maximise space. I also wrote that I had grown up in a house that shunned wastefulness, which had consequently led me to develop a sharp eye. I was always on time, I said. Plus, I was a dancer, and therefore enthusiastic about physical activity.
The cleaning companys website posited an unlikely but appealing correspondence between cleaning and art. The owner wrote that she saw the cleaning business as a creative pursuit and was upfront about her own preference for art over work.
This isn't going to be like cleaning your own house, she said to me, as we rode the elevator on my first day. She had come to oversee me working on my first apartment: a spotless condo on one of the upper floors of a building in Lower Manhattan. While I worked, the owner of the cleaning company followed on my heels. Good pour, she said when I tipped the bucket of grey water into the toilet. As the day wore on, Id catch sight of her standing at the periphery of whatever giant living space I was crouching in, peering around the door frame while I stacked books. Later, while evacuating Cheerios from between the couch cushions, I saw her pick up the miniature rake in the familys decorative tabletop Zen garden and carefully comb the sand with its tiny teeth.
---
The owners deep-cleaning technique involved very little soap: the key was to scrub vigorously on hands and knees until the grime had been dissolved by force. The rags we used were microfibre cloths dipped in hot water, fortified with a capful of preapproved cleaning liquid. Vetted supplies were provided at the start of our employment and refilled whenever we asked. The boss also provided an assortment of essential oils, which came in small, pretty bottles and looked like perfume. I learned to make a performance out of adding a few drops to my bucket if a client was within eyeshot, holding the glass bottle aloft and squinting as though taking precise measurements.
She advertised us as consultants who would be able to advise on energy consumption and feng shui, but I was never asked to impart any of this wisdom except for one woman who asked me what lavender oil did. (It was good for wood, I told her.) The boss priced the jobs based on a telephone call, in which she performed some kind of calculus that factored in a prospective clients reported square footage, number of pets, and frequency of other (presumably less thorough) professional cleans. Shed jot their answers in an email and forward it to me. This email would be followed promptly by a Google Calendar invite, which bore an address and the start time of the clean.
It wasnt practical to carry vacuums from house to house on the subway, so we used them only if the clients had them already. In old houses, where the shower caulk had aged into grey ridges, it was nearly impossible to do a satisfactory job without resorting to the chemical-laden supplies under the clients sink. After dousing a tub in Ajax, Id sprinkle tea-tree oil on top to mask the scent.
I'd usually start my day at 8am and spend most of the morning sneaking sips of the iced coffee I hid in the sink. Most people didnt want to talk to me, which was fine. Sometimes clients would offer me water, tea, or soda, which I rarely accepted. Even the smallest gestures of goodwill would eventually turn grudging, as they searched with exasperation for a place to set the cup down while I vacuumed.
---
The important details of my clients lives emerged unbidden, without warning, like smells. Or, once, in the form of a sound clip that wafted from my clients laptop. The client had announced herself as a friend of the owner, then led me through a long-unoccupied apartment. Windows had been left open all winter: the books were warped with rainwater; the base of the sofa was scattered with leaves. While I swept, the friend of the owner sat cross-legged on the couch and fiddled with her computer. Suddenly, I heard an audio recording of her own voice through the tinny laptop speaker: This is the first time I have shown my life-altering birthmark to anyone. The oddness of this moment was not just its awkwardness my client moved swiftly to mute her laptop, and neither of us looked up but the fact that I had already seen the life-altering birthmark myself, which was mottled and raised like someone had slung a handful of wet sand at the flesh above her knee.
People left their most important documents face-up on hall tables for me to see. Receipts for abortions and letters announcing academic probation were pinned to the fridge. The plot points of their lives connected in an instant: sometimes my clients were almost too easy to caricature. There was the young man with a pile of womens underwear by his bed, whose Google history (discovered when I opened his laptop to stream a podcast) revealed a single search for rash from too much sex penis. Or the woman who had converted her lavish living room into a meditation area and reading room filled exclusively with divorce literature. I imagined her as a tremulous, breakable person, with the same shade of tawny hair as her dog.
Because I learned so much without trying, I never wanted to spy. The one time I flipped through a clients diary, it turned out to contain a series of cheery, colourless entries written by a father-to-be. Each was addressed to his unborn child. Mommy is so excited to meet you! one entry began, a sonogram taped to the facing page.
---
My favourite client lived in the West Village. His office was covered in Broadway playbills, tacked to the wall and strung across the mantelpiece like holiday greeting cards. When I dusted his bookshelves, I found that his books were not real: they came away in discrete sections, hollow volumes fused together at the spine. I could tell he had big feet from his clown-size shoes, which were lined up neatly by the door. I imagined a big, slow, clean-fingernailed man bending over with considerable effort to place his loafers toe to toe. His bedroom had a very large walk-in closet: XXL sweatpants, gym shorts, and complimentary T-shirts from conferences and car washes and diners hung delicately on individual clothes hangers like formal wear. The desk in his study was empty, except for the manuscript I found in one of the drawers. It was a novel that opened with a deathbed scene, in which family members gathered at the protagonists bedside and took turns making tearful expressions of guilt.
Once, while vacuuming the base of a corner shelf that held a collection of commemorative snow globes, I found a wallet-size photo of a woman clipped to a death certificate. She wore pearl earrings and had light brown hair and nice eyes. The cause of death was listed as murder. Upstairs, on the mantle in the main living space, where one might have placed a wedding photograph, I found a letter from Mayor Giuliani expressing his condolences to the families of September 11 victims.
I was gently wiping a porcelain Bo Peep figurine on the mantelpiece near the death certificate when my elbow knocked a glass candlestick. It fell to the floor and shattered. I was supposed to call the boss if anything like this ever happened, but I panicked and swept the pieces into a miniature dustpan I found leaning against the fireplace. The candlestick had been small and forgettable, about the size and colour of a juice glass. The dustpan, however, was curiously clean so clean that I suddenly realised that it, too, was probably decorative.
I called the musician friend who had got me the job. I broke something, I said. What do I do?
Ah, he said. You absolutely have to call her right now.
I broke something, I blurted when the owner of the cleaning company picked up her mobile phone.
"Don't move, I'll be there in 10," she said. Like a superhero, she was already in the neighbourhood. When she arrived she slid noiselessly inside and scanned the room with wild eyes, as if expecting to see a dead body. When she saw the candlestick, she relaxed.
"Eh," she said, nudging a shard. This is probably the least expensive thing he owns.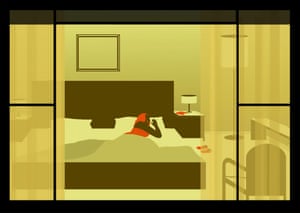 Read more: https://www.theguardian.com/us-news/2016/sep/28/what-the-cleaner-saw-manhattan-new-york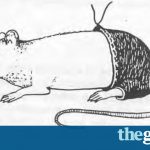 Nobel winning scientists gather for 26th straight year to award the most absurd, strange and curious research of the year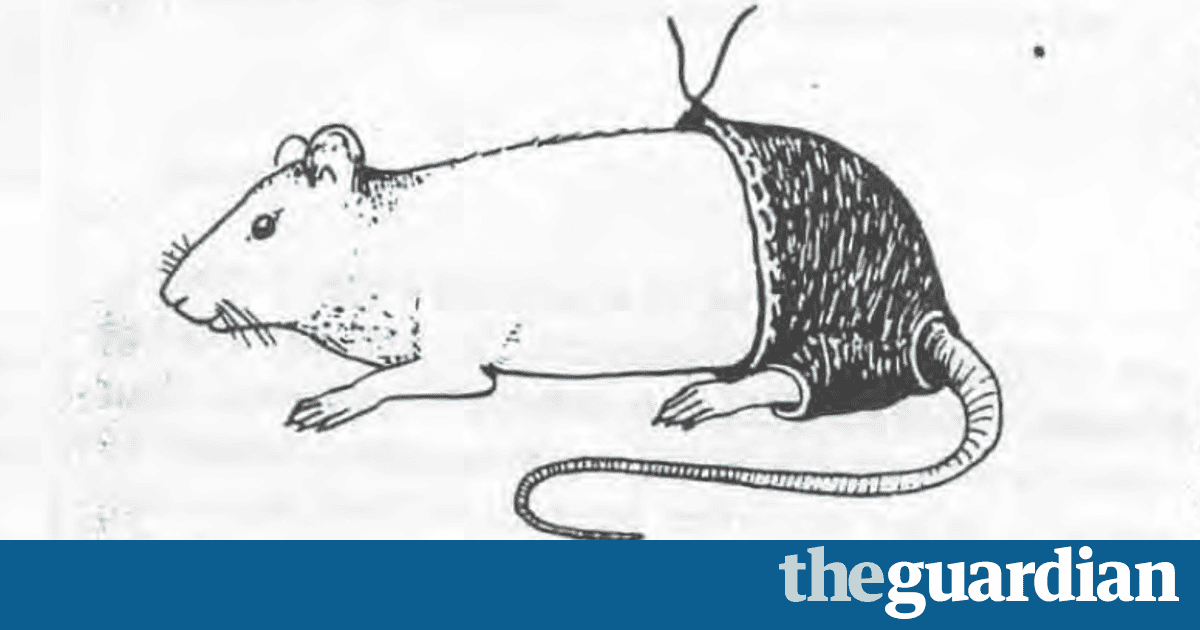 Investigations into rats wearing pants, the personalities of rocks and the truthfulness of 1,000 liars won Ig Nobel prizes on Thursday night at Harvard, where Nobel-winning scientists gathered to honor the strangest research of the year.
The ceremony, now in its 26th year, delivered a $10tn Zimbabwean bill (about 40 cents in US money) to winners. Those who traveled to Boston received their prizes from Nobel laureates: chemist Dudley Herschbach, economist Eric Maskin, Dr Rich Roberts and physicist Roy Glauber.
As in past years, the tone of the awards show vacillated from gleeful absurdism to satire to genuine wonder at the lengths to which scientists will let their curiosity lead them.
Egyptian urologist Ahmed Shafik, for instance, wanted to know the toll that trousers might take on male rats. He made murine trousers covering the animals hind legs with a hole for the tail in various cloths: 100% polyester, 50/50% polyester/cotton, all cotton and all wool.
Rats that wore polyester showed significantly lower rates of sexual activity, Shafik found, perhaps because of the electrostatic charges created by the material. Cotton- and wool-wearing rats were relatively normal.
Mark Avis, Sarah Forbes and Shelagh Ferguson, a team from New Zealand and the UK, won the prize in economics for a study of the personalities of rocks. The trio studied a concept called brand personality, or the set of human characteristics associated with the brand for example wholesomeness, youth, intelligence and sophistication by putting pictures of rocks in front of 225 Kiwi students.
The students then decided which of 42 traits, 15 facets and five factors to apply to the rocks in question. One, Rock G, was variously described as a big New York type businessman, rich, smooth, maybe a little shady and carries a black brief case, slick hair, quick thinker and quicker talker. Not a good dude though.
Rock I was described by one student as a gypsy or a traveller, a hippie and by another as liberal, attractive and female, I saw a young person, maybe mid-30s, who was very attractive when she was younger/possibly a model. Has her own way of thinking, with a somewhat grounded confidence, enjoys organic food.
The third rock, Rock H, was called modest, farm mechanic and down-to-earth.
The biology award went to two Britons: Thomas Thwaites, who created prosthetic limbs that let him move like and among goats, and Charles Foster, who has tried to live as a badger, an otter, a fox and a stag.
As a badger, Foster ate worms, dug a hillside den and tried to sniff out voles. Living as an urban fox, he scavenged through trash and slept in gardens. As a goat, Thwaites infiltrated a herd in the Swiss Alps and spent three days eating grass, bleating and stumbling over rocks.
Foster and Thwaites wrote books about their experiments, respectively Being a Beast and GoatMan.
A coalition from the US, Canada, Germany, Belgium and the Netherlands won the psychology award, for asking 1,000 liars how often they had lied over the course of their life, and rating how well they lied.
People gradually lied more as they aged out of childhood, the study found, peaking during adolescence, and as adults lied on average twice a day. Lying decreased with age, although some prolific liars may have skewed results. The researchers also acknowledged that the liars might have been lying to them all along.
The peace prize went to a gang of philosophers from Canada and the US who published a paper titled On the Reception and Detection of Pseudo-Profound Bullshit.
The researchers studied how people understand gibberish that has been framed as if it means something, by creating random but grammatical sentences of buzzwords that sounded like vaguely meditative posters meant to inspire office drones or distract dental patients from the drill. Examples included wholeness quiets infinite phenomena and hidden meaning transforms unparalleled abstract beauty.
There is little question that bullshit is a real and consequential phenomenon, the scientists wrote, warning that given advances in communication, bullshit may be more pervasive than ever before.
They noted, for example, that Dr Deepak Chopra, an author and MD followed by millions on Twitter, once wrote: Attention and intention are the mechanics of manifestation.
Their mission: Are people able to detect blatant bullshit? Who is most likely to fall prey to bullshit and why?
The philosophers asked 280 students at the University of Waterloo to rate the profoundness of real and invented statements on a scale of one to five, and to search for meaning in those statements. Those students most receptive to bullshit, they found, were less reflective, lower in cognitive ability and more likely to hold religious and paranormal beliefs.
The researchers admitted their study had limitations, writing: Although this manuscript may not be truly profound, it is indeed meaningful.
A medicine prize was given to German scientists who found that if you have an itch on your left side, you can look into a mirror and scratch your right to relieve it. A perception prize was handed to two Japanese researchers who tried to learn whether bending over and looking at things between your legs changes how things appear.
Physics awards were given to researchers from Hungary, Spain, Sweden and Switzerland, who found that white horses attract fewer horseflies and that dragonflies are fatally attracted to black tombstones. The award for literature went to a Swedish author, Fredrik Sjoberg, who wrote a trilogy about collecting flies.
The most surprising winner was for chemistry: the automaker Volkswagen, caught for violating US emissions law, was granted a nearly worthless Zimbabwean bill to help pay for its massive legal costs. The Ig Nobel committee said the award was for solving the problem of excessive automobile pollution emissions by automatically, electro-mechanically producing fewer emissions whenever the cars are being tested.
Read more: https://www.theguardian.com/science/2016/sep/22/ig-nobel-prizes-trousers-for-rats-and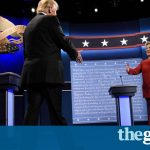 The first debate of the 2016 campaign was divided by NBC into three sections. Sabrina Siddiqui and Ben Jacobs investigate who won each of them.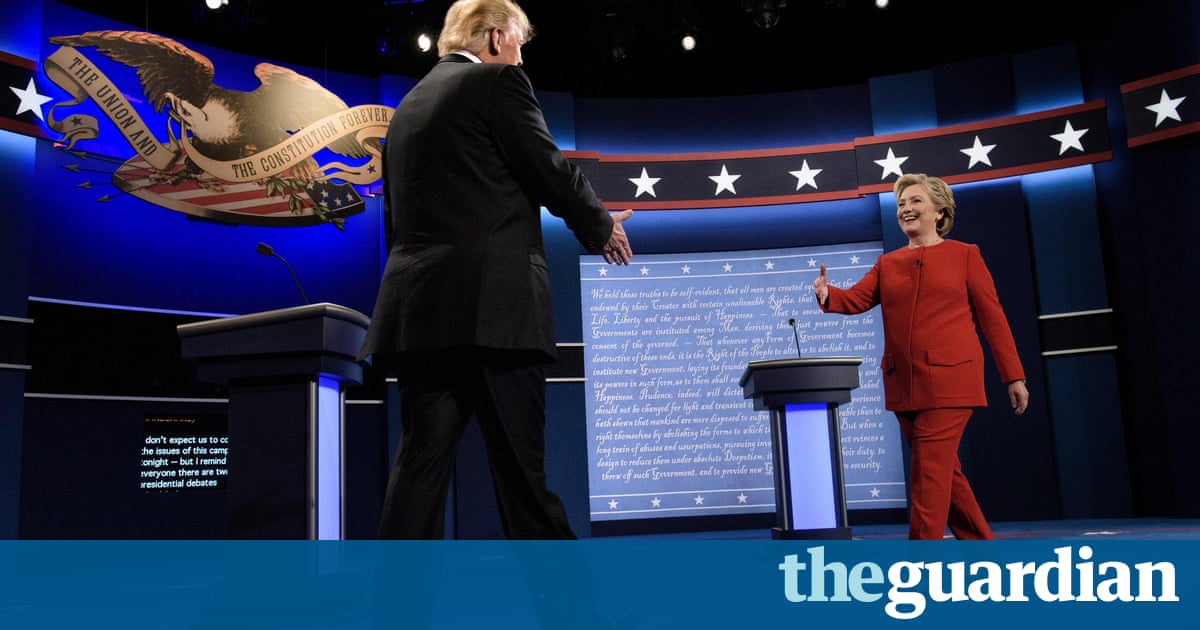 Round one: Achieving Prosperity
Clinton
Hillary Clinton focused early on policy, laying out an economic agenda that called for reducing income inequality by raising the minimum wage, closing the gender pay gap and eliminating corporate tax loopholes. But she did not miss the opportunity to go after Donald Trump for being the first major-party nominee in more than 40 years to refuse to release his tax returns.
The Republican candidate managed to put his Democratic rival on the defensive on the Trans-Pacific Partnership, forcing her to explain why she came out against the landmark 12-nation trade agreement last year after previously supporting it. But Clinton was able to overcome the question in part because Trump repeatedly shouted over her attempts to answer it placing the focus instead on his aggressive posture. SS
Trump
Donald Trump was strongest early in the debate, when he hit familiar talking points on trade and put Clinton on the back foot, having to defend her flip-flop on TPP and the controversial legacy of Nafta, the free trade agreement signed by her husband that many in the industrial midwest feel has cost manufacturing jobs. An off-key rehearsed line from a stilted Clinton about Trumped-up trickle down economics represented a brief window into what the debate might have been like if Trump had been able to act like a normal candidate for more than 10 minutes.
But the Republican nominee took Clintons bait and played defense on personal attacks almost immediately. After Clinton said: He started his business with $14m, borrowed from his father, Trump immediately responded, rather than turn the focus back on to trade, perhaps his strongest issue. BJ
Round two: Americas Direction
Read more: https://www.theguardian.com/us-news/2016/sep/27/first-presidential-debate-who-won-each-round
A new study by scientists in Maine found that if global warming trends continue, lobsters will struggle to survive by the year 2100.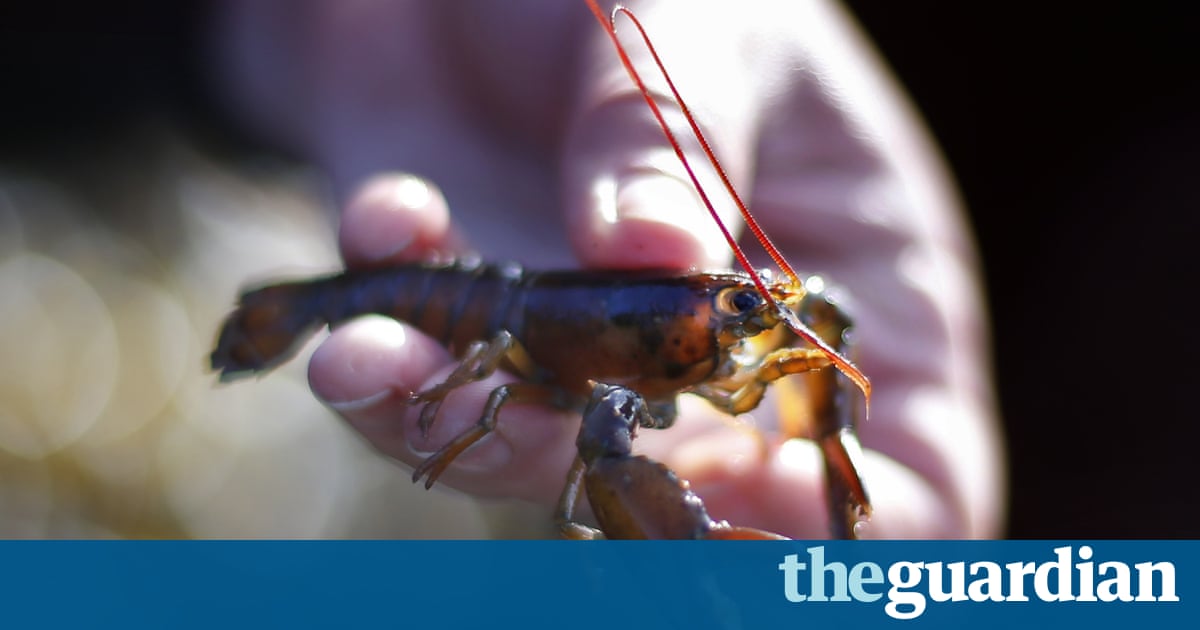 Baby lobsters might not be able to survive in the oceans waters if the ocean continues to warm at the expected rate.
That is the key finding of a study performed by scientists in Maine, the state most closely associated with lobster. The scientists, who are affiliated with the University of Maine Darling Marine Center and Bigelow Laboratory for Ocean Sciences, said the discovery could mean bad news for the future of one of Americas most beloved seafood treats, as well as the industry lobsters support.
The scientists found that lobster larvae struggled to survive when they were reared in water five degrees Fahrenheit warmer than the temperatures that are currently typical of the western Gulf of Maine, a key lobster fishing area off of New England. Five degrees is how much the United Nations Intergovernmental Panel on Climate Change expects the Gulf of Maines temperature to warm by the year 2100.
The paper appears this month in the scientific journal ICES Journal of Marine Science. It could serve as a wake-up call that the lobster fishery faces a looming climate crisis that is already visible in southern New England, said Jesica Waller, one of the studys authors.
There has been a near total collapse in Rhode Island, the southern end of the fishery, and we know our waters are getting warmer, Waller said. We are hoping this research can be a jumping-off point for more research into how lobsters might do over the next century.
Right now, the countrys lobster catch is strong, prices are high and steady and the industry is opening up new markets in Asia, where a growing middle class is hungry for one of Americas seafood status symbols.
US fishermen have topped 100m lbs of lobster for seven years in a row after having never previously reached that mark, and their catch topped a half billion dollars in value at the docks for the first time in 2014.
But signs of the toll warming waters can take on the fishery are noticeable in its southern reaches, where scientists have said rising temperatures are contributing to the lobsters decline. The lobster catch south of Cape Cod fell to about 3.3m pounds in 2013, 16 years after it peaked at about 22mn in 1997.
The study's authors found higher temperatures caused baby lobsters to develop faster something that could help them avoid predators in the wild but few survived. They performed the work by raising more than 3,000 baby lobsters from the moment they hatched.
The authors said the study was the first of its kind to focus on how American lobsters would be affected by warming waters and the increasing acidification of the ocean in tandem. "The study found that acidification had almost no effect on young lobsters survival," Waller said.
Michael Tlusty, an ocean scientist with the Anderson Cabot Center at the New England Aquarium, said the study was especially important because it considered both warming and changing ocean chemistry.
This is the type of work that really needs to be done, said Tlusty, who was not affiliated with the study. The oceans are not changing one parameter at a time.
Read more: https://www.theguardian.com/environment/2016/sep/24/lobsters-climate-change-oceans-marine-life-seafood-research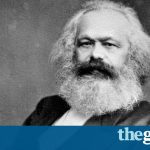 This week Mark Zuckerberg announced plans to advance human potential and promote equality. But hes not the only tech billionaire in a Che Guevara shirt.
Capitalism is catechism in Silicon Valley. The civic religion is entrepreneurism and evangelism is a marketing tool. But for an industry that worships at the altars of the marketplace, the rhetoric of billionaires has gotten a bit confusing.
Just this week, Facebook CEO Mark Zuckerberg announced his latest plans to invest $3bn from the Chan Zuckerberg Initiative, an organization whose mission statement Our hopes for the future center on two ideas: advancing human potential and promoting equality would not sound out of place coming out of the mouth of a die-hard communist.
Zuckerberg is not the only billionaire who sounds like he has a Che Guevara shirt in his closet. Take our quiz and see if you can tell the source of the quote: techie or communist?
Read more: https://www.theguardian.com/technology/2016/sep/23/quiz-who-said-it-a-techie-or-a-communist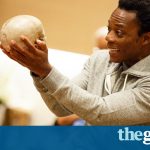 A stalwart of the Royal Shakespeare Company, Iwuji is finally playing Hamlet, in a production inspired by Black Lives Matter and which is being performed in homeless shelters and prisons.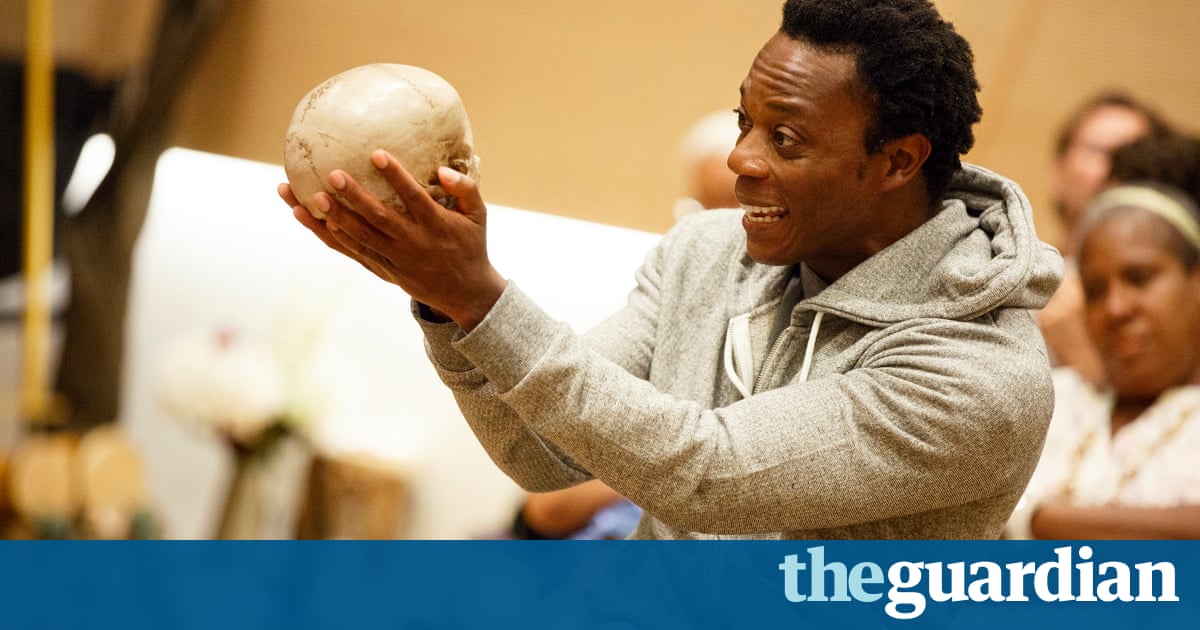 For the Nigerian-born British actor Chuk Iwuji, to be or not to be wasnt remotely the question when it came to playing Hamlet. He has pursued the role ever since his days as a glorified spear carrier at the Royal Shakespeare Company, watching from the wings as celebrated actors spoke the famous soliloquies. As the ambassador Cornelius, Iwuji had one line, shared with another character.
Hes since gone on to lengthier Shakespeare parts: Henry VI in the history plays (a role he toured with for more than two years), Enobarbus in Antony and Cleopatra, Buckingham in Richard III, Edgar in King Lear. But Hamlet had always eluded him until New Yorks Public Theater asked if hed star in a Mobile Unit production. This bus and truck version, directed by Patricia McGregor, cuts the tragedy to under two hours and tours it to prisons, homeless shelters and senior centers before it returns to the Public for a three-week run.
Iwuji, who will soon return to England to star in Hedda Gabler at the National Theatre opposite Ruth Wilson, spoke about how playing Hamlet has changed his craft and maybe his life.
How did you become interested in theater?
I did theater as a kid in Nigeria. But I didnt think anything of it. When I moved to boarding school in England, you have the athletes and the non-athletes. And I love sports, I did my rugby and my track, so theater went out the window. But when I found myself heading for law and economics, there was a side of me that quietly panicked. At Yale, I decided to start experimenting with theater again.
Do you have a particular affinity for Shakespeare?
Yes, I do. As soon as I became an actor and started accidentally doing Shakespeare, it became something that I loved. People seem to believe I know what Im doing! I have never been worried about who Im up against when I go in for a Shakespeare audition. I dont feel intimidated by it, I feel excited by it.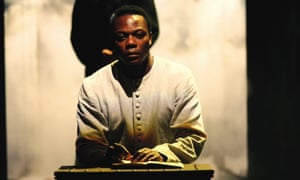 Read more: https://www.theguardian.com/stage/2016/sep/21/chuk-iwuji-hamlet-shakespeare-black-lives-matter
His new show Kevin Can Wait is about to hit screens this week and his everyman schtick has divided opinion. Two Guardian writers argue the case.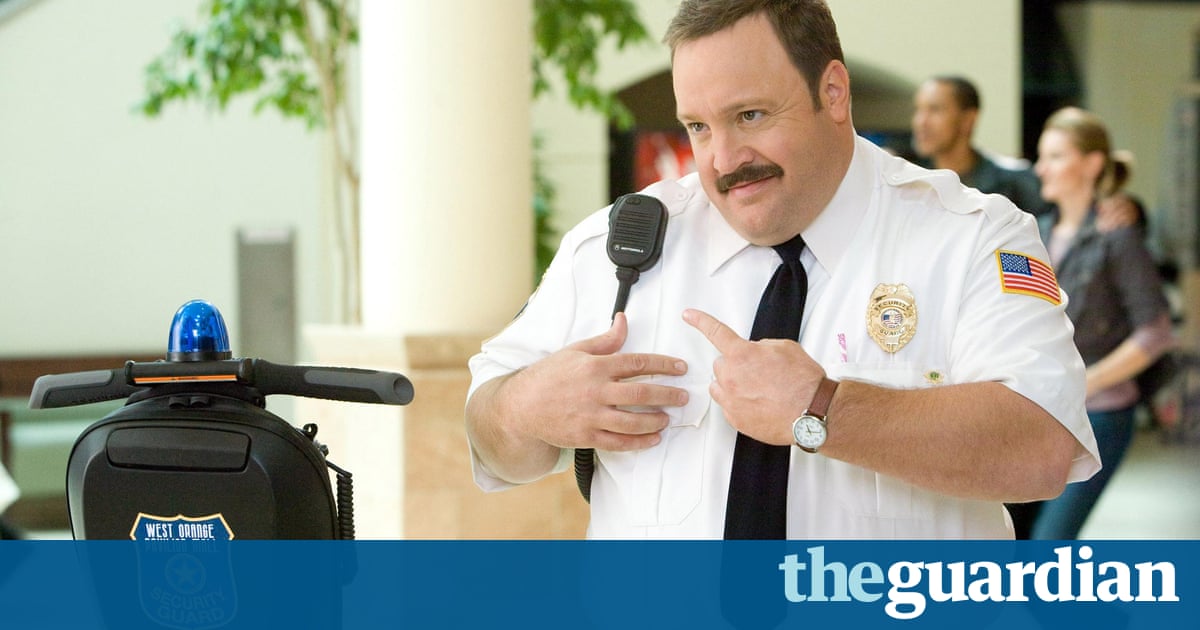 The case for: He gives a masterclass in screen acting
Before I begin, let me say this. The trailer for Kevin Can Wait, Jamess new sitcom for CBS, looks awful. The script is lazy, and the chemistry between him and Erinn Hayes is nonexistent. Equally, if you detest him on the big screen, I can sympathize. Whether hes playing the irritating Paul Blart in Mall Cop or Adam Sandlers aw shucks sidekick, I get it. Hes not your cup of tea. But hear me out: Kevin James is hilarious, you just need to dig a little deeper.
Jamess career began in improv and standup, when after making appearances in Star Search and Jay Leno; his big break came in 1996 at the Just for Laughs Montreal comedy festival. It was then when Ray Romano gave him a recurring role on Everybody Loves Raymond, which led him to create his greatest character, Doug Heffernan. The King Of Queens, to this day, remains my favorite network sitcom of all time and I watch it every single day. When the pilot was aired in 1998, Variety was less than kind: Fat guys with big mouths are back in primetime, said TV critic Ray Richmond. He called it The Honeymooners minus the charm of Jackie Gleason, but once the season grew in confidence so did the writing. The show had a ridiculously talented cast that included Jerry Stiller, Patton Oswalt and Victor Williams, but its success (it lasted for nine seasons) lived and died on the chemistry between James and Leah Remini. Theres a great moment in season one where Doug and Carrie are arguing in the middle of a cello performance, and no lines are spoken and the scene is performed in complete silence. Its a masterclass in screen acting.
James is a fantastic physical performer, unbelievably athletic for a man of his size, and this is something we see throughout the show. Another great scene is when Doug shows Carrie how to pole dance and James effortlessly hangs in the air from the pole as if he was a Cirque du Soleil performer. Its one of the funniest scenes in the entire show. James, to me, remains a great comedian, blessed with great timing and screen presence. His achilles heel, however just like Chris Rock has always been catastrophic movie decisions. In King Of Queens, he had the freedom to be charmingly mischievous minus the arrogance, but once he appears on a movie screen, all that goes away as he plays 2D flatpack roles. I dont think we should blame James for that. I just wish he would fire his manager. LME
The case against: The cinematic works of Kevin James are strictly for the big boy go fall down set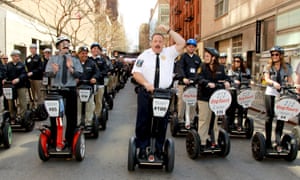 Read more: https://www.theguardian.com/tv-and-radio/2016/sep/19/kevin-can-wait-kevin-james-acting