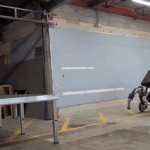 Boston Dynamics wheeled Handle robot received much fanfare earlier this month when DFJ partner Steve Jurvetson slipped us an early video from a company Keynote. Today we have more details on Handle in the form of a shiny HD video.
We already knew Handle could manage some pretty sick hurdles and spins, but the new video shows us how the robot can operate in tough environments on hills, in the snow and over uneven terrain. It's able to do this with a height of 6.5 feet that surpasses that of most humans. On wheels, it can move at a chipper nine mph and manage four-foot vertical jumps. If you're wondering, the highest human jump ever recorded is 5.3 feet. (Take that Handle!)
Once charged up on electric power, Handle can travel about 15 miles. It's equipped with bothelectric and hydraulic actuators. Though the robot is just for research and development purposes, it hints at a future where Boston Dynamics might prioritize function over form. The wheeled robot is more efficient than its legged peers trading anthropomorphism for something that could actually be used to move boxes around a factory floor.
To this point, Handle only has 10actuated joints. This makes for a simpler design and likely easier production if Handle, or a version of it, was ever to beproduced at scale. But all economics aside, Handle is damn fun to watch.
Read more: https://techcrunch.com/2017/02/27/boston-dynamics-handle-robot-dominates-parkour-on-wheels-in-new-footage/
Image: MJ Franklin/ Mashable
George Saunders has a rule for art: "If you do it right, it's almost like this beautiful prism, and no matter what the time is, you can shine a light through it and it will make some sense."
It's an apt description and an excellent way to describe Saunders' newest book Lincoln in the Bardo, a postmodern novel that's both incredibly timely and quintessentially timeless.
Lincoln In The Bardo tells the story of one fateful night in a Georgetown graveyard in 1862. When his son Willie dies, a grief-stricken Abraham Lincoln goes to visit his body three times throughout the course of a night. But unbeknownst to him, he's not the only inhabitant in the graveyard.
The cemetery is also full of ghosts stuck in bardo, the period between death and whatever comes next in the afterlife. Drawn to his father's presence, Willie Lincoln decides to stay in the bardo, starting a fateful battle for the boy's soul.
Told through a chorus of 166 different voices, Lincoln In The Bardo is a perfectly crafted novel about the universal themes of grief, empathy, family and the existential angst of moving on. Do yourself a favor and go read this book ASAP.
This week on the MashReads Podcast, we read and discuss Lincoln in the Bardo with George Saunders himself! Join us as we talk about history, postmodern novels and the power of empathy in literature.
And as always, we close the show with recommendations:
George has a host of book recommendations including: Moonglow by Michael Chebon, Commonwealth by Ann Patchett, Swingtime by Zadie Smith and The Underground Railroad by Colson Whitehead and I Will Bear Witness: A Diary of the Nazi Years, 1933-1941 by Victor Klemperer.
Aliza recommends the audiobook version of Lincoln In The Bardo. "The audiobook for this book, Lincoln In The Bardo, is amazing. All of the 166 different perspectives have a different voice actor; they're all well known celebrities/ big name actors, and they all apparently knocked it out of the park."
Peter recommends rewatching the first John Wick movie (before seeing John Wick: Chapter 2). "What I love so much about that movie is that it all takes place in its own kind of silly world, but it knows it's silly and it's fine being silly."
MJ recommends Kathryn Schulz's 'When Things Go Missing,' a new essay in the New Yorker about grief and the phenomenon of losing things. "It's both a really heartbreaking and emotional essay, but also a masterful one. [Kathryn Schulz] is such a phenomenal writer. I highly recommend you go read this."
We hope you'll join us next week on the podcast as we read and discuss History Is All You Left Me by Adam Silvera with Silvera himself.
And if you're looking for even more book news, don't forget to follow MashReads on Facebook and Twitter.
Read more: http://mashable.com/2017/02/26/mashreads-podcast-lincoln-in-the-bardo-george-saunders/
Britain's tech sector faces a triple whammy hit to its workforce without government action, according to new reports. Firstly, from a critical fall-off in STEM skills in its own population due to lack of funding; secondly, from visa restrictions on the availability of high-skilled specialists from overseas; and, thirdly, from the uncertainty of the impact of Brexit on its highly international tech workforce.
The Coalition for a Digital Economy (Coadec), a policy group representing tech and digital startups, is calling on the government to reverse cuts to the U.K. budget that covered 2016 to 2019 and affect STEM skills. It said the U.K. is also hampered by a lack of funding for new training providers.
This is against a backdrop of the tech sector accounting for 16 percent of U.K. domestic output and 3 million workers, which amounts to 10 percent of all jobs in the U.K. (manufacturing accounts for 10 percent and construction accounts for 6 percent).
U.K. industry leaders are calling on ministers to take urgent steps to boost STEM skills, adapt the current apprenticeship model and improve basic numeracy and literacy. It is estimated that Britain will need an extra 2.287 million digitally skilled workers by 2020 to satisfy its growing tech economy. Software developers are the most sought-after, accounting for 27 percent of vacancies.
Currently, the U.K. is in the bottom division internationally when it comes to the proportion of teenagers studying math to a high level.
The report also found that government-backed university degrees in computer science are not leading to enough jobs filled and not meeting industry needs, while at the same time successful new software developer training providers are failing to attract government funding.
Tech leaders have called on the government to move to a system where 16-19 mathematics is compulsory and adapt the apprenticeship model to allow uptake of software developers.
Alex Depledge MBE, Chair, Coadec said: The UK is faced with a unique opportunity to become a world-leading tech hub and its crucial the Government does everything possible to increase the flow of talent to one of the UKs fastest growing sectors. That means increasing the proportion of 16-19 year-olds studying mathematics and STEM subjects to a high level, and a funding boost for software development training.
Evgeny Shadchnev, co-founder of Makers Academy, said: "We know the single most important reason people dont apply to Makers Academy is cost, making the course inaccessible by the majority of British people. If the Government subsidised the course in the same way it funds apprenticeships or computer science courses, we estimate that the number of candidates we could train increase ten-fold within a year. That is 20 per cent of the nationwide computer science undergraduate cohort."
In a separate report, Coadec warned that restrictions on the availability of high-skilled specialists from overseas risks choking off a major growth sector of the U.K. economy.
It follows numerous warnings by tech industry leaders that Brexit and its new curbs on immigration from the EU could hugely impact the U.K.s competitiveness in tech.
Coadec is calling on the government to avert a skills crisis in an industry where the U.K. is currently a world leader by creating a special visa to allow qualified people to enter the U.K. and seek work in the digital economy.
It said Britain's tech sector is at risk of a talent shortage of 800,000 workers, and it relies heavily on non-U.K. citizens: Nearly one-third of tech companies first 10 hires are from outside the U.K. To qualify for the high-skilled six-month tech visa, aspiring specialists would have to have studied at a designated institution or to have passed a standardized, high-level exam in specific programming languages.
Taavet Hinrikus, co-founder of TransferWise said: "For the UKs tech sector to thrive, we have to find solutions to the current talent and skills shortages. Its everything from how we build the capacity in the UK through education, and how we attract the best from around the world through immigration policies. Post-Brexit, the need is even more pressing."
He and other tech leaders are calling for a new minimum six-month high-skilled visa to speed the flow of top global talent.
The report found that the first 10 hires at the average U.K. startup are highly skilled, and dominated by developers and engineers. Companies are also very small: holding fewer than 50 employees, leaving them vulnerable to any further regulation and restrictions.
Almost 70 percent of respondents to the Codec survey said bureaucracy and time is already a major barrier. A number of those surveyed said they considered hiring from outside the EU, but decided against it after studying the visa process. One-third of startups said it cost 6,000 to make a single hire. Much of this sum was spent on legal fees.
It also found that the greatest non-EU migration is from North America, New Zealand and Australia, where the same skills are already in high demand and therefore U.K. companies must offer even better packages to attract these workers.
The report urges the government to pilot a scheme with a small number of highly trusted tech companies that would endorse companies, just as Tech City endorses applicants. Once through this process, startups would be able to hire Tier 2 workers. One other suggestion is that companies endorsed through this process could offer equity compensation in lieu of some salary requirements when hiring Tier 2 workers. This could initially be piloted for Tier 5 countries.
Read more: https://techcrunch.com/2017/02/21/uk-faces-triple-whammy-from-skills-shortfall-visa-restrictions-and-brexit-uncertainty/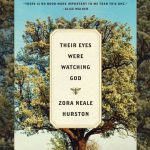 Image: Mashable Composite, HarperCollins
Sometimes the best way to understand the present is to look at the past.
Or at least that's true with Zora Neale Hurston's classic novel Their Eyes Were Watching God. The book was written 80 years ago, but the commentary it makes on race and feminism feels as fresh and contemporary as anything published today.
Their Eyes Were Watching God tells the story of Janie Crawford, a southern woman living in Florida in the early 1900s. When Janie returns to home from an extended time away, she is followed by a wave of gossip about her past. Determined to set the record straight, she tells her life story to her friend Pheoby, recounting her adventures as they relate to her three marriages and how each marriage shaped her into a sharp and fiercely independent woman who must navigate the pressures placed on her as a black woman in the south.
This week on the MashReads Podcast, we read and discuss Zora Neal Hurston's timeless novel Their Eyes Were Watching God. Join us as we talk about the book's portrait of the south, how the book is like The Odyssey by Homer and how Hurston wrote the feminist boss queen we all need right now.
Then, inspired by Their Eyes Were Watching God and Black History Month, we discuss our favorite books by black authors including Americanah by Chimamanda Ngozi Adichie, How To Be Black by Baratunde Thurston and What Is Not Yours Is Not Yours by Helen Oyeyemi.
And as always we close the show with recommendations:
Aliza recommends the Everything, Everything trailer. She also recommends a list of geeky feminist projects after attending the Strand's Galentine's Day event this week including Geek Girl Brunch, an international meetup group that hosts activities for geeky women and Geek Girl Strong, a program and community that combines geekdom with fitness.
Peter recommends The Fifth Season by N.K. Jemisin. "It's really, really, really great. Especially in terms of fantasy… It's a rainbow of people and characters in a way that I have personally have found sendom in a fantasy genre. And it's wonderful and refreshing."
MJ recommends Dear White People, the 2014 movie that inspired the upcoming Netflix series of the same name. "What I loved about this movie is that it felt like a dialogue…Whether you agree with the politics of the characters or not, [the movie] felt like a smart, rich dialogue that we should be having right now."
And if you're looking for a book to sink your teeth into, we recommend History Is All You Left Me by Adam Silvera, which is this month's official MashReads book club book.
If you're looking for even more book news, don't forget to follow MashReads on Facebook and Twitter.
Read more: http://mashable.com/2017/02/18/mashreads-podcast-their-eyes-were-watching-god-zora-neale-hurston/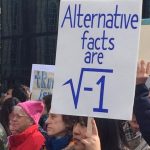 From Sunday's "Stand Up For Science" rally at Copley Square in Boston.
Image: Tomas Green/Twitter
At a rally full of scientists, things were bound to get a bit geeky.
On Sunday, thousands scientists and supporters gathered in Boston's Copley Square to "stand up for science" under the Trump administration.
Their signs were, predictably, quite clever.
Many rally-goers were in Boston for the annual meeting of the American Association for the Advancement of Science (AAAS), the world's largest general scientific society.
"You don't usually see these kinds of rallies and demonstrations at scientific meetings," Kishore Hari, a chemist-turned-science educator, said ahead of Sunday's rally.
"It's a sign that scientists are feeling not just under attack, but like the integrity of their work is in question," he said.
Scientists at the rally voiced concerns about what they say is President Donald Trump's "anti-science" administration.
Trump has tapped cabinet officials who deny the mainstream scientific consensus that climate change is happening, and that human activity is largely to blame. The newly confirmed head of the Environmental Protection Administration, Scott Pruitt, called himself the "leading advocate against the EPA" during his tenure as Oklahoma's attorney general.
Since taking office, Trump has also moved to curb the flow of information from key government agencies involved in environmental issues. Along with the EPA, the departments of Interior and Agriculture were ordered to stop sharing information with the public, including through social media accounts.
In response to the Trump administration's actions, U.S. scientists have taken the relatively rare step of banding together.
"Scientists usually like to be in their labs or their offices … rarely do they come together to fight for something"
Last December, a few hundred scientists held a rally outside the annual fall meeting of the American Geophysical Union.That event plus the widespread Women's Marches in January have inspired the larger March for Science, a demonstration planned for Earth Day on April 22.
"Scientists usually like to be in their labs or their offices, just doing their thing, and rarely do they come together to fight for something," said Astrid Caldas, a climate scientist for the Union of Concerned Scientists, a science advocacy organization.
Caldas noted that rallies aren't the only way scientists can speak out. Some people may feel more comfortable engaging directly with policymakers, penning articles, or working behind the scenes.
"I think it's important that every scientist's voice is heard," she said. "There are many ways of advocating for science."
Hari, the science educator, said he is organizing more than 260 satellite events to coincide with the main March for Science in Washington this spring.
"Usually you hear the phrase 'let the science do the talking,'" he said. "I don't think that's going to be the case any more."
Read more: http://mashable.com/2017/02/19/science-rally-boston-geeky-signs/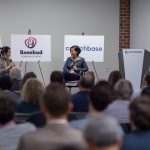 Wednesday night, at a StrictlyVC event in San Francisco, venture capitalist Aileen Lee took the stage to interview Amy Chang, a former eBay product manager turned head of Google Analytics turned startup founder.
It's a transition that has introduced Chang to night sweats, she readily admitted.
Chang's three-year-old startup, Accompany, received one of its first checks from Lee's firm, Cowboy Ventures. And Lee asked Chang about what it's like to leave behind a cushy paycheck to launch something new, even with her former Google colleague, Matthias Ruhl a large-scale systems design expert by her side as her cofounder.
For one thing, Chang said, getting the company to the point where it could launch publicly took far longer than either she or Ruhl imagined it would. Though they now claim that they've built the second-largest database of people behind LinkedIn. Accompany basically creates cheat sheets for folks who need to get up to speed quickly on the new people and companies they meet every day. It took them 2.5 years.
They've also had to raise a bunch of money, $40 million altogether so far.
"It was a much bigger data challenge than we expected," Chang said. "We had to build this whole data platform ourselves. Though once you have textured understanding of how a person's network lays out. . . you can serve them a lot better."
The native Texan, who nabbed her electrical engineering degree from Stanford and stayed in California, has also learned the pleasures and pain of working with 40 people, compared with the hundreds she managed at Google.
"When you're at Google and it's more a GM role, you're managing to a mean," explained Chang, "On any given day, maybe 20 percent of people are performing at a 5 [level] out of a 10. They've got stuff going on or are distracted by something. That 20 percent who aren't operating at a 9 or 10 level of intensity is okay, because in the grand scheme of things, you're [still in good shape]."
"When it's 40 people, every person matters. I know now whose child is sick whose cat is sick. I have to make sure people's emotional needs are met because if they aren't, they can't focus and perform at the level required to move a startup meaningfully forward every day."
The good news for Chang: her leap out of Google appears to be paying off. Though she declined to get into granular detail about her business, owing to competitive concerns (Accompany is far from the only virtual assistant game in town), she was recently pursued by Cisco, which invited her to join its board.
She says that plum role came about because recruiter Jim Citrin, who leads Spencer Stuarts North American CEO practice, began using Accompany last year, got excited about it, and told Cisco CEO Chuck Robbins to try it, too. He was like, "Who makes this?'"
It helps that Cisco was looking for a digital native who'd grown up with mobile and with analytics in particular to add to its board. "I kind of fit the profile, and there was good chemistry," she said.
The position which pays her a $75,000 annual retainer and gives her a grant of restricted stock worth several hundred thousand dollars, says a recent New York Times article presumably offsets much of the financial pressure that many other company founders face.
But Chang says she still wakes up in a cold panic at 3 a.m. oftentimes.
She has resigned herself to the fact that it's the new normal. But she did have some advice to other aspiring founders in the room: Do not wake up your spouse every time it happens.
Read more: https://techcrunch.com/2017/02/10/ex-googler-and-ciscos-newest-board-member-amy-chang-on-her-leap-into-startups/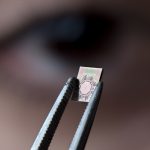 Researchers at the University of California Irvine have created a chip for use in medical imaging and other applications thats as powerful as it is tiny. The pint-size millimeter-wave radiator could lead to better scanning of tissues and organs, but may also work as part of our everyday wireless data ecosystem.
"We're very excited about the successful design of this radiator because it represents a complete breakthrough," said UCIs Payam Heydari, the lead investigator of the project, in a university news release. "We're offering an entirely new kind of physics, a new kind of device really. Our power and efficiency is an order of magnitude greater than other designs."
If millimeter-wave radiation sounds familiar, that's because it has something of an ignoble history. Perhaps its most infamous application is in the pain rays proposed about a decade ago; high-energy beams of this wavelength could heat up the skin, producing the sensation of touching a hot light bulb. It was eventually deployed against geese.
Not long after that it was and continues to be employed in the body-scanner machines many of us have had to stand in, hands up, at the airport.
So it's nice to see the technology in its more laudable applications. The useful thing about millimeter-wave radiation is that it penetrates the body to varying amounts depending on the energy and wavelength, and by carefully monitoring the reflection you can get a detailed picture of what's lurking underneath the skin.
UCI claims that this very small chip has the highest power and efficiency, yet lowest noise levels, ever found in such a device. It also modulates the signal to the desired frequency, polarizes the radiation (circularly, at that) and performs other functions that were relegated to separate chips or devices before.
The improved size and power could make possible a handheld scanner that automatically penetrates to the desired depth, monitoring tumors or searching for anything suspicious.
But it could also be used in the soon-to-be-omnipresent Internet of Things (including autonomous cars). Small, low-power, limited-range chips with high-data throughput capability are in great demand, and millimeter wave (its in the gigahertz range) could be a piece of the puzzle.
The research was sponsored by the Samsung Advanced Institute of Technology. Heydari and his colleagues will present their findings at an IEEE conference this week.
Read more: https://techcrunch.com/2017/02/07/tiny-chip-looks-deep-inside-your-body-with-millimeter-wave-radiation/
This, clearly, isn't the battery the MIT team is working on.
Image: Shutterstock / sdecoret
The lithium-ion battery in your phone might look like a solid chunk of energy-producing plastic at first glance, but if you were to bust it open and take a closer look, you'd see there's also some liquid inside. That's because most lithium-ion batteries are composed of multiple parts: two solid electrodes, separated by a polymer membrane infused with a liquid or gel electrolyte.
Now, MIT researchers believe they have taken the first steps forward in the development of all-solid-state lithium-ion batteries, according to new research published in Advanced Energy Materials. In non-nerd speak, that basically means batteries that could store more energymeaning less trips to a power outlet.
The team's report was co-authored by grad students Frank McGrogan and Tushar Swamy. They investigated the mechanics of lithium sulfides, which could someday replace the liquid as a more stable, solid form of electrolyte.
Switching out the liquid electrolytes for solids could be a big move. The all-solid batteries would likely be able to store more energy, "pound for pound," at the battery pack level than current lithium-ion packs. They'd also be much less unstable, since dendrites, which are metallic projections that sometimes grow through liquid electrolyte layers, would be less likely to occur.
The research team looked to to test the sulfide's fracture toughness, which is essential to the material's role in a lithium-ion battery. If it's too brittle and can't handle the stresses of continual power cycling, it could crack and open up space for those same dendrites to form.
The research faced one significant hurdle, however: the sulfide is so sensitive to room conditions it can't be experimented on in the open air. In order to test the material, the team placed the sulfide in a bath of mineral oil to prevent it from reacting before being measured for its mechanical properties. This was the first experiment to test for lithium sulfide's fracture properties.
After the test, the researchers concluded that the material does indeed crack under high stress conditions, "like a brittle piece of glass."
That said, the knowledge gained could allow the team to build new battery systems by "calculat[ing] how much stress the material can tolerate before it fractures, according to MIT associate professor Krystyn Van Vliet, who contributed to the research.
Co-author Frank McGrogan agrees. This exact form of the sulfide won't be the solid material that makes it into the form of lithium-ion batteries we use today. But since the team can study its properties and design new battery systems around that knowledge, someday it could still have potential for use.
You have to design around that knowledge, he said.
Read more: http://mashable.com/2017/02/06/mit-research-solid-lithium-ion-battery/
Hulu just released a trailer for its adaptation of Margaret Atwood's The Handmaid's Tale, a science fiction tale in which the U.S. Government has been toppled by a theocratic authoritarian dictatorship and women suffer a horrible revocation of rights.
So yeah it's a little too on the nose right now. Maybe the hope is that showing this during America's leather ball smash man contest will wake some people up to why dystopian sci-fi cautionary tales should legitimately be regarded as ACTUALLY CAUTIONARY TALES.
The show is out on April 26, streaming on Hulu, with each of 10 episodes debuting weekly starting on that day.
Read more: https://techcrunch.com/2017/02/03/watch-hulus-super-bowl-spot-for-original-series-the-handmaids-tale/
In a horrific experiment for its 13th birthday, Facebook gave Reactions a hideous humanoid form.
Image: Facebook
While International Friendship Day was popularized by greeting card companies, Facebook went a step forward and coined its own birthday, Feb. 4 as Friends Day a few years ago.
Facebook, which has finally turned old enough to be a user on its own site, is marking the made-up holiday by bestowing its users with a personalized Friends Day video. The videos are similar to other auto-generated videos Facebook has done (like the ones for birthdays). with an eye-popping addition: a bizarre-looking humanoid creature, an apparent amalgam of reaction buttons and Facebook photos.
And it dances. Behold (full video below):
It's hard to look away from the beast, which we are dubbing the Facebook Reactions Monster. It dances, cheers and occasionally disappears from view, only to pop in from the frame much closer, its photos now clear they're profile pics of your friends, apparently harvested as raw material for this creature. Perhaps it's coming for you next.
Perhaps it's coming for you next.
Hideous animations aside, the video is far from the only thing Facebook is doing for Friends Day. The company hosted an event on "Inspirational stories of Friendship" at its Menlo Park headquarters this week, and captured the video. CEO Mark Zuckerberg who is definitely not running for president remarked to Facebook staff, I think that this is a time in the world where there is more division than there has been in a while, and I think that that means that, you know, connecting friends and bringing groups together is probably more important now than it ever has been.
COO Sheryl Sandberg continued, Im so excited and grateful to have all of you here so Ive thought a lot about what community is, what friendship is… for me all of that comes together. Not in the product we build every day but in what you guys are and what you do.
The video leaves us with "#friendsday," which is a great reminder that Facebook too has hashtags, because we definitely forgot.
What's more, Facebook Messenger will highlight friendship-themed GIFs to mark the occasion. No word if the Reactions Monster appears in any of them.
The features will be rolling out to all users over the next few days, so if you see your feed suddenly turned into a seemingly random celebration of friendship, don't be surprised. Happy Birthday, Facebook the rest of us will be running for our lives!
Read more: http://mashable.com/2017/02/02/facebook-friends-day-2017/