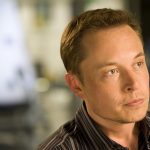 If you're hoping Tesla would help lead the future for flying cars, don't hold your breath.
During his interview at the TED 2017 Conference in Vancouver, Tesla CEO Elon Musk knocked the idea completely, telling interviewer Chris Anderson that he's "in favour of flying things" but not so much of the car variety, Inverse reported.
"There is a challenge with flying cars in that they'll be quite noisy, the wind-force generated will be very high … Let's just say that if something's flying over your head, if there are a whole bunch of flying cars all over the place, that is not an anxiety-reducing situation," Musk said.
"You don't think to yourself, 'Well, I feel better about today,'" Musk continued. "You're thinking, 'Did they service their hubcap? Or is it going to come off and guillotine me as they're flying past?'"
Musk's anxiety-inducing hubcap guillotine hypothetical appears to be an anti-flying car talking point of his, as Inverse cited another go at the joke in Bloomberg from February:
"Obviously, I like flying things,"he says. But it's difficult to imagine the flying car becoming a scalable solution. As long as the laws of physics hold, he explains, any flying car will need to generate a lot of downward force to stop it from falling out of the sky, which means wind and noise for those on the ground, not to mention debris from midair fender-benders. "If somebody doesn't maintain their flying car, it could drop a hubcap and guillotine you, he says. Your anxiety level will not decrease as a result of things that weigh a lot buzzing around your head."
Musk's criticism at the conference came days after the "Uber Elevate Summit," the first-ever flying car conference hosted by Uber. The ride-hailing and driverless car-testing giant predicted it would be testing out its "commuter aircraft" by 2020.
The flying car diss also reflects the war between Tesla and Uber Inverse reported in October that Musk equated Uber's falling reputation with consumers to a case of "the people vs. Uber."
But even if we don't see Musk on some sort of standards board for flying cars in the future, at least we can looking forward to his idea for an underground tunnel network in Los Angeles. According to Musk, drivers could avoid "soul-destroying" traffic by driving atop trolley-like devices before being carried underground and resurfacing at access points, at which the next car could take the same device back underground.
Yes, yes it certainly sounds like a subway for cars. But given that L.A.'s existing subway line is nearly invisible to Angelenos, maybe Musk's idea isn't too far-fetched.
H/T Inverse
Read more: https://www.dailydot.com/debug/elon-musk-against-flying-cars-uber/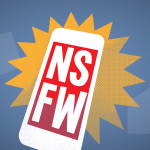 Here's an interesting change: Tumblr's iOS application just received an update which now lets you turn on or off adult-oriented, NSFW search results just by toggling a switch in iOS's Settings. That's right: you can now switch on or off the Tumblr porn with ease. Weirder still, Tumblr's note about the change in the App Store update text says this was implemented per Apple's content guidelines.
Why is that weird?
Because Apple's developer guidelines at least today explicitly tell app developers not to do this sort of thing.
Above: Tumblr's iOS app update text
While Apple has never permitted explicit apps whose sole purpose is to serve pornography, it long ago carved out an exception for social networks hosting user-generated content, provided they agreed to filter and hide the NSFW content by default.
This is an issue that greatly impacts Tumblr, given that its blogging network is actually composed of a lot of porn. In fact, according to website analytics service SimilarWeb, adult content is the top category that drives direct clicks to Tumblr's desktop site, accounting for 20.53% of clicks, compared with the next-largest referring category, books and literature, which drove just 7.61% of clicks.
Above: Tumblr's new porn toggle
Tumblr has always had NSFW content, saying that its policy about this sort of material is a live-and-let-live kind of thing, but it draws the line at actually hosting sexually explicit videos. (Embed them, it says.)
To be allowed into the iTunes App Store, Tumblr has had to filter out and hide this content in its iOS app by default. There's a loophole, though as I'm sure many of you know.
According to Apple's App Store Review Guidelines, apps like Tumblr are allowed to show the NSFW content if the user turns the setting on via the services website.
Here's the full text, per Apple's App Store Review Guidelines, about how this system is supposed to work, emphasis ours:
Apps with user-generated content or services that end up being used primarily for pornographic content, objectification of real people (e.g. hot-or-not voting), making physical threats, or bullying do not belong on the App Store and may be removed without notice. If your app includes user-generated content from a web-based service, it may display incidental mature NSFW content, provided that the content is hidden by default and only displayed when the user turns it on via your website.
Tumblr clearly fits in that latter category of apps that display incidental mature NSFW content, but it's now being told to put a toggle in iOS's Settings?
Hmmm.
The most logical explanation for this sort of change is that Apple will allow this setting to be locked down via its parental controls at some point. That's not the case right now, though.
Under Settings > General > Restrictions, you can block the kids from using Apple's built-in apps, block app downloads, and can block apps based on their current rating. (Tumblr is rated 17+, for example). However, there is not a way to force something like a Safe Search toggle switch to remain on.
Above: iOS 10's Restrictions screen
It's possible that Apple will roll out improved parental controls in the next version of its mobile operating system, iOS 11, which is expected to be announced at WWDC this summer. Perhaps it directed Tumblr to implement this setting in preparation of that change. (And maybe Apple didn't expect Tumblr to code the fix so quickly or call it out in the apps update text!)
Other apps where adult content could be a concern like Google, Twitter, Reddit, Flickr, 500px, and Pinterest don't currently offer this sort of toggle switch in the iOS Settings, even though they may offer content filtering mechanisms of their own in their apps or on their websites.
Tumblr used to have in-app Safe Search controls as well, somehow bypassing Apple's rules. This is an area Apple has cracked down on before, as with third-party Reddit apps. But in that case, the Reddit app makers were advised that after removing their toggle switches, users would have to turn on NSFW content from the Reddit website, as per Apple's guidelines. Tumblr is doing it differently.
Of course, another explanation is that Apple is just chilling out about NSFW content in general, but that seems far less likely given the company's historical position on a being a family-friendly App Store.
"Folks who want porn can buy an Android phone," Steve Jobs famously said.
Apple has not responded to requests for comment about the matter. Tumblr declined to comment.
Disclosure: Yahoo owns Tumblr, and is in the process of being acquired by Verizon; Verizon owns TechCrunch parent company AOL.
Read more: https://techcrunch.com/2017/04/28/tumblr-just-added-a-switch-in-the-ios-settings-that-lets-you-turn-back-on-the-porn/
New film tells story of Jane Jacobss battle's against the wealthiest developers in the city.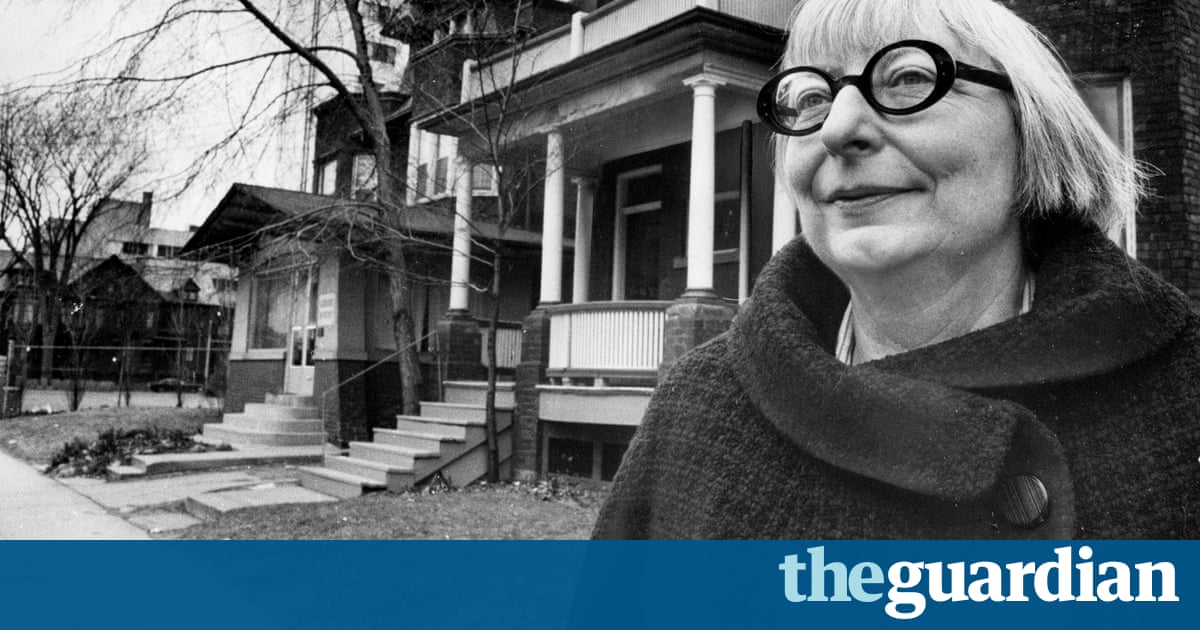 She was a beaky, bespectacled architecture writer, hardly a figure likely to ignite protests that changed the shape of one of the worlds great cities. Yet such is the legend of Jane Jacobs and her bitter struggles to preserve the heart of New York from modernisation that a film charting her astonishing victories over some of the most powerful developers in the US is set to inspire a new generation of urban activists around the world.
Citizen Jane: Battle for the City tells the story of Jacobs, author of The Death and Life of Great American Cities, who made herself the bane of New Yorks powerful city planners from the 1950's to 1970's. Her nemesis was Robert Moses, the city's powerful master builder and advocate of urban renewal, or wholesale neighbourhood clearance what author James Baldwin termed negro removal.
Moses dismissed the protesters as a bunch of mothers, and attempted to ignore their efforts to attract wider attention, which included taping white crosses across their glasses in the style of Jacobs.
But through a combination of grassroots activism, fundraising and persistence, Jacobs blocked Moses and successive city overlords from running Fifth Avenue through the historic Washington Square, tearing down much of SoHo and Little Italy to make way for a billion-dollar expressway, and building a six-lane highway up Manhattans west side.
"Some issues you fight with lawsuits and buy time that way," she later wrote. "With others, you buy time by throwing other kinds of monkey wrenches in. You have to buy time in all these fights. The lawsuit is the more expensive way."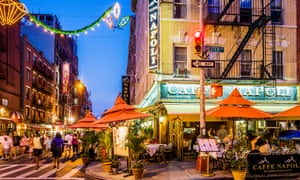 Read more: https://www.theguardian.com/film/2017/apr/22/jane-jacobs-people-power-saved-old-new-york-architecture-grassroots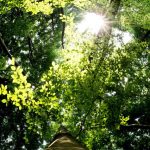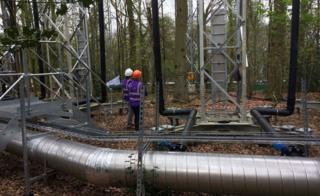 An industrial-scale experiment in a Staffordshire forest will help fill gaps in knowledge about climate change.
The project has created an outdoor laboratory by encircling trees with 25m masts gushing high levels of carbon dioxide.
The site is surrounded by a 3m anti-climb fence, and silvery tubes snake along the forest floor in what looks like a sci-fi alien invasion.
The scientists behind the experiment want to find how forests will respond to the levels of carbon dioxide expected in the atmosphere by the middle of the 21st Century.
That means full lab conditions: no food and drink in the woods, and no relieving yourself behind a tree.
Carbon locked up
The role of plants in taking up CO2 is one of the known unknowns in climatology. CO2 is a plant fertiliser and researchers think that as levels increase the trees will fix more of it into their trunks, roots and organic matter in the earth.
But they believe the fertilizing effect will be limited over time by other factors such as lack of nutrients, lack of water and rising temperatures.
Humans and forests currently participate in a mutually beneficial exchange in which trees are fed by increasing CO2, and the trees in turn lock up carbon that would otherwise remain in the atmosphere, heating the planet.
Trees are estimated to be storing between a quarter and a third of the carbon produced by burning fossil fuels, and the earth is becoming greener as a result.
One of the great imponderables in climate science is how long forests will continue to buffer climate change as CO2 levels continue to spiral.
The lead scientist in the woodland, Professor Rob Mackenzie, from Birmingham University, agreed that scientists had previously under-estimated the amount of carbon trees would fix.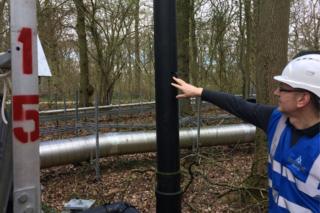 But he told BBC News: "We are confident that trees will continue to take in more CO2, though we are quite sure that there will be other things that will start to limit that. Rising temperatures will (also) change the ability of plants (to absorb CO2) – they are adapted to current temperatures."
Some scientists argue that the tree fertilization effect offers a reason to be less pessimistic about the effects of increasing CO2.
But Professor Mackenzie disagreed: "Not at all, not at all. The land is providing us with a fantastic free service by taking up carbon, and there are uncertainties about how much carbon is going into the land but there is no chance that will offset hazardous climate change."
Hunting ground
The experiment he is leading will be one of four in different countries measuring the effect of CO2 on trees in the forest environment.
It is the first of its kind in Europe.
The woodland, named Mill Haft, is part of the former hunting ground of the Earl of Lichfield.
It covers 25 hectares and is thought to have been under continuous tree cover for more than than 300 years. The dominant species is the English oak, Quercus Robur, of around 160-180 years.
Experiments in the woods will also examine the effects of CO2 at 550ppm levels on the whole ecosystem including leaves, soil, insects and diseases.
Professor Mackenzie said: "The impact of changing CO2 should show up in the leaf chemistry of exposed trees within days, and in the soil within weeks.
"Within three years stem growth, canopy structure, and a host of other structural forest elements should be different in the patches exposed to elevated CO2.
"Continuing out to 2026, the 'push' provided by the elevated CO2 will pass through all the checks and balances of a mature forest ecosystem, allowing, as each year passes, increasingly better estimates to be made of the extent and capacity of the land carbon sink in 2050 and beyond."
Stuff of dreams
He said his experiment might reveal other intriguing effects. So trees in a mature forest, in which intake and release of CO2 are in balance, might adapt to high CO2 levels by reducing their pores, which in turn would make them more tolerant to drought.
Professor Mackenzie describes the extraordinary site as "a scientist's dream all my Christmases come at once."
Scientists say it is vital to obtain more certainty about how much CO2 rises will be buffered by the sea and land.
Optimists hope that the ability of the natural world to soak up carbon can buy time for humans to wean themselves off fossil fuels.
A recent study estimated that the growing season had been extended on 25%-50% of vegetated land, largely as a result of more available CO2.
Carbon gesture
One of the co-authors, Professor Ranga Myneni from Boston University told BBC News: "Experiments do indicate a fertilization effect (from CO2) and higher water use efficiency. The same experiments also indicate diminishing effects over time.
"We do not know how much of what we observe in experiments translates into the real world. Much of this has to do with how nutrient limitations would play out when CO2 becomes abundant.
"Personally, I would not buy the fertilization benefit for the price of global warming and all the impacts that this warming implies, including global warming, loss of sea-ice, rise in sea level, severe storms and loss of biodiversity."
The experiment site in Staffordshire has been funded by a Birmingham alumnus and philanthropist, Professor Joe Bradwell, who made money selling diagnostic medical kits developed at the university – mainly in the US.
Professor Mackenzie said Professor Bradwell calculated that to offset his carbon footprint he needed to plant 300,000 trees – and the research project was part of his commitment.
Follow Roger on Twitter @rharrabin
Read more: http://www.bbc.co.uk/news/science-environment-39472425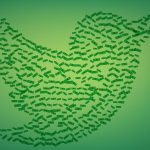 For better and sometimes worse, Twitter is one of the most powerful forces onthe planet. Twitter has arguably played a critical role in at least two of the defining political upheavals of our era: The Arab Spring and the election of a political outsider, Donald Trump, as president of the United States.
Every day, Twitter contributes to the political debate, the sharing of ideas and the widespread dissemination, via links, of news articles and the otherwise obscure findings of academics and nonprofit studies. And, each day, this activity on Twitter contributes to meaningful, ongoing political debate acrosssocieties and across the political spectrum.
Of course, Twitter also is filled with conversations related to our everyday lives. Sometimes they are meaningful, sometimes they are not. But, for many people, Twitter plays a central role in how they connect with friends and family. Like every social platform, there is noise filled with high-minded discussions as well as seemingly mundane conversations.
What is perhaps unique about Twitter is the dichotomy between this valuable role in empowering and connecting people and its ongoing lack of profitability. With restructuring charges, Twitter's net loss in the fourth quarter of 2016 was $167 million, or 23 cents a share, and less than 1 percent year-over-year revenue growth. For 2017, the company has announced plans to achieve profitability, largely through staff cuts. Skepticism that profitability will be achieved is high.
At the same time, many believe these layoffs mortgage the company's future by cutting the sales force that generates revenues and the R&D staff that makes the service more appealing over the long term. In 2009, after writing a book arguing that extreme and growing economic inequality would lead to societal dangers, for our politics and the health of our economy, I became an active Twitter user. Over the years, my activity has waxed and waned, but Twitter remains the central mechanism I use to share my ideas.
At the same time, as an internet marketer, I have developed Twitter campaigns for myself and commercial clients. The net result is that I have a strong understanding of how Twitter can build awareness and influence in the political, nonprofit and commercial realm. Most important, my belief in the fundamental value of the service, and the benefits it brings the world, is very high.
A simple proposal
Twitter, like all social media, has evolved dramatically since its founding. What the founders fully envisioned we cannot know. My guess is Twitter's founders never envisioned corporate accounts with millions of followers. I believe they set out to create a service that would connect people with each other.
Nonetheless, there is one thing we do know: Today, many business entities have millions of followers and communicate with these followers using Twitter as a tool to promote their products and services. This is free advertising, no ifs, ands or buts.
What is perhaps unique about Twitter is the dichotomy between this valuable role in empowering and connecting people and its ongoing lack of profitability.
So, here's a proposal to radically change the economics of Twitter: Charge businesses that exceed a set number of followers (perhaps 250,000) a monthly fee based on their total number of followers. To provide a sense of scale, here are the follower counts for a cross-section of well-known brands:
@TeslaMotors 1.4 million
@Verizon 1.7 million
@Pepsi 3.1 million
@CocaCola 3.4 million
@McDonalds 3.4 million
@Intel 4.7 million
@Marvel 4.9 million
@GoogleChrome 6.1million
@SamsungMobile 12.1 million
@Google 17.6 million
I suspect most of these businesses spend large sums (with in-house personnel or outside agencies) planning and developing their Twitter activities a clear form of advertising that provides value, with no portion going to Twitter. Why would it be wrong for Twitter to capture, through fees, a piece of the economic value its service brings these companies?
To assess the potential magnitude this change might have on Twitter's bottomline, let's take a hypothetical example: Suppose Twitter collected an average annual fee of $600,000 from 2,000 businesses. This would represent increased annual revenues of $1.2 billion. Of course, there would be costs associated with implementing this policy, but the upside is enormous: Most of this $1.2 billion increase in revenues would drop straight to the bottom line.
The reality of value delivered
I don't claim to know what the right fee is, or how this fee should increase by the number of followers involved. But, let's ask the most important question: Would a major brand leave Twitter if a new fee of $50,000 per month were imposed? Companies with millions of followers derive far greater economic value than this monthly sum. Indeed, I strongly suspect many companies spend far more simply staffing their Twitter-related social media campaigns and working with outside agencies. Of course, this would be a cost, which adds to these existing expenses. But, once again, I strongly suspect tweets bring these companies far higher returns than this proposed monthly fee plus any social media management expenses. I also believe these companies know it.
In short, a central reason for Twitter's profitability problem is that it has been far too good a deal for large advertisers (defined as any company with a substantial Twitter following, which means the company has an active, significant Twitter presence).
Yes, I think its legal
I have discussed this idea with a limited number of colleagues. Inevitably, they ask whether charges of this type, levied solely on companies with large follower bases, might represent some form of illegal price discrimination. My understanding is that this suggested revenue idea is entirely lawful.
Here's how it can be done: First, let's take a worst case example that assumes, under the applicable law, corporations that are Twitter users have the same rights as people. Then, these charges could be defined as advertising fees on any Twitter user that has more than 250,000 followers. (Remember, Twitter allows users to block followers, so no one forces a person or corporation to move from the free classification to the new, higher-follower paid classification).
Second, discounts for different categories of advertisers (which can be definedby purpose or commercial segment) are, I believe, legal. As a result, individuals and entities with a non-commercial purpose, such as politicians, journalists, academics, news entities, governmental entities and all nonprofits could be exempted from these advertising fees. They would effectively receive a 100 percent discount. Indeed, significant discounts for nonprofits and educational institutions are commonplace across the spectrum of Internet services.
Why would it be wrong for Twitter to capture, through fees, a piece of the economic value its service brings these companies?
Finally, the group that may present the most significant issue for this proposalare celebrities: movie stars, athletes, authors and musicians. One again, I believe the issue of category discounts resolves this concern. Twitter could decide not to charge these people who for many Twitter users add value to the community or to charge a lower fee (a specific discount for this category).
Now, let's look at the alternative scenario, and assume corporations do not have the same rights as people. Twitter can freely exempt all individuals from charges. Here, Twitter could require corporations to pay advertising fees based on their volume of followers, with fees starting when a firm has morethan 250,000 followers (or whatever number is deemed appropriate). In this scenario, discounts would apply, as frequently happens now online and offline, to entities that have a political, informational or non-commercial purpose (i.e. news entities, political entities, governmental entities and nonprofits). The one difference is that on Twitter these discounts would total a full 100 percent.
Adding value for corporate users
Next, Twitter could take a small piece of the large revenue increase discussed here and create services that add additional value for these paying, large corporate users. I can imagine a wide range of mechanisms that Twitter, with access to its firehose of data, could deploy to increase the effectiveness of large businesses actively using its service.
New services may be valuable, but are not necessary
In recent years, Twitter has based its path to profitability on service enhancements designed to increase user engagement and growth, and on a transformation into a media consumption platform. Twitters recent loss to Amazon of its marquee deal to stream NFL Thursday night games casts an additional shadow on this often-questioned media-related strategy.
As an active Twitter user, I also can imagine a wide range of service enhancements that would increase my engagement. For example, I simply can't imagine why Twitter is not the premier source for an automated, real-time feed of the personalized news topics that meet my interests. The existing News, Trends and #search features fall short of satisfying this craving. However, issues associated with creating more engaging features are outside the scope of this article.
Nonetheless, new service features, while desirable, are not needed for Twitter toachieve far higher profitability: A radical shift in its revenue model will enable Twitter to achieve the profitability it merits. Twitters existing user base already delivers enormous marketing and advertising value to businesses. To date, Twitter, in contrast to other media, has not sought to capture an appropriate share of the value its service creates for businesses benefiting from the use of its platform.
Jack, give me a call
Jack Dorsey, we have never met, and you probably resent people like me suggesting ideas that no doubt you have considered and rejected. But, let's face it: Your business is not improving. You are at a crossroads: You can be Yahoo (without a buyer) or a reimagined business, with Facebook-like potential. I suggest you choose the latter. Let's talk.
Read more: https://techcrunch.com/2017/04/22/how-to-make-twitter-profitable/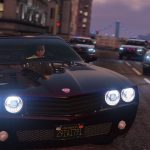 Driverless cars that work are cool, but using another company's work without their permission maybe isn't.
Earlier this week, Bloomberg reported that manufacturers of driverless cars were using video game environments as a testing ground to help teach their cars how to drive themselves. One video game in particular became the go-to for the impressive work that went into its streets: Grand Theft Auto V.
Researchers connected to Intel Labs figured out a way to modify GTAV's engine and algorithms to set up a simulation that would allow companies to track car data on the streets of Los Santos.
The resources needed to test AI on self-driving cars in the real-world are extensive, but a video game environment allows for much easier use. It's not perfect because, as accurate as the physics in a game can be, it's still not the real world but it certainly helps move the process along at a faster rate. Researchers can study a car's response to obstacles and various scenarios incrementally, and make changes on the fly as needed. Rinse and repeat. You can't really do that in the real without without spending tons of hours on it.
As Bloomberg reported:
Just relying on data from the roads is not practical, said Davide Bacchet, who leads the simulation effort in San Jose, California, for Nio, a startup aiming to introduce an autonomous electric car in the U.S. in 2020. With simulation, you can run the same scenario over and over again for infinite times, then test it again.
A fascinating use of technology, to be sure. But Rockstar sent us a statement today highlighting the other side to this. We welcome discussions about the use of our technology to help further academic research, but its obviously not appropriate for corporations to take our work and use it for their own financial interests or for researchers to distribute unlicensed copies of our code as part of their work without first seeking our permission, the company said.
Technically, no one seems to be directly profiting off of using the GTAV engine just yet. But it certainly paves the way for that to happen. Like, for instance, if companies like Google grab this data to get a leg up on, say, Tesla, who have bragged about the number of hours they've logged testing their driverless cars. Video game modifications have always been a little tricky, legally-speaking, but particularly once money comes into the equation.
WATCH: A driverless shuttle called Harry is coming to London and it's low-key exciting
Read more: http://mashable.com/2017/04/21/rocktar-gta-driverless-cars/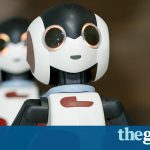 New report shows automation is already causing losses, depressing wages and likely to have lasting, devastating effect.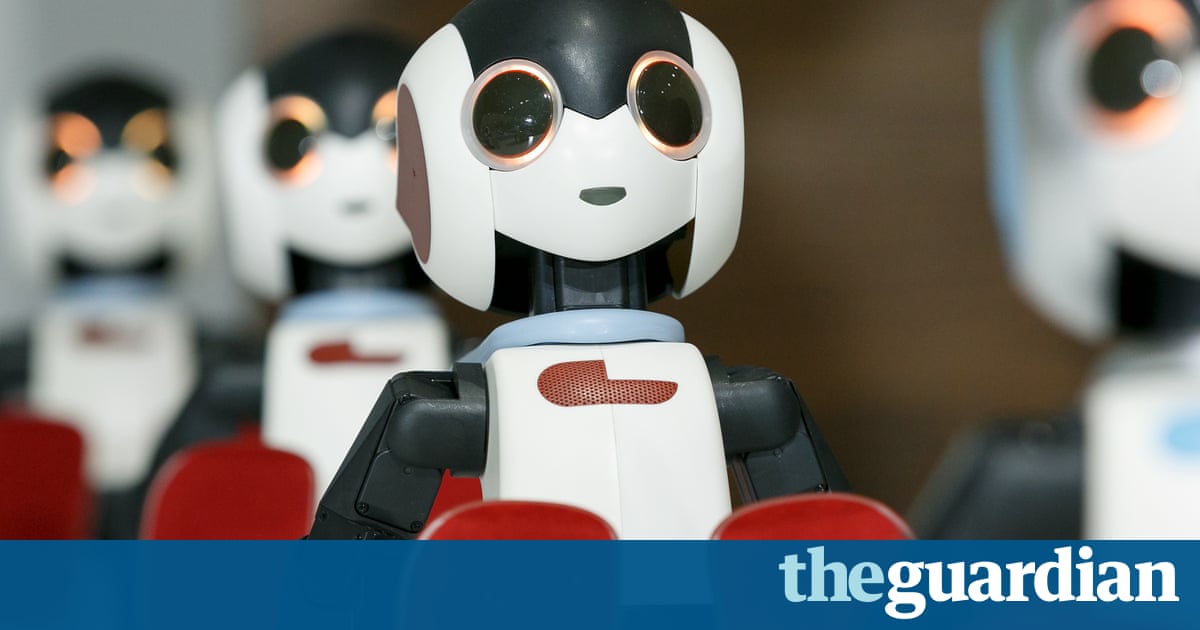 In 2013, the Oxford Martin School released a report that looked at the automation of work, assessing the likelihood that robots and other technologies would replace humans. It concluded that of the 702 job categories examined, 47% were susceptible to automation within the next 20 years. The report completely upended our ideas about the future of work.
Now, a new report by the National Bureau of Economic Research (NBER) in the United States is set to be an even bigger wake-up call. Written by economists Daron Acemoglu (MIT) and Pascual Restrepo (Boston University), it not only adds support to the Oxford Martin conclusions, it actually suggests the jobs are already lost and unlikely to come back.
It contends that in the US between 1990 and 2007, the addition of each robot into manufacturing industries resulted in the loss, on average, of 6.2 human jobs. It also suggests automation depressed wages by between a quarter and a half of one per cent. Using this approach, the report says, we estimate large and robust negative effects of robots on employment and wages across commuting zones.
There is another important insight: these jobs losses and lower wages are likely to have a lasting and devastating effect. Author Daron Acemoglu told the New York Times that, even if overall employment and wages recover, there will be losers in the process, and its going to take a very long time for these communities to recover. The market economy is not going to create the jobs by itself for these workers who are bearing the brunt of the change.
These are game-changing findings, so let me put them into context of the overall debate.
There has been a rather unproductive back-and-forth over whether or not robots are going to take our jobs. This dead end approach was something I warned about in my book Why The Future Is Workless when I wrote, Lets not go down the same route we have with climate change and mindlessly divide ourselves into camps of sceptics and advocates. Lets instead bypass the ultimately futile argument about whether or not robots will take our jobs (they will) and make the imaginative leap, together, into a workless future that can liberate us all.
Much of the argument has rested on the claim that technology ultimately creates as many jobs as it destroys (an approach that author Calum Chace calls the reverse Luddite fallacy).
Probably the most influential proponent of this argument is MIT economist David Autor. His important paper, Why Are There Still So Many Jobs?, although careful to allow for the fact that past behaviour is not always a great predictor of future outcomes, nonetheless notes that journalists and even expert commentators tend to overstate the extent of machine substitution for human labor and ignore the strong complementarities between automation and labor that increase productivity, raise earnings, and augment demand for labor.
As recently as last week, Australian economic commentator, Ross Gittins, ran a similar line in a strongly worded piece decrying so-called futurologists for scaring everyone about job losses. He wrote, improving the productivity of a nations labour increases its real income. When that income is spent, jobs are created somewhere in the economy. Technological advance doesnt destroy jobs, it displaces them from one part of the economy to another.
This claim, of course, was always as much a guess about the future of work as anything offered by dreaded futurologists, but the point is, the NBER report makes it even more tenuous than it was. In fact, Acemoglu and Restrepo specifically argue there is little evidence of new jobs being created, saying the results indicate a very limited set of offsetting employment increases in other industries and occupations.
What lends the NBER report added authority is it doesnt rely on modelling to predict what robots are likely to do to jobs in the future, but on hard data to look at what robots are already doing to jobs in the present. The results are so startling that even the authors were surprised, having previously taken a much more sceptical line.
So where does this leave us? Well, we need to keep things in perspective. The future of work is a hugely complex issue, social and political as much as technological, and one new report, however important, hardly settles the matter. Nonetheless, Acemoglu and Restrepos findings do give us a new baseline for our discussions.
In so doing, they will likely reanimate calls for a universal basic income, because if there really are fewer jobs, we are going to need new ways of distributing wealth.
The report also challenges the neoliberal tenet that unregulated markets are a surefire way to full employment, and it can reasonably be taken to imply a large role for governments in managing the change that is coming. Additionally, it undermines the persistent claim that technology will create enough jobs in the future because this is what happened in the past.
Most importantly, the results suggest politicians and others who carelessly promise jobs and growth need to stop waffling and start taking seriously the fact that the future of work is going to be a very different beast to the past and present of work. We are likely to face not just different sorts of work, but far fewer jobs.
How we respond to this reality will be a huge test for our democracies, and this report is an important contribution to the ongoing debate.
Read more: https://www.theguardian.com/sustainable-business/2017/mar/31/the-robot-debate-is-over-the-jobs-are-gone-and-they-arent-coming-back

The gender pay gap is linked to college majors, but even choosing a high-paying field doesn't always help.
Image: Shutterstock / silvabom
The gender pay gap in the United States starts early with what you choose as your college major.
Majors that tend to lead to higher-paying jobs are dominated by male college students and majors that feed into lower-paying jobs are dominated by women, Glassdoor found in a new report.
"Because men and women systematically sort into different college majors, they experience different early career paths, which pay differently," Glassdoor chief economist Andrew Chamberlain and senior data analyst Jyotsna Jayaraman wrote in their report. "These pay differences in turn reveal themselves as major contributors to the well-documented gap between male and female pay in the labor market."
The well-documented gap shows that women earn just over 80 cents for every man's dollar, with the gap increasing significantly for women of colour.
In companies' reports on equal pay, they tend to point out that the gender pay gap narrows or almost disappears when it's adjusted women and men in the exact same jobs, especially early in their careers, earn about equal salaries. But the unadjusted pay gap, caused by men being awarded higher-paying roles and women working in lower-paying jobs, persists across majors and industries, as Glassdoor found.
The jobs site analyzed nearly 47,000 resumes uploaded to its platform to find these results. Across college majors, men earned $56,957 per year to women's $50,426 per year. That's a pay gap of 11.5 percent.
"Solutions to todays remaining gender pay gap must go beyond examining current pay practices among employers."
Of the 10 college majors that lead to the highest-paying jobs in the first five years after graduation, nine were dominated by men. Those majors were six engineering degrees, plus information technology, management information systems, statistics, and the lone women-dominated degree, nursing.
Of the 10 lowest-paying college majors, six were dominated by women. Those majors were healthcare administration, social work, education, liberal arts, psychology, and biology. Men made up more students in the low-paying criminal justice, kinesiology, and music fields. The last low-paying major, exercise science, was about equal in its gender divide.
It's not enough to say that women should choose majors that lead to higher-paying jobs. Part of the problem is that professions where women make up most of the workforce sometimes called "pink collar" jobs have been undervalued and underpaid. Over 85 percent of social work majors were women and 66 percent of education majors were women, Glassdoor found. Women's choices of college majors are affected by their pre-college preparation, gender norms, and other societal factors besides just their own individual interests.
And choosing a major that leads to a higher-paying field doesn't insulate women from the wage gap. After graduation, women biology majors found jobs as lab technicians, pharmacy technicians, and sales associates, according to Glassdoor. Male biology majors were employed as lab technicians or higher-paid data analysts and managers. The majors with the biggest wage gaps for their male and female students were healthcare administration and mathematics.
"Our findings suggest that solutions to todays remaining gender pay gap must go beyond examining current pay practices among employers," Chamberlain and Jayaraman wrote. "Instead, they must also address pipeline issues including the choice of college major that help drive men and women into different career paths and pay."
WATCH: This typewriter-inspired keyboard will have you kickin' it old school
Read more: http://mashable.com/2017/04/19/college-major-gender-pay-gap-glassdoor/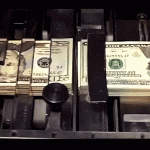 While Uber's woes take center stage in the U.S., a different on-demand battle that's been playing out in China is coming to the States.
The battle isn't over car sharing. It's not over bus sharing, either, though that, too, is a growing focus for investors and automotive companies that are desperate to understand how cities and transportation are changing. This clash is over the latest wrinkle in urban bike-sharing dockless bike sharing. And it has founders and VC's around the globe seeing dollar signs, while regulators are wrestling again with how to ensure they're not victims of a trend that seemed to emerge nearly overnight.
"Dockless bike sharing is something that people worry about until they realize it's a benefit to society," says Atomico cofounder Mattias Ljungman, who calls the ability to leave one's bicycle where a trip ends the real revolution here. "Docking stations are very complicated," he says. "Not only do riders need to know where to park their bikes, but sometimes the stations are full. It's a pain."
Atomico has already placed a big bet on Ofo, a Beijing-based dockless bike-share company that has so far raised roughly $580 million from VC's at a post-money valuation of north of $1 billion. "China-based investors are looking to pour even more into the three-year-old company given its current momentum," suggests Ljungman, citing the more than one million connected bikes it has already placed on city streets in China, and customers who are taking an astonishing 10 million rides per day, compared with the roughly 10 million rides per year that London's public bike-sharing service powers.
The story is much the same for 16-month-old, Shanghai-based Mobike, which also claims to have more than a million bikes in its fleet and has raised $410 million from investors at a valuation that the WSJ reports is north of $1 billion.
Another Beijing-based bike-share company, Bluegogo, is drafting behind both. Founded a mere six months ago, it has already raised at least $65 million from investors.
Still, China is not the U.S; it remains to be seen if a variation of the model will work here. "Just as China will tell you that things that work in the rest of the world won't work in China because of its 5,000-year-long cultural history, things in China don't necessarily work [in the U.S.] either," says Sean O'Sullivan, the founder and managing director of the venture firm SOSV.
Friend or foe
O'Sullivan has been watching dockless bike sharing as closely as anyone. Like a growing number of VC's, he has a horse in this race: New York-based Social Bicycles, or SoBi, which says it was first in producing a dockless bike that features a trackable GPS system and an integrated lock that allows it to be parked at any bike rack in a city.
SoBi founder Ryan Rzepecki launched the company in 2011 after serving two years as a project manager at the New York Department of Transportation. There, he says, he was witness to the city's negotiations with Motivate, parent company of Citi Bike, which has become the largest bike-share program in the U.S. It was a years-long planning process that Rzepecki says gave him great appreciation for how cities work and the things that concern them.
"Among them were ensuring the bikes would be inspected and maintained, that their docking stations would be kept clean, that bikes would be evenly distributed throughout the city, and that there was data sharing," says Rzepeckis then-boss, former New York DOT Commissioner Janette Sadik-Khan, who now advises mayors on urban planning. "It was pretty basic stuff that had New Yorkers best-interest in mind," she adds. "Rogue bike systems," she complains, "don't necessarily have the same priorities."
"These new companies seem to be using [the bikes] more like marketing vehicles and using the streets for their private gain," Sadik-Khan says of Ofo and Mobike, which are giving city dwellers more freedom to zip around congested cities like Shanghai, but attracting bad press around bike-strewn pedestrian walkways and bikes piled sky high in the process. "You can create dangerous situations by inviting this tsunami of bikes that could wind up anywhere and everywhere."
Rzepecki certainly believes they've been less thoughtful in their approach than SoBi, which has more than a thousand of its own bikes in Santa Monica, Ca., and Portland, Ore., among other places in the U.S., Canada, and Europe.
"Most importantly, he says, SoBi has entered into a partnership with every city where we're operating," he says. "Having been on the other side, we understood the importance of being good partners."
SoBi also uses incentives to manage its fleet of bikes so that instead of a scavenger hunt to find a bike each day, a user knows that there's a bunch of bikes three blocks away. How it works: Users pay per minute, with pro-rated prices ranging from $3 per hour to $8 per hour depending on the city. Most rides last 15 minutes on average, with most trips costing $2 apiece. But riders face extra fees if they lock up a bike outside an area that's been geofenced by SoBi. Conversely, if a user parks a bike in a particular area at SoBi's request, that rider is given a credit.
"One might think the difference too nominal to pack a punch but it's really effective in ensuring equal distribution of the bikes," says Rzepecki. Meanwhile, Ofo and Mobike have no such incentives program in place, counting instead on the market to self-regulate. They also barrelled into the many Chinese cities in which they operate without consulting first with local regulators, a move that investors which include China-based heavyweights Xiaomi and Tencent Holdings seemed to sanction.
"That's begun to change more recently. Ofo is working with government," insists Ljungman. "It's always looking for solutions." Rzepecki hints that they have no choice. "Shenzhen and Shanghai are starting to put in service standards to prevent chaos in the streets."

Good or evil
Certainly, cities have plenty of reason to want bike-share programs to work, dockless or otherwise. Bikes don't produce carbon emissions, they take up less space than cars, and riding a bicycle is a heart-healthy activity.
San Francisco, which was caught off guard by plans by Ofo and Bluegogo to enter the U.S., recently proposed legislation around how to obtain and maintain a stationless bike share permit. (Bluegogo,which initially aimed to park its bicycles in public bike racks, says now it will use bike stations in private parking spaces.)
NACTO, an association of 51 major North American cities, issued a statement earlier this week saying it also welcomes bike share systems of all stripes, as long as they're part of a city's overall transportation network and vision. (Companies that have shown that they are not serious about providing bikes as a real mobility option for people. . . [but] more interested in media attention and a quick buyout. . . put the public at risk, it added.)
Dockless bikes make a lot of sense as a last-mile option for commuters, too. Even now, Rzepecki sees a day when SoBi's bikes are electric and work with fleets of autonomous cars and shuttles to get people to their office doors. "Ofo has the same ambitions," says Ljungman, "not least because China's ride-hailing giant Didi is among its investors. In fact, Didi's customers can already reserve an Ofo bike through Didi's app."
As with Uber which envisioned itself as a logistics company from the start the potential also exists for the bikes to carry more than people. Ljungman says that making deliveries, for example, is not something [Ofo] has on its radar, but given they're building a really interesting network and distribution capability . . . the amount of products and services you can attach to that is pretty large.
Still, its easy to conclude that investors and founders are getting ahead of themselves in a race tocreate the next so-called decacorn.
Though Ofo has global ambitions it reportedly wants to introduce 50,000 bikes in roughly 10 U.S. cities by July Ljungman acknowledges that the U.S. market will be a tough nut to crack.
You need the right kind of cities. In many places in the world, cities weren't built around cars. They were built around people walking or cycling or even riding horses, he notes. There's a cultural aspect, too. In Amsterdam, you see lots of bicycles all over the place. They rule the city. That's not so in many American cities where bikers represent fewer than 1 percent of all commuters.
The economics of the business appear challenged, too. "While bike share companies insist that they're making the bikes as efficiently and cost effectively as possible in partnership with China-based manufacturers, it hasn't proven a lucrative business to date. For example, Motivate, which oversees more than 10,000 bikes across bike-sharing programs in 10 U.S. cities and recorded 14 million rides last year, still isn't profitable," says a source close to the company. "Presumably, making electric bikes will be even more costly."
And there are shenanigans. According to O'Sullivan, the founders of one dockless bike share startup met earlier with Rzepecki under the guise of wanting to fund SoBi, which has reached profitability off $7 million in funding to date and is now looking to raise substantially more. They then used their findings to raise money for a new startup of their own.
Asked about the claim, Rzepecki declines to confirm it, saying instead, "A lot of people are entering the market and maybe being a bit more opportunistic in trying to compete. For me, it's generally a good sign that we have an environment now that's being capitalized, even if not everyone has same intentions that we have."
It's like the second coming of Uber. At least, people seem to hope that's the case.
"I do think Uber's bad boy behavior has emboldened some to also break laws and charge ahead of social consequences," says OSullivan. They got away with it, and they got rewarded for it financially, despite hundreds of millions of dollars in settlements to state regulators and elsewhere.
"Until Uber came along, I never thought it could possibly have worked. Now others may see it as a model worth copying."
Additional reporting by (and valuable insights from) Lora Kolodny.
Read more: https://techcrunch.com/2017/04/15/a-new-on-demand-battle-is-speeding-toward-the-u-s-and-vcs-are-seeing-dollar-signs/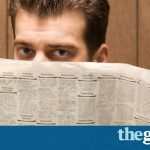 Almost anyone can use the worldwide web to be a media outlet, so how will we differentiate between truth, myth and lies?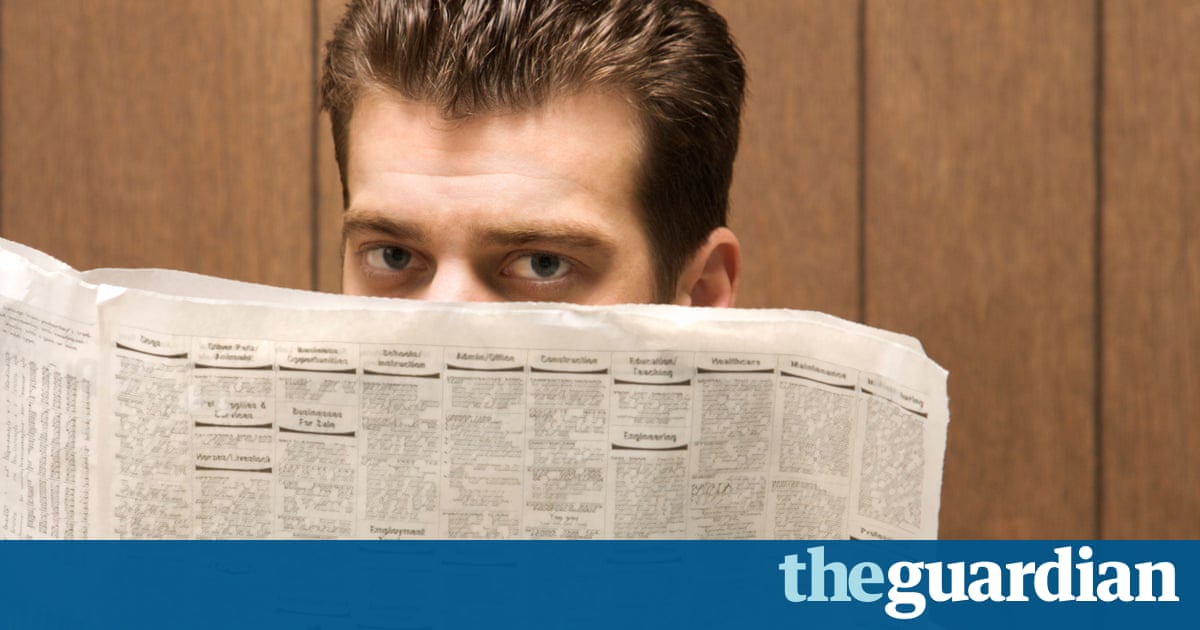 Australia's two largest legacy media organisations recently announced big cuts to their journalistic staff. Many editorial positions, perhaps up to 120, will disappear at Fairfax Media, publisher of The Age and The Sydney Morning Herald, and News Corporation announced the sacking of most of its photographers and editorial production staff.
Both announcements were accompanied by corporate spin voicing a continuing commitment to quality journalism. Nobody in the know believes it. This is the latest local lurch in a crisis that is engulfing journalism worldwide.
Now, partly thanks to Donald Trump, many more people are turning their mind to the future of news, including fake news and its opposite.
How, in the future, are we to know the difference between truth, myth and lies?
Almost too late, there is a new concern for the virtues of the traditional newsroom, and what good journalists do. That is, find things out, verify the facts and publish them in outlets which, despite famous stuff-ups, can generally be relied upon to provide the best available version of the truth.
As this week's announcements make clear, the newsrooms that have traditionally provided most original journalism are radically shrinking.
News media for most of the last century appeared to be one relatively simple business. Gather an audience by providing content, including news. Sell the attention of the audience to advertisers.
The Internet and its applications have brought that business undone. As any householder can attest, the audience no longer assembles in the same concentrations. The family no longer gathers around the news on television. Most homes have multiple screens and news is absorbed as it happens.
Appointment television is nearly dead, at least for those under 50.
At the same time, technology has torn apart the two businesses advertising and news that used to be bound together by the physical artefact of the newspaper. Once, those who wanted to find a house, a job or a car had to buy a newspaper to read the classifieds. Now, it is cheaper and more efficient to advertise and search online, without needing to pay a single journalist.
Publishers and broadcasters have moved online, but the advertising model fails. Ads on websites earn a fraction of the amount that used to be charged for the equivalent in a newspaper or during a program break.
All this is last century's news but over the past five years the landscape has shifted again because of the dominance of Google (which also owns YouTube) and Facebook. These social media engines have quickly become the world's most powerful publishers. Besides them, Murdoch looks puny. Yet Google and Facebook don't employ journalists. They serve advertisements and news to the audience members on the basis of what they know about their interests.
For advertisers, it's all gravy. Why pay for a display ad in a newspaper when you can have your material delivered direct to the social media feeds of people who you know are likely to be interested in buying your product?
It is now estimated that of every dollar spent on advertising in the western world, 90 cents ends up in the pockets of Google and Facebook.
Today, just about anyone with an internet connection and a social media account has the capacity to publish news and views to the world. This is new in human history.
The last great innovation in communications technology, the printing press, helped bring about the enlightenment of the 1500's and 1600's.
The optimists among us thought the World Wide Web and its applications might lead to a new enlightenment but as has become increasingly clear, the reverse is also possible. We might be entering a new dark age.
Fake news isn't new. The place of Barack Obama's birth was about as verifiable as a fact gets with the primary document, his birth certificate, published online. But the mere publication of a fact did not stop a large proportion of US citizens from believing the myth that he was born overseas.
It is very hard to say how many Australian journalists have left the profession over the last 10 years.
This is partly because the nature of journalistic work has changed. Many now work aggregating or producing digital content, never leaving their desks.
Institutions such as universities and NGO's are now producing journalistic content, published online, but the people employed to do this task rarely show up in the figures compiled by unions and the Australian Bureau of Statistics, because their employers are not classified as media organisations.
Nevertheless, the big newsrooms have shrunk beyond recognition. This week's announcements were the latest in a 15-year trend. In 2013, industry commentators estimated that more than 3000 Australian journalists had lost their jobs in the previous five years. Since then, there have been further deep cuts, and last weeks announcements were merely the latest. In the US, it is estimated that 15 per cent of journalistic jobs disappeared between 2005 and 2009, and the cuts haven't paused since then.
At the same time, and offsetting this, there are new participants in the Australian media. We now have online local versions of the British Daily Mail, the youth-oriented news and entertainment outlet Buzzfeed, the New York Times, (which has just launched) and the Huffington Post, which operates in partnership with Fairfax. Not least, there is this outlet an Australian edition of the Guardian.
There are also many small, specialist outlets that exist because the economics of online publishing beat the cost of buying broadcasting licences or printing on bits of dead tree, trucking the papers around the nation and throwing them over the fences.
For the same reasons, almost any large organisation can, if it chooses, use the World Wide Web to be a media outlet though whether the output classes as journalism or public relations is another matter.
Most of the new entrants to the business employ only a few local journalists. The reputable ones struggle to perform miracles each hour with hardly any reporters.
So what does the future hold?
I think it is clear we will have many more smaller newsrooms in the future including new entrants, non-media organisations touting their wares and the wasted remains of the old businesses.
Some of these newsrooms will operate on the slippery slopes that lie between news, advocacy and advertising.
Some of them will be the fake news factories, devoted to earning an income from spreading clickable, outrageous lies.
If it were only the decline of businesses, we would not need to worry so much. It is rare in history for those who have profited from one technology to go on to dominate the next. Cobb and Co ran the stagecoaches, but not the steam trains.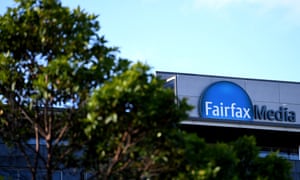 Read more: https://www.theguardian.com/media/2017/apr/15/journalism-faces-a-crisis-worldwide-we-might-be-entering-a-new-dark-age