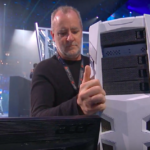 Last night, OpenAI's Dota 2 bot beat the world's most celebrated professional players in one-on-one battles, showing just how advanced these machine learning systems are getting.
The bot beat Danil Dendi Ishutin rather easily at The International, one of the biggest eSports events in the world, and remains undefeated against the worlds top Dota 2 players.
Elon Musk's OpenAI trained the bot by simply copying the AI and letting the two play each other for weeks on end.
"We've coached it to learn just from playing against itself," said OpenAI researcher Jakub Pachoki. "So we didn't hard-code in any strategy, we didn't have it learn from human experts, just from the very beginning, it just keeps playing against a copy of itself. It starts from complete randomness and then it makes very small improvements, and eventually it's just pro level."
To be clear, a 1v1 battle in Dota 2 is far less complex than an actual professional battle, which includes two teams of five players completing a variety of tasks simultaneously to achieve victory. But OpenAI said that's working on another bot that could play against and alongside humans in a larger 5v5 battle.
Not shockingly, Elon Musk was watching along and had some thoughts of his own, calling unregulated AI vastly more dangerous than North Korea:
This isn't the first time Elon Musk has spoken up about the dangers of AI without regulation. He said that the process of setting up a government body to regulate AI should start in the immediate future, speaking at the International Space Station R&D conference a few weeks ago.
Musk has also thrown shade at Facebook CEO Mark Zuckerberg on Twitter, saying that Zuck's understanding of AI is limited.
Speaking at TC Sessions: Robotics, Rodney Brooks, founder of iRobot and Rethink Robotics, disagreed with Musk saying that, currently, there isn't much to regulate.
"If you're going to have a regulation now, either it applies to something and changes something in the world, or it doesn't apply to anything. If it doesn't apply to anything, what the hell do you have the regulation for? Tell me, what behaviour do you want to change, Elon? By the way, let's talk about regulation on self-driving Teslas, because that's a real issue."
At the same event, head of Amazon Robotics Tye Brady said the following:
"I'm not really a fan of regulation. I'm a fan of doing whatever the customer seeks. We have a mission in mind to do order fulfillment in the best way possible. So, yeah, I'm not a fan of regulation."
Obviously, some of the world's greatest minds in the fields of robotics/AI/ML are at an impasse, but the maturation of AI waits for no man.
Read more: https://techcrunch.com/2017/08/12/openai-bot-remains-undefeated-against-worlds-greatest-dota-2-players/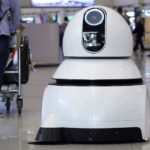 Image: AP/REX/Shutterstock
Amid fears about robots replacing human jobs, South Korea could become the first country in the world to introduce a "robot tax."
A new proposal could see the country reduce the amount of tax benefits for companies that invest in automated machinery.
So while it's not exactly a direct tax on robots, it looks like the government is making investment in robotics less appealing for companies.
South Korea has the highest concentration of robots in the world, with 531 multipurpose industrial robots for every 10,000 employees in the manufacturing industry.
"Though it is not about a direct tax on robots, it can be interpreted as a similar kind of policy considering that both involve the same issue of industrial automation," an industry source told news outlet The Korea Times.
Currently, South Korean companies that invest in automation equipment can have up to 7 percent of their corporate tax rate deducted. The new ruling however, will see this cut by up to 2 percent.
But does South Korea really have a reason to be worried?
Perhaps so. The country's unemployment rate hit a 17-year high earlier this year, with some 1.17 million jobless people.
It's difficult to say if the increase in unemployment rate is actually linked to an increase in automation, but at the very least, the money saved from reducing the tax incentives could be channelled to welfare programs.
But this isn't the first time the idea of a "robot tax" has been suggested.
In February, Bill Gates came out in favour of introducing similar measures, saying that working robots should be taxed at a similar rates to their human counterparts.
"For a human worker who does $50,000 worth of work in a factory, the income is taxed," Gates had told news outlet Quartz.
"If a robot comes in to do the same thing, you'd think that we'd tax the robot at a similar level."
Gates was later criticised for his comments, with some saying he was "holding back progress."
South Korea's current tax laws are set to expire at the end of the year, after which the new proposals are expected to take effect.
Read more: http://mashable.com/2017/08/10/robots-south-korea/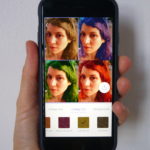 Meet Teleport: An app that's using a trained neural network to power a selfie-editing feature that lets you change the color of your hair at the touch of a button.
Fancy seeing how you'd look with red locks or blue? No problemo. Just upload your selfie, wait a few ticks while the AI gets to work figuring out which bits of your face are hair and which are not, and then tap on a shade of your choice to try out a new do.
Co-founder Victor Koch says the team's experiments with neural networks have resulted in an app that makes hair colouring qualitative and closer to natural.
The app also lets you blur the background of a selfie. Or insert alternative backgrounds, including uploading photos of your choice.
But its most eye-catching feature is definitely the ability to generate an instant collage of brightly mopped selfies offering a sort of insta-pop-art that's ready to load straight into Instagram to ask your followers which look works best for you.
While not perfectly photorealistic in every instance, results can look relatively realistic, depending on how dark/light your natural hair color is and at least give you an idea of what a particular hair dye might do for you.
Teleport launched officially in late July, initially in Europe, before being opened up globally. Koch claims it's had two million downloads at this point, and generated more than 75k shares on Instagram thus far, or ~250k across social platforms in general. Instagram is where Teleports makers are clearly hoping to grab #attention.
Koch describes the app as a neural photo-editor putting in the same category as the likes of the rather more radically transformative FaceApp, which had a moment of viral popularity earlier this year when people realized its gender-bending potential.
Last year another viral hit in the neural photo-editing space was Prisma, which utilized AI running on smartphone hardware to power a style transfer feature that could turn plain old photos into painterly graphics in the style of particular artists.
Since then, style transfer has been absorbed into mainstream apps, with social giants like Facebook cloning the feature. While Google has been working in this space for longer, building automatic photo-editing features powered by AI and baking them into its own photo products to enhance the feature set.
In Teleport's case, Koch says they're using convolution neural networks for semantic segmentation of images/video; the team also has an app for selfie-video that lets users change the background as they shoot.
Teleport's selfie editor app has been in development for around seven months, according to Koch, with the US-based team having raised $1 million thus far from private investors to fund development.
"The idea was born out of a set of experiments using neural networks: On complex problems, wide and deep networks significantly outperform small networks and other methods based on manual feature creation due to their flexibility but require a sufficient amount of data to avoid overfitting. However their processing time, size, and memory consumption are also much larger," he says.
"We train our models using Tensorflow, because currently it is the most powerful and actively developing deep learning framework. We have several Amazon Instances which we use to train our model. Our dataset consists of 30k photos chosen manually. Moreover, we created our own framework which is up to 20 times faster than the popular Tensorflow library."
The app is a free download, as you'd expect for this sort of visual novelty, but the team reckons there could be monetization potential in future by integrating with large cosmetics companies i.e. those which sell hair dyes, since the app can reproduce the colors at least quasi-realistically and offer try before you dye.
Koch says they do also plan on adding more features, such as the ability to change hair colour in real-time video, and, er, change skin colour The latter does sound a tad ill-advised, given, for example, the controversy around Snapchat's Bob Marley filter last year. FaceApp also had to apologize after it made a hotness filter that bleached the skin of POC.
Read more: https://techcrunch.com/2017/08/09/teleports-neural-networks-let-you-try-before-you-hair-dye/