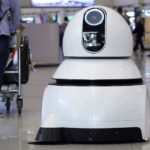 Image: AP/REX/Shutterstock
Amid fears about robots replacing human jobs, South Korea could become the first country in the world to introduce a "robot tax."
A new proposal could see the country reduce the amount of tax benefits for companies that invest in automated machinery.
So while it's not exactly a direct tax on robots, it looks like the government is making investment in robotics less appealing for companies.
South Korea has the highest concentration of robots in the world, with 531 multipurpose industrial robots for every 10,000 employees in the manufacturing industry.
"Though it is not about a direct tax on robots, it can be interpreted as a similar kind of policy considering that both involve the same issue of industrial automation," an industry source told news outlet The Korea Times.
Currently, South Korean companies that invest in automation equipment can have up to 7 percent of their corporate tax rate deducted. The new ruling however, will see this cut by up to 2 percent.
But does South Korea really have a reason to be worried?
Perhaps so. The country's unemployment rate hit a 17-year high earlier this year, with some 1.17 million jobless people.
It's difficult to say if the increase in unemployment rate is actually linked to an increase in automation, but at the very least, the money saved from reducing the tax incentives could be channelled to welfare programs.
But this isn't the first time the idea of a "robot tax" has been suggested.
In February, Bill Gates came out in favour of introducing similar measures, saying that working robots should be taxed at a similar rates to their human counterparts.
"For a human worker who does $50,000 worth of work in a factory, the income is taxed," Gates had told news outlet Quartz.
"If a robot comes in to do the same thing, you'd think that we'd tax the robot at a similar level."
Gates was later criticised for his comments, with some saying he was "holding back progress."
South Korea's current tax laws are set to expire at the end of the year, after which the new proposals are expected to take effect.
Read more: http://mashable.com/2017/08/10/robots-south-korea/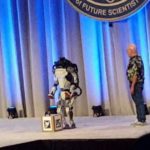 A robot fail usually sends shockwaves throughout the Internet, but a Boston Dynamics demo that went awry last month is just now getting a reaction.
At the annual Congress of Future Science and Technology Leaders at UMass Lowell, Boston Dynamics presented its humanoid robot, Atlas, performing cool tricks on stage. The video is above.
All went fairly smoothly at the demo with Atlas picking up a box and dealing with the taunts from SpotMini, a four-legged robot, introduced later in the demo.
It wasn't until the final bow that Atlas stumbled literally. While walking off stage, the robot tripped over a light projector and fell behind the curtain. It was definitely not a planned fall. In the ultimate upstaging, SpotMini gracefully sauntered off after the tumble.
The fail happened more than a month ago with the YouTube video posted July 2, but it spread after Reddit and The Next Web got wind of it. Somehow Boston Dynamics was spared the immediate online ridicule that comes with this type of thing; especially impressive considering it was in front of a huge group of high school students with their phones out.
The robotics company was sold from Google to the Japanese company Softbank earlier this year, just before the robot fall.
Read more: http://mashable.com/2017/08/07/boston-dynamics-robot-falls-delayed/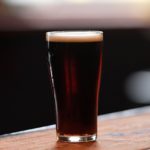 Let's call it "Shock State."
Image: NEARMY/EPA/REX/Shutterstock
If you're a craft beer connoisseur or even just an occasional drinker you've likely noticed that names for new brews are getting out of hand. Likely in order to distance themselves from traditional, European beer names such as Franziskaner Royal, the new breed of craft beer makers are going with increasingly odd names such as Stone Ruination IPA.
My all-time favorite, and I did not make this up, is a beer called "Evil Twin Bringing a Gun to a Knife Fight."
So what happens when you employ a neural network to create new craft beer names? Well, pretty much the same thing.
Researcher Janelle Shane did it by feeding a neural network a bunch of beer names from BeerAdvocate's database; the project was initiated by Gizmodo's Ryan Mandelbaum and the AI came up with a bunch of names which mostly sound very odd, just like real craft beer names.
Some examples include Indian Pale Ale names like Dang River, Toe Deal, Earth Pump, Heaven Cat, and Heart Compost, all of which (with possible exception of Toe Deal) I'd devour in a second. Strong Pale Ale and Amber Ale names the AI has conjured are even stranger, with highlights being Slambertangeriss, Brother Panty Tripel, The Vunker the Finger, Thrennt Rem Wine Barrel Aged Monkay Tripel, Gate Rooster, Rickin Organic Red Deaath, and River Smush Hoppy Amber Ale. In the stouts category, my favorites include Sir Coffee, Shock State, Single Horder, Avidberry and Pimperdiginistic The Blacksmith W/ Cherry Stout.
Seriously, if you're running a brewery and need a name, this list might actually be useful. You can see the rest of the names here; ping Shane and she'll send you a list with a hundred more names.
This is not the first time Shane has employed a neural network to come up with weird names. Her previous efforts include inventing new Star Wars characters, Star Wars planets, and bad Broadway musicals.
Read more: http://mashable.com/2017/08/04/ai-craft-beer-names/