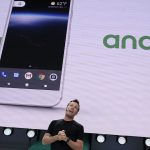 Dave Burke, Google Vice President of Engineering for Android, speaks during the opening keynote address at the Google I/O 2017 Conference.
Image: Getty Images/
Though we got our first peek at Android O back in March, Google finally revealed more details this week at its I/O developers conference about the soon-to-drop version of Android.
Though we're still quite a ways away from the official release, we know a lot more about the update. At first glance, many of the new changes are subtle, building on updates Google introduced last year with Nougat. (Yes, it's another boring year for Android.)
Still, there are quite a few features to look forward to, here's what's caught our eye so far.
1. No more broken emoji
Tired of missing out on new emoji? Android O will help ensure you never miss out on the latest releases. A new feature for developers lets them integrate a new emoji library that automatically fills in missing emoji even if you don't have it available yet in your keyboard.
2. Smart Sharing
Android O is able to understand what's in your photos and recommend specific apps and actions based based on what's in it the composition and your prior behavior. "If a user takes a photo of a receipt, Android O can suggest an expense-tracking app; if the user takes a selfie, a social media app can better handle the image," Google says.
This also applies to videos, URLs, text, and other types of content your phone can learn what you typically do with different types of content to improve its recommendations.
3. Cleaner Icons
Android developers can now create an array of icons to match the styles for different devices. This means if you use a phone that defaults to round app icons, apps that have typically used square icons now have the ability to use round ones instead.
4. Notification Snoozing
Android O is placing a lot of emphasis on improving notifications. One notable tweak will be the ability to snooze a notification for later.
5. Badge Notifications
One of the biggest changes to notifications is the addition of badge notifications small dots that appear over an app icon to indicate a new notification from that app. Additionally, you can long press on an app to check its notifications.
6. Background colors for notifications
Another small but noticeable way Google is redesigning the look and feel of notifications: Developers will have the ability to enable background colors for notifications from their app.
But don't expect your notifications tray to look extra colorful Google recommends developers "only use this feature in notifications for ongoing tasks which are critical for a user to see at a glance," like navigation or phone calls.
7. Notification Channels
Besides just changing the look and feel of notifications, Android O is letting users have much more fine-grained control over which notifications they see in the first place with something called notification channels. Notification channels let you decide which types of notifications you want to see from your apps.
Not many developers have had a chance to take advantage of this yet but as you can see in this example from the Google app, it lets you individually mute certain categories of notifications.
8. New Android TV Launcher
In addition to getting new superpowers thanks to Google Assistant, Android TV is getting a redesigned launcher menu that emphasizes content discovery.
9. New animation styles
This one is a little more subtle: Android O is adding support for a new animation style called physics-based animation. "Physics-based animation relies on the laws of physics to manifest a high degree of realism in animation. In our day-to-day life, when a change occurs, it comes with a physical transition that is natural for us to recognize."
This will manifest in a few different styles of animations, but one is a new type called "fling animation," which helps you slow down motion at the end of a graphic.
10. Picture-in-picture
It's been mentioned before but it bears repeating: Android O is getting support for picture-in-picture that works with any app, not just YouTube. It will take some time before more developers start adopting the feature, which is pretty buggy in the current developer preview, but PiP will definitely level up your multitasking.
Read more: http://mashable.com/2017/05/20/new-android-o-features/
Image: FotoshopTofs / pixabay
Despite receiving the same education as their male counterparts, women with STEM degrees (science, technology, engineering and mathematics) are actually less likely to work in a STEM occupation.
One important step to closing the gender gap in STEM fields is sharing the stories of women thriving in these careers and not just the role models of STEM women in history, but the stories of those in the field today. University of Phoenix believes that shining a spotlight on women who are making waves will help inspire future generations of female tech geniuses.
Following are stories about four intrepid women who are making a name for themselves in tech and who are helping to shape the future of the industry.
Meilani Conley
Meilani Conley knew early on that she was destined to pursue a career in science and mathematics. Though the adults in her life tried to dissuade her telling her that women have fewer opportunities in STEM fields than men Conley persevered and currently holds a Bachelor of Computer Science and Mathematics from Southwest Baptist University and a Master of Information Systems from University of Phoenix.
Conley's passion for computers began when she was nine years old. She was constantly fascinated by the inner workings of electronics. While the kids in her class daydreamed about summer vacation, Conley's mind was filled with metal, wires and electricity. She's proved that you can beat the status quo by pushing yourself and is currently pursuing her Ph.D. in Computer Science from Clarkson University.
Kirsten Hoyt
Kristen Hoyt, Academic Dean for the College of Information Systems and Technology at University of Phoenix, has a lot to say about women pursuing careers in tech.
"In 1996, women made up about 37 percent of the IT workforce, but in 2010 that number dropped to 25 percent," said Hoyt in one radio interview. In fact, as of 2014, the most common occupations for women were secretaries, administrative assistants, and teachers.
Hoyt's program at University of Phoenix is directly fighting back to change this statistic by developing partnerships to advance women in technology. According to the Bureau of Labor Statistics, it is projected that there will be 1.4 million computer-science jobs by 2020 but not enough individuals with the skills to apply for those jobs.
Hoyt was persistent in her interests while growing up and says she was fortunate enough to take a coding class early on. This led to a degree in programming that ultimately brought her to the role of Academic Dean for University of Phoenix College of Information Systems and Technology.
What else is to be done to ensure equality in the workforce? Hoyt said she believes in establishing a technology-based foundation from the earliest days of our children's educations, and cites her own experience as the reason she believes in jumpstarting technology education for students at a young age.
Stephenie Gloden
Stephenie Gloden is the vice president of Enterprise Resource Management for Apollo Education Group, a position she earned through her persistence and years of hard work. With more than 20 years of IT experience primarily focused on software development and IT operations leadership Gloden sought out a Bachelor of Science in Information Technology and a Master of Business Association from University of Phoenix, along with a Master of Science in Information Management from Arizona State University.
Gloden's most recent initiative is University of Phoenix startup, the RedFlint experience center located in downtown Las Vegas. As co-founder and business lead for strategy, Gloden is responsible for educating, incubating and accelerating ideas that solve the problems facing small businesses and the local community – including non-profits, schools and hospitals. Gloden's diehard entrepreneurial spirit brought her to where she is today something both men and woman should strive for in their careers.
Charity Jennings
What can you do to be an ally to women and ensure you're doing everything in your power to help them succeed? The answer is far simpler than you may think.
According to Charity Jennings, to cultivate and sustain diverse perspectives and expand the pipeline of IT talent, women must feel welcome in the industry.
Jennings serves as the program dean for University of Phoenix College of Information Systems and Technology, and has expanded her role to take on high profile technology projects that have University-wide impact.
Whether women are writing code or leading the next IT startup in Silicon Valley, it's critical to get our young women engaged and excited about becoming future engineers, web developers, tech entrepreneurs and executives.
Jennings says that the responsibility lies in the hands of educators, corporations, policy makers, community leaders and parents to help cultivate and nurture the interests of young women and help them reach their goals.
So when you see your daughter, cousin, niece or student taking apart her PC or fiddling with the HTML of a website, you can play a role in helping her explore opportunities in STEM by encouraging her interests and by showing her all of the opportunities for a career in tech.
The message to women everywhere is clear: the tech industry needs you.
Watch next: 'There is a difference between difficult and impossible': Three girls pursuing STEM careers in Egypt
Read more: http://mashable.com/2017/05/05/women-in-stem-uop/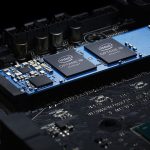 Intel is ready to unleash Optane.
If you've ever waited for a webpage to load, took a lap around the office while your computer rendered 4K video or watched in dismay as your favorite video game stuttered to life, you know that computers are struggling to keep up with all the data.
Intel isn't down with that. On Monday, the chip maker announced the ship date for Optane, a memory module that can change the data game. It takes the speed and fluidity of RAM and combines it with the storage capabilities of Flash memory.
"Storage needs dramatically increased over the last several years," said Intel Client Computing Group SVP Navin Shenoy who caught up with me to explain why Optane (unveiled at CES 2017) is a potential game-changer for computer users.
Working with system software, Optane can pre-cache frequently-used apps, which means they could load almost instantly. Even with system power turned off, the information remains (like a hard drive), and can be retrieved the moment the system is powered back on.
Since a lot of that information will be the core bits of the operating system your computer needs to run, boot times could be much, much faster.
There's a ton of data and not all of it is living in the cloud. According to Intel, 79% of the desktop market still uses a hard drive. Hard drives are great for data storage but not very efficient data movers (delivering data in milliseconds, as compared to memory's nanoseconds). And with more data, heavier webpages, 8K, HDR and an explosion in high-end, livestream gaming, the situation is only going to get worse.
Ten years in the making, Optane is not "incremental innovation," said Shenoy, adding that it represents a fundamental shift in memory technology.
Optane memory breaks with the near 50-year tradition of using transistors and charge to determine ones and zeros, explained Intel Senior Fellow Al Fazio. In the case of Optane memory, "We dont use transistors. We change the resistance of material to store ones and zeros," he said.
Essentially Optane memory uses material that stores information based on the state of atoms.
Fazio called it a "breakthrough in materiel science and physics" and one that Intel honed until they could achieve the performance and storage density necessary to make commercial products.
Optane memory also comes at a potential turning point in the personal computer market. After years of decline, the market has seen something of a design and market resurgence. IDC reported a rare jump in PC revenue growth for the last quarter of 2016. Those numbers have not gone up in years.
Optane modules promise to, according to Intel, dramatically speed up most of our core computer activities. Users will get, the company claims, a 28% overall system performance boost, plus:
Microsoft Outlook will load 6x faster
Chrome 5x faster
Games will launch up to 67% faster
It will, however, be weeks, if not months, before systems start shipping with integrated Optane memory modules. Optane is designed to work with Intel's Core i7 CPUs, which only just began shipping. Optane is not designed to work with all the Core i6 motherboards sitting inside many of today's desktops and laptops. In other words, an upgrade to Optane is likely a full-system upgrade.
Shenoy told me manufacturers like Acer, Asus, HP, Dell and Lenovo plan to ship pre-configured Optane desktops starting in the spring. Microsoft, which makes its Surface line of laptops and desktops, is not currently on the Optane adoption list. Nor is Intel customer Apple.
Optane memory may only be the beginning of a golden age of super-fast personal computing. Intel already has Optane storage and, according to Fazio, the lines between storage and memory will further blur. "The ultimate vision is where you bring Optane directly into memory buses and have the concept of persistent memory."
The modules, 16 GB ($44) and 32 GB ($77), will be available in April, but you'll need an Optane-compatible motherboard to use them. Shenoy told me there are already 130 compatible motherboards on the market.
Read more: http://mashable.com/2017/03/27/intel-optane-memory-ship-date/

Bryony Cole wants women to build the sex tech future they want.
Image: Shutterstock / WhiteHaven
We built the internet, we got online porn. We invented haptic engines that can automatically convey a remote sense of touch, we got teledildonics.
Technological advances and the shifting of sexual boundaries are intertwined, and this is the world Bryony Cole tackles on her podcast, Future of Sex.
After a career in technology, including a stint at Microsoft, she was fascinated by the way digital platforms were entering the bedroom. "I made it my mission to uncover what the hell was going to happen to our intimate lives," she laughed. And why not in audio-form?
Since October, she's spoken to industry leaders including Stephanie Alys, the excellently-titled chief pleasure officer at toy company, Mystery Vibe, as well as Cindy Gallop, creator of the site Make Love Not Porn, which shares videos of real people having sex.
In Brisbane, Australia, to address the Myriad startup festival (her speech was unfortunately rained out by Cyclone Debbie), Cole argued there's an enormous opportunity for women to take the lead in sex tech, and to move away from male-focused porn and cheaply manufactured intimate products.
"Finally, we're talking about female sexual health and female pleasure where we've never really done it before," she said. "We have examples of vibrators that match to erotic literature on your iPad, or we have vibrators that look like beautiful necklaces or pieces that could be in a gallery.
"There's a real focus on beautiful high-end design, but also the emphasis on research and engineering that never really was going into things like sex toys before."
Take Dame Products, which launched its Fin vibrator on Kickstarter in 2016. Founded by Alexandra Fine and Janet Lieberman, with backgrounds in sexual health and engineering respectively, the pair create small, elegant products with a focus on female pleasure.
Still, there's work to be done. Virtual reality porn, Cole argued, is still mostly shot from the male angle. "There's probably just a handful that exist from a female point of view. It's not quite there yet," she said.
Despite this gap in the market, Cole is particularly excited about the role VR can play in sex education. She pointed to BaDoink VR and one of its popular pieces of content, a program called Virtual Sexology. Developed with the help of marriage therapist Hernando Chaves, it's intended to help users learn bedroom skills as well as relaxation and confidence.
"You see VR being used for education in science and history already, so it makes sense that it would move over to sex education," Cole added. "It's nothing to do with the porn category, but people are hungry for information."
Despite the innovation and openness, Cole admitted some sex tech ideas remain partially taboo. There are plenty of questions to be asked about lab-grown genitals, for example, and while robot sex and sex dolls are themes explored by TV shows like Westworld, they're not the distant fantasy the Hollywood treatment may present them as.
In a Mar. 29 podcast episode, Cole spoke to the creator of RealDoll, Matt McMullen, whose company offers customised companions with highly realistic genitalia.
McMullen said his team are working on adding artificial intelligence to the dolls, a development that could see the dolls, mostly cast as female, become quasi-intelligent beings built for sex.
"What we're doing is developing an app that will allow a user to create a custom personality profile for an artificial intelligence," he said on the show. "The AI can be connected to the robotic components we're going to be introducing to the doll, including animated head, facial expressions, eye movement … face tracking, facial recognition."
While the basis of the AI is "really rather genderless," he admitted the introductory version will likely be female, as most of its dolls are sold as women.
If this makes you uncomfortable, you're not alone. As sex tech develops, the industry will have to ask if sexism and racism, not mention invasive corporate practices, are being hardwired into the algorithms and robotics that govern our most intimate moments. After all, internet-connected vibrators have already been caught and fined for data-mining users.
That's where Cole hopes the Future of Sex will come in to help you make sense of these sexual frontiers. As the podcast says, "Real talk. No b*******. That's the future of sex."
WATCH: SpaceX changed the space flight game and Elon Musk is beyond giddy
Read more: http://mashable.com/2017/04/02/future-of-sex-podcast-bryony-cole/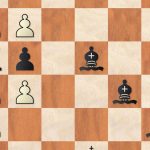 Check it out, Mate!
Image: James Tagg
Check out the chess board above: looks wrong, right?
If you've ever played chess, you know something's amiss, here. For one thing, someone chose to exchange a pawn for another bishop instead of a queen. For another, virtually all the action's moved to the left side of a board.
It's hard to imagine how the game got here: it's even harder to imagine what happens next, let alone a scenario in which four white pawns and a white king could play to a draw, or even win this game.
Yet: scientists at the newly-formed Penrose Institute say it's not only possible, but that human players see the solution almost instantly, while chess computers consistently fail to find the right move.
"We plugged it into Fritz, the standard practice computer for chess players, which did three-quarters of a billion calculations, 20 moves ahead," explained James Tagg Co-Founder and Director of the Penrose Institute, which was founded this week to understand human consciousness through physics.
"It says that one-side or the other wins. But," Tagg continued, "the answer that it gives is wrong."
Tagg and his co-founder, Mathematical Physicist and professor Sir Roger Penrose who successfully proved that black holes have a singularity in them cooked up the puzzle to prove a point: Human brains think differently.
(Those who figure out the puzzle can send their answers to Penrose to be entered to win the professor's latest book.)
"Humans can look at a problem like this strange chess board configuration," said Tagg, "and understand it. What a computer does is brute force calculation, which is different." This is set up, rather exquisitely, to show the difference, he added.
They forced the computer out of its comfort zone by, at least in part, making an unusual choice: the third bishop.
"All those bishops can move in lots of different ways, so you get computation explosion. To calculate it out would suck up more computing power than is available on earth," claimed Tagg.
Tagg told us that there is, in fact, a natural way to get to this board configuration.
Sir Richard Penrose's brother is, according to Tagg, a very strong chess player. He assures me that it's a position you can get to, but I have not played it through. Question is, is there a rational game that gets you there?
In fact, those who can figure out that second puzzle and get the answer to Penrose, could also receive a free copy of Professor Penrose's book.
Chess computers fail at Penrose's chess puzzle because they have a database of end-games to choose from. This board is not, Tagg and Penrose believe, in the computer's playbook. "We're forcing the chess machine to actually think about the position, as opposed to cheat and just regurgitate a pre-programmed answer, which computers are perfect at," said Tagg.
So far, Tagg and the Penrose Institute haven't heard from any artificial intelligence experts refuting their claims. "I'm quite surprised," said Tagg.
Mashable has contacted several AI experts for comment and will update this post with their response.
Aside from the fun of solving this puzzle (Tagg said hundreds already have and claim they have done so in seconds), it poses a deeper question: Are we executing some fiendishly clever algorithm in our brain, that cuts through the chaff? It is just a higher level of computation, one that computers can still aspire to or something unique to brain-matter-based thought?
Tagg said Penrose Institute falls into the latter camp.
Penrose and Tagg don't think you can simply call a brain a machine. It sits in skull, made of gray matter and we don't understand how it works. "Simply calling it a clever computer, this sort of puzzle shows that it clearly is not," he said.
You can send your Chess Puzzle solution to the Penrose Institute here: mashpuzzle@penroseinstitute.com.
Read more: http://mashable.com/2017/03/14/solve-this-chess-puzzle/
This, clearly, isn't the battery the MIT team is working on.
Image: Shutterstock / sdecoret
The lithium-ion battery in your phone might look like a solid chunk of energy-producing plastic at first glance, but if you were to bust it open and take a closer look, you'd see there's also some liquid inside. That's because most lithium-ion batteries are composed of multiple parts: two solid electrodes, separated by a polymer membrane infused with a liquid or gel electrolyte.
Now, MIT researchers believe they have taken the first steps forward in the development of all-solid-state lithium-ion batteries, according to new research published in Advanced Energy Materials. In non-nerd speak, that basically means batteries that could store more energymeaning less trips to a power outlet.
The team's report was co-authored by grad students Frank McGrogan and Tushar Swamy. They investigated the mechanics of lithium sulfides, which could someday replace the liquid as a more stable, solid form of electrolyte.
Switching out the liquid electrolytes for solids could be a big move. The all-solid batteries would likely be able to store more energy, "pound for pound," at the battery pack level than current lithium-ion packs. They'd also be much less unstable, since dendrites, which are metallic projections that sometimes grow through liquid electrolyte layers, would be less likely to occur.
The research team looked to to test the sulfide's fracture toughness, which is essential to the material's role in a lithium-ion battery. If it's too brittle and can't handle the stresses of continual power cycling, it could crack and open up space for those same dendrites to form.
The research faced one significant hurdle, however: the sulfide is so sensitive to room conditions it can't be experimented on in the open air. In order to test the material, the team placed the sulfide in a bath of mineral oil to prevent it from reacting before being measured for its mechanical properties. This was the first experiment to test for lithium sulfide's fracture properties.
After the test, the researchers concluded that the material does indeed crack under high stress conditions, "like a brittle piece of glass."
That said, the knowledge gained could allow the team to build new battery systems by "calculat[ing] how much stress the material can tolerate before it fractures, according to MIT associate professor Krystyn Van Vliet, who contributed to the research.
Co-author Frank McGrogan agrees. This exact form of the sulfide won't be the solid material that makes it into the form of lithium-ion batteries we use today. But since the team can study its properties and design new battery systems around that knowledge, someday it could still have potential for use.
You have to design around that knowledge, he said.
Read more: http://mashable.com/2017/02/06/mit-research-solid-lithium-ion-battery/
In a horrific experiment for its 13th birthday, Facebook gave Reactions a hideous humanoid form.
Image: Facebook
While International Friendship Day was popularized by greeting card companies, Facebook went a step forward and coined its own birthday, Feb. 4 as Friends Day a few years ago.
Facebook, which has finally turned old enough to be a user on its own site, is marking the made-up holiday by bestowing its users with a personalized Friends Day video. The videos are similar to other auto-generated videos Facebook has done (like the ones for birthdays). with an eye-popping addition: a bizarre-looking humanoid creature, an apparent amalgam of reaction buttons and Facebook photos.
And it dances. Behold (full video below):
It's hard to look away from the beast, which we are dubbing the Facebook Reactions Monster. It dances, cheers and occasionally disappears from view, only to pop in from the frame much closer, its photos now clear they're profile pics of your friends, apparently harvested as raw material for this creature. Perhaps it's coming for you next.
Perhaps it's coming for you next.
Hideous animations aside, the video is far from the only thing Facebook is doing for Friends Day. The company hosted an event on "Inspirational stories of Friendship" at its Menlo Park headquarters this week, and captured the video. CEO Mark Zuckerberg who is definitely not running for president remarked to Facebook staff, I think that this is a time in the world where there is more division than there has been in a while, and I think that that means that, you know, connecting friends and bringing groups together is probably more important now than it ever has been.
COO Sheryl Sandberg continued, Im so excited and grateful to have all of you here so Ive thought a lot about what community is, what friendship is… for me all of that comes together. Not in the product we build every day but in what you guys are and what you do.
The video leaves us with "#friendsday," which is a great reminder that Facebook too has hashtags, because we definitely forgot.
What's more, Facebook Messenger will highlight friendship-themed GIFs to mark the occasion. No word if the Reactions Monster appears in any of them.
The features will be rolling out to all users over the next few days, so if you see your feed suddenly turned into a seemingly random celebration of friendship, don't be surprised. Happy Birthday, Facebook the rest of us will be running for our lives!
Read more: http://mashable.com/2017/02/02/facebook-friends-day-2017/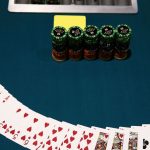 An AI system named Libratus will go up against top poker players during matches later this month in Pittsburgh.
Image: joe raedle/ Getty Images
Artificial intelligence has already become a part of our everyday lives through AI-assisted services like Siri. But Al has its own hobbies too, including the mind-whirling game of poker.
Scholars at Carnegie Mellon University have developed an AI system named Libratus that will wage a poker battle (with a $200,000 pot) against four of the best human pros out there. In a tournament called Brains Vs. Artificial Intelligence: Upping the Ante, Libratus and the humans will play matches of Heads-Up No-Limit Texas Holdem beginning on Jan. 11 at the Rivers Casino in Pittsburgh, Pennsylvania, the university announced in a press release.
A total of 120,000 hands will be played during the 20-day tournament. The professional players Libratus will compete with include Jason Les, Dong Kim, Daniel McAulay, and Jimmy Chou.
It wouldn't be the first time bots have played some big games against humans. Indeed such match-ups go back decades. Last March, a Google-produced bot named AlphaGo easily beat 18-time world Go champion Lee Se-dol.
But the thing is that poker isn't like many of these other games.
As explained by the MIT Technology Review, the game of poker may not be as easily dominated by computerized players as others on accounts of its unique rules.
"Unlike board games such as Go or chess, poker is a game of 'imperfect information,' and for this reason it has proved even more resistant to computerization than Go," the MIT Technology Review's Will Knight once wrote.
In games like chess, "you know exactly what has happened in the game so far," explains Carnegie Mellon computer science researcher Tuomas Sandholm, who developed Libratus alongside Ph.D. student Noam Brown. Such an advantage doesn't exist in poker, where there's crucial unknown information like your opponents' hands.
And the game of Heads-Up No-Limit Texas Holdem has been especially difficult for AI to take on since it deals with a huge scale of probabilities making it a "much bigger game" than Limit Texas Hold'em, Sandholm said.
In the past, game-playing AI has used strategies like programmed human knowledge or machine learning. But more recently, the approximation of equilibrium strategies or rational play has been more effectively used by AI to compete and sometimes beat human players, Sandholm told Mashable.
"It's very different from how humans play this game."
Libratus uses the Nash Equilibrium, named after the famed mathematics scholar John Nash, the subject of A Beautiful Mind.
"Named for the late Carnegie Mellon alumnus and Nobel laureate John Forbes Nash Jr., a Nash equilibrium is a pair of strategies (one per player) where neither player can benefit from changing strategy as long as the other players strategy remains the same," a statement from CMU says. "One of Libratus new technologies is a faster equilibrium-finding method. It identifies some paths for playing a hand as not promising. Over time, the algorithm starts to ignore those bad paths."
Sandholm and others also created Claudico, an AI system that ultimately lost to human players at poker matches last year. But Sandholm said Libratus has been improved, with more core hours put into programming the system, two new algorithms intended to better play the game and more computing resources and hardware.
It has been programmed to know the rules of poker, but Libratus doesn't rely on any other information. For example, it has never referenced material from a poker book or poker expert or any other sources, Sandholm told Mashable. This means it will sometimes play the game in a totally new way, making moves that may seem unfavorable to the best of traditional human players.
"It's very different from how humans play this game," Sandholm said of the Libratus approach.
"It plays like a martian," he said. "It's deriving its own strategy from just the rules of the game."
Read more: http://mashable.com/2017/01/06/ai-poker/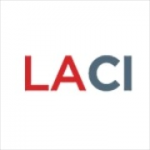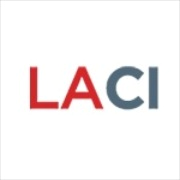 Los Angeles, CA (PRWEB) April 23, 2015
The Tech in Transit Challenge has launched to speed new transportation technologies to market by connecting innovators of next generation transportation technologies with major automotive OEMs, tier 1 suppliers and investors. The Los Angeles Cleantech Incubator (LACI), Prospect Silicon Valley (ProspectSV) and the Cleantech Open are collaborating with nine transportation industry titans to rapidly advance high-impact mobility solutions. Entrepreneurs have until May 15, 2015 to enter the Tech in Transit Challenge (http://www.techintransit.com) for consideration in Phase 1, held locally throughout the Cleantech Open West's Metro regions in Washington, Oregon, California and Nevada.
"Nearly every tech startup struggles with how to get fast, focused engagement in their target market to validate customer needs, vet the technology, secure capital and get integrated into industry channels," said Erik Steeb, VP of Programs at LACI. "By bringing this powerhouse of industry leaders together in one program, we de-risk the process and speed exciting new innovations into our transportation sector."
Industry leaders participating in the Tech in Transit Challenge include Autodesk, Continental, Denso, Ericsson, Honda, Hyundai, and Toyota. Combined, these companies represent nearly $ 1 trillion in annual revenue and their in-house or partner venture groups often invest in early stage companies.
Tony Cannestra, Director of Corporate Ventures at Denso International America, said, "The Tech in Transit challenge is a very unique approach to solve some of the difficult issues in the transportation industry. DENSO is on the lookout for new emerging technologies that will reshape the future of transportation. The Tech in Transit program is a great way for me to get early visibility to some of those exciting new ideas and technologies. I am always eager to see the early-stage innovations that come out of the program, and then explore how DENSO can help those technologies succeed in the marketplace."
For the 2015 challenge, companies and entrepreneurs with innovations in the areas of Connected Vehicles, Advanced Vehicle Technologies and Transportation Management Systems are eligible to participate in the Tech In Transit Challenge.
The Challenge is split into two phases with the Cleantech Open leading the Startup Development phase (Phase 1), and the combination of LACI and ProspectSV leading the Market Engagement Phase (Phase 2). "Each of the founders of the Tech In Transit Challenge have strong market ties in transportation and are recognized as industry leaders in their respective areas," said Doug Davenport CEO of ProspectSV. Over the last 10 years, the Cleantech Open has helped build the foundations for more than 1,000 startups that have raised over $ 1 Billion in combined investment. LACI is recognized around the world as a leader in cleantech incubation. ProspectSV is a one-of-a-kind commercialization catalyst providing commercialization support, connecting client to partners and demonstration platforms across the bay area, facilitating market adoption of transportation-related innovations. Says Davenport, "With this new partnership we all can leverage each other's strengths and form a transportation program that is unrivaled anywhere in the world."
Find more information about, and applications to participate in, visit the Tech In Transit Challenge at http://www.techintransit.com or via email to info(at)techintransit(dot)com.
About LACI

LACI is a non-profit, public-private partnership that helps promising companies deliver market-ready cleantech solutions and the jobs that come with them. LACI combines capital, universities, research, government support, entrepreneurs, corporate partners, and business leaders in order to drive innovation throughout the regional, state, and global economy. Recognized as a Top 10 Global Incubator in 2014 by UBI, in its first three years LACI has helped 30+ companies who have raised $ 50+ million and have created 450+ jobs. Learn more at http://www.laincubator.org.
About ProspectSV

ProspectSV is a non-profit commercialization catalyst assisting emerging technology companies with a pathway to market, bringing high-impact solutions forward in the Bay Area. ProspectSV's team of highly qualified technical and market experts assist startups with a suite of commercialization services, and collaborates with Bay Area cities to implement next generation technologies for our commutes, workplaces, homes, environment and overall quality of life. Drawing together government, business and institutional leadership into collaborative partnership, the ProspectSV team develops local initiatives with an aim toward global impact. Learn more at http://www.prospectsv.org.
About the Cleantech Open

Now in it's 10th year, The Cleantech Open is the oldest and largest cleantech startup accelerator program in the United States, supporting some 150 early-stage startups every year. The Cleantech Open is a non-profit, volunteer-based, and mission driven organization that works to find, fund, and foster entrepreneurs with ideas to solve the world's greatest environmental and energy challenges. Since it's inception in 2005, the Cleantech Open has helped over 1,000 Cleantech startups connect to the people and resources they need to accelerate their businesses. The results speak for themselves: over 70% of Cleantech Open companies are still in operation; and, Cleantech Open graduates have raised on average $ 2MM in funding, more than $ 1B combined funding to date.