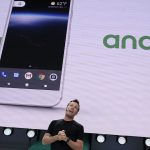 Dave Burke, Google Vice President of Engineering for Android, speaks during the opening keynote address at the Google I/O 2017 Conference.
Image: Getty Images/
Though we got our first peek at Android O back in March, Google finally revealed more details this week at its I/O developers conference about the soon-to-drop version of Android.
Though we're still quite a ways away from the official release, we know a lot more about the update. At first glance, many of the new changes are subtle, building on updates Google introduced last year with Nougat. (Yes, it's another boring year for Android.)
Still, there are quite a few features to look forward to, here's what's caught our eye so far.
1. No more broken emoji
Tired of missing out on new emoji? Android O will help ensure you never miss out on the latest releases. A new feature for developers lets them integrate a new emoji library that automatically fills in missing emoji even if you don't have it available yet in your keyboard.
2. Smart Sharing
Android O is able to understand what's in your photos and recommend specific apps and actions based based on what's in it the composition and your prior behavior. "If a user takes a photo of a receipt, Android O can suggest an expense-tracking app; if the user takes a selfie, a social media app can better handle the image," Google says.
This also applies to videos, URLs, text, and other types of content your phone can learn what you typically do with different types of content to improve its recommendations.
3. Cleaner Icons
Android developers can now create an array of icons to match the styles for different devices. This means if you use a phone that defaults to round app icons, apps that have typically used square icons now have the ability to use round ones instead.
4. Notification Snoozing
Android O is placing a lot of emphasis on improving notifications. One notable tweak will be the ability to snooze a notification for later.
5. Badge Notifications
One of the biggest changes to notifications is the addition of badge notifications small dots that appear over an app icon to indicate a new notification from that app. Additionally, you can long press on an app to check its notifications.
6. Background colors for notifications
Another small but noticeable way Google is redesigning the look and feel of notifications: Developers will have the ability to enable background colors for notifications from their app.
But don't expect your notifications tray to look extra colorful Google recommends developers "only use this feature in notifications for ongoing tasks which are critical for a user to see at a glance," like navigation or phone calls.
7. Notification Channels
Besides just changing the look and feel of notifications, Android O is letting users have much more fine-grained control over which notifications they see in the first place with something called notification channels. Notification channels let you decide which types of notifications you want to see from your apps.
Not many developers have had a chance to take advantage of this yet but as you can see in this example from the Google app, it lets you individually mute certain categories of notifications.
8. New Android TV Launcher
In addition to getting new superpowers thanks to Google Assistant, Android TV is getting a redesigned launcher menu that emphasizes content discovery.
9. New animation styles
This one is a little more subtle: Android O is adding support for a new animation style called physics-based animation. "Physics-based animation relies on the laws of physics to manifest a high degree of realism in animation. In our day-to-day life, when a change occurs, it comes with a physical transition that is natural for us to recognize."
This will manifest in a few different styles of animations, but one is a new type called "fling animation," which helps you slow down motion at the end of a graphic.
10. Picture-in-picture
It's been mentioned before but it bears repeating: Android O is getting support for picture-in-picture that works with any app, not just YouTube. It will take some time before more developers start adopting the feature, which is pretty buggy in the current developer preview, but PiP will definitely level up your multitasking.
Read more: http://mashable.com/2017/05/20/new-android-o-features/
Image: FotoshopTofs / pixabay
Despite receiving the same education as their male counterparts, women with STEM degrees (science, technology, engineering and mathematics) are actually less likely to work in a STEM occupation.
One important step to closing the gender gap in STEM fields is sharing the stories of women thriving in these careers and not just the role models of STEM women in history, but the stories of those in the field today. University of Phoenix believes that shining a spotlight on women who are making waves will help inspire future generations of female tech geniuses.
Following are stories about four intrepid women who are making a name for themselves in tech and who are helping to shape the future of the industry.
Meilani Conley
Meilani Conley knew early on that she was destined to pursue a career in science and mathematics. Though the adults in her life tried to dissuade her telling her that women have fewer opportunities in STEM fields than men Conley persevered and currently holds a Bachelor of Computer Science and Mathematics from Southwest Baptist University and a Master of Information Systems from University of Phoenix.
Conley's passion for computers began when she was nine years old. She was constantly fascinated by the inner workings of electronics. While the kids in her class daydreamed about summer vacation, Conley's mind was filled with metal, wires and electricity. She's proved that you can beat the status quo by pushing yourself and is currently pursuing her Ph.D. in Computer Science from Clarkson University.
Kirsten Hoyt
Kristen Hoyt, Academic Dean for the College of Information Systems and Technology at University of Phoenix, has a lot to say about women pursuing careers in tech.
"In 1996, women made up about 37 percent of the IT workforce, but in 2010 that number dropped to 25 percent," said Hoyt in one radio interview. In fact, as of 2014, the most common occupations for women were secretaries, administrative assistants, and teachers.
Hoyt's program at University of Phoenix is directly fighting back to change this statistic by developing partnerships to advance women in technology. According to the Bureau of Labor Statistics, it is projected that there will be 1.4 million computer-science jobs by 2020 but not enough individuals with the skills to apply for those jobs.
Hoyt was persistent in her interests while growing up and says she was fortunate enough to take a coding class early on. This led to a degree in programming that ultimately brought her to the role of Academic Dean for University of Phoenix College of Information Systems and Technology.
What else is to be done to ensure equality in the workforce? Hoyt said she believes in establishing a technology-based foundation from the earliest days of our children's educations, and cites her own experience as the reason she believes in jumpstarting technology education for students at a young age.
Stephenie Gloden
Stephenie Gloden is the vice president of Enterprise Resource Management for Apollo Education Group, a position she earned through her persistence and years of hard work. With more than 20 years of IT experience primarily focused on software development and IT operations leadership Gloden sought out a Bachelor of Science in Information Technology and a Master of Business Association from University of Phoenix, along with a Master of Science in Information Management from Arizona State University.
Gloden's most recent initiative is University of Phoenix startup, the RedFlint experience center located in downtown Las Vegas. As co-founder and business lead for strategy, Gloden is responsible for educating, incubating and accelerating ideas that solve the problems facing small businesses and the local community – including non-profits, schools and hospitals. Gloden's diehard entrepreneurial spirit brought her to where she is today something both men and woman should strive for in their careers.
Charity Jennings
What can you do to be an ally to women and ensure you're doing everything in your power to help them succeed? The answer is far simpler than you may think.
According to Charity Jennings, to cultivate and sustain diverse perspectives and expand the pipeline of IT talent, women must feel welcome in the industry.
Jennings serves as the program dean for University of Phoenix College of Information Systems and Technology, and has expanded her role to take on high profile technology projects that have University-wide impact.
Whether women are writing code or leading the next IT startup in Silicon Valley, it's critical to get our young women engaged and excited about becoming future engineers, web developers, tech entrepreneurs and executives.
Jennings says that the responsibility lies in the hands of educators, corporations, policy makers, community leaders and parents to help cultivate and nurture the interests of young women and help them reach their goals.
So when you see your daughter, cousin, niece or student taking apart her PC or fiddling with the HTML of a website, you can play a role in helping her explore opportunities in STEM by encouraging her interests and by showing her all of the opportunities for a career in tech.
The message to women everywhere is clear: the tech industry needs you.
Watch next: 'There is a difference between difficult and impossible': Three girls pursuing STEM careers in Egypt
Read more: http://mashable.com/2017/05/05/women-in-stem-uop/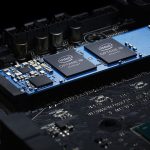 Intel is ready to unleash Optane.
If you've ever waited for a webpage to load, took a lap around the office while your computer rendered 4K video or watched in dismay as your favorite video game stuttered to life, you know that computers are struggling to keep up with all the data.
Intel isn't down with that. On Monday, the chip maker announced the ship date for Optane, a memory module that can change the data game. It takes the speed and fluidity of RAM and combines it with the storage capabilities of Flash memory.
"Storage needs dramatically increased over the last several years," said Intel Client Computing Group SVP Navin Shenoy who caught up with me to explain why Optane (unveiled at CES 2017) is a potential game-changer for computer users.
Working with system software, Optane can pre-cache frequently-used apps, which means they could load almost instantly. Even with system power turned off, the information remains (like a hard drive), and can be retrieved the moment the system is powered back on.
Since a lot of that information will be the core bits of the operating system your computer needs to run, boot times could be much, much faster.
There's a ton of data and not all of it is living in the cloud. According to Intel, 79% of the desktop market still uses a hard drive. Hard drives are great for data storage but not very efficient data movers (delivering data in milliseconds, as compared to memory's nanoseconds). And with more data, heavier webpages, 8K, HDR and an explosion in high-end, livestream gaming, the situation is only going to get worse.
Ten years in the making, Optane is not "incremental innovation," said Shenoy, adding that it represents a fundamental shift in memory technology.
Optane memory breaks with the near 50-year tradition of using transistors and charge to determine ones and zeros, explained Intel Senior Fellow Al Fazio. In the case of Optane memory, "We dont use transistors. We change the resistance of material to store ones and zeros," he said.
Essentially Optane memory uses material that stores information based on the state of atoms.
Fazio called it a "breakthrough in materiel science and physics" and one that Intel honed until they could achieve the performance and storage density necessary to make commercial products.
Optane memory also comes at a potential turning point in the personal computer market. After years of decline, the market has seen something of a design and market resurgence. IDC reported a rare jump in PC revenue growth for the last quarter of 2016. Those numbers have not gone up in years.
Optane modules promise to, according to Intel, dramatically speed up most of our core computer activities. Users will get, the company claims, a 28% overall system performance boost, plus:
Microsoft Outlook will load 6x faster
Chrome 5x faster
Games will launch up to 67% faster
It will, however, be weeks, if not months, before systems start shipping with integrated Optane memory modules. Optane is designed to work with Intel's Core i7 CPUs, which only just began shipping. Optane is not designed to work with all the Core i6 motherboards sitting inside many of today's desktops and laptops. In other words, an upgrade to Optane is likely a full-system upgrade.
Shenoy told me manufacturers like Acer, Asus, HP, Dell and Lenovo plan to ship pre-configured Optane desktops starting in the spring. Microsoft, which makes its Surface line of laptops and desktops, is not currently on the Optane adoption list. Nor is Intel customer Apple.
Optane memory may only be the beginning of a golden age of super-fast personal computing. Intel already has Optane storage and, according to Fazio, the lines between storage and memory will further blur. "The ultimate vision is where you bring Optane directly into memory buses and have the concept of persistent memory."
The modules, 16 GB ($44) and 32 GB ($77), will be available in April, but you'll need an Optane-compatible motherboard to use them. Shenoy told me there are already 130 compatible motherboards on the market.
Read more: http://mashable.com/2017/03/27/intel-optane-memory-ship-date/