New film tells story of Jane Jacobss battle's against the wealthiest developers in the city.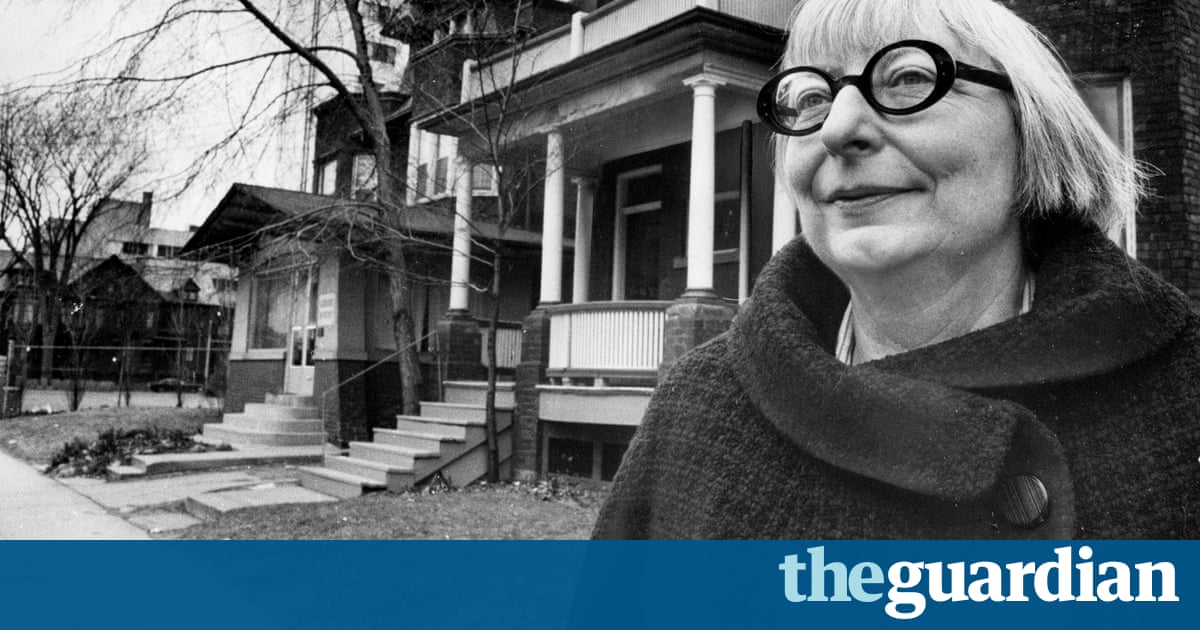 She was a beaky, bespectacled architecture writer, hardly a figure likely to ignite protests that changed the shape of one of the worlds great cities. Yet such is the legend of Jane Jacobs and her bitter struggles to preserve the heart of New York from modernisation that a film charting her astonishing victories over some of the most powerful developers in the US is set to inspire a new generation of urban activists around the world.
Citizen Jane: Battle for the City tells the story of Jacobs, author of The Death and Life of Great American Cities, who made herself the bane of New Yorks powerful city planners from the 1950's to 1970's. Her nemesis was Robert Moses, the city's powerful master builder and advocate of urban renewal, or wholesale neighbourhood clearance what author James Baldwin termed negro removal.
Moses dismissed the protesters as a bunch of mothers, and attempted to ignore their efforts to attract wider attention, which included taping white crosses across their glasses in the style of Jacobs.
But through a combination of grassroots activism, fundraising and persistence, Jacobs blocked Moses and successive city overlords from running Fifth Avenue through the historic Washington Square, tearing down much of SoHo and Little Italy to make way for a billion-dollar expressway, and building a six-lane highway up Manhattans west side.
"Some issues you fight with lawsuits and buy time that way," she later wrote. "With others, you buy time by throwing other kinds of monkey wrenches in. You have to buy time in all these fights. The lawsuit is the more expensive way."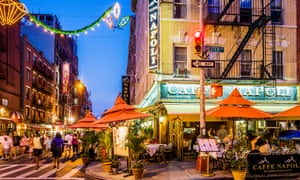 Read more: https://www.theguardian.com/film/2017/apr/22/jane-jacobs-people-power-saved-old-new-york-architecture-grassroots
Surveyed experts predicted last weeks rate rise would be followed by two more next year, not three.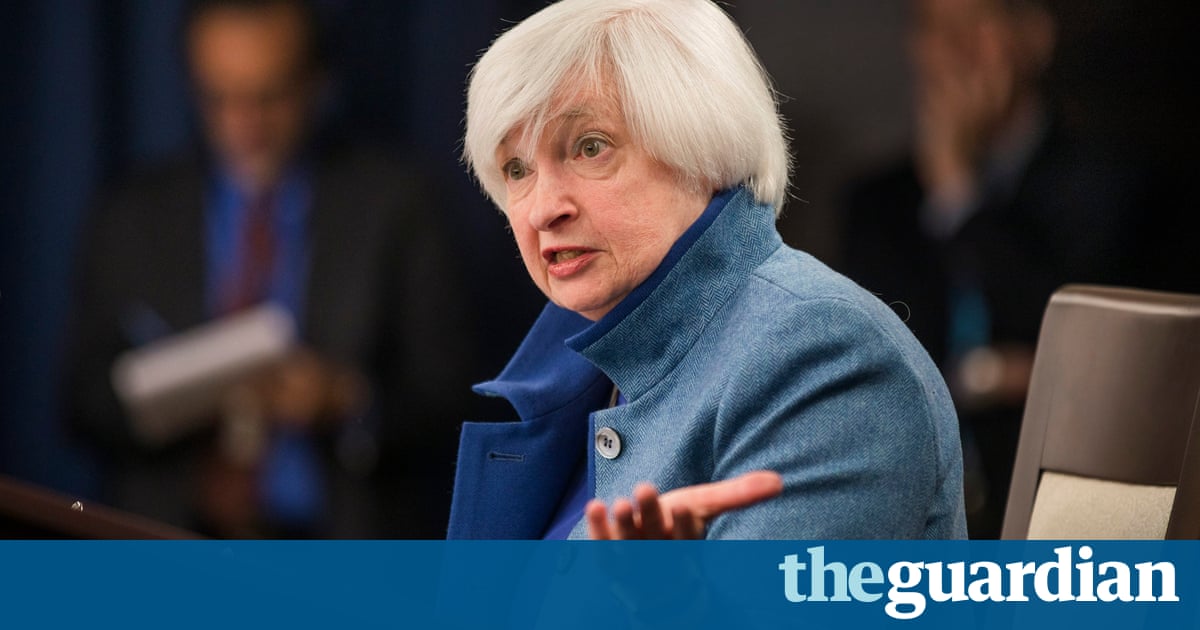 The Federal Reserve could wait until at least next summer before raising interest rates again, according to Wall Street economists surveyed by the Financial Times. Expectations that a rate rise last week by the US central bank would be followed by three more next year were played down by the 31 economists surveyed, who predicted only two rises were likely.
The New York Dow Jones index soared last week to within 160 points of a record 20,000 amid forecasts that a huge stimulus package in the first year of Donald Trumps presidency would trigger an economic boom.
While Trump has promised to cut taxes affecting middle-income earners and pump funds into major infrastructure projects, many economists are wary that Congress could delay or block the moves, fearing a steep rise in the governments budget deficit.
Global growth will improve next year but remain under its long-term trend, Gregory Daco, an economist with Oxford Economics, told the newspaper. Trumps policies, and the expectation of them, will be pivotal to global developments.
The strengthening of the dollar is also likely to hit exports and increase the price of imports, increasing the US balance of payments deficit.
The value of companies in the Dow Jones index has almost doubled since the 11,500 it recorded at the height of the tech boom in 1999, while the UKs FTSE 100 index of top companies languished on Friday at only slightly above 1999's 6,950 at 7011.
Read more: https://www.theguardian.com/business/2016/dec/18/us-could-wait-until-next-summer-to-raise-interest-rates-say-economists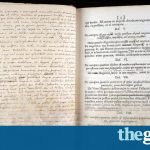 Rare European copy of key mathematics text is going under hammer at Christies in New York with record guide price.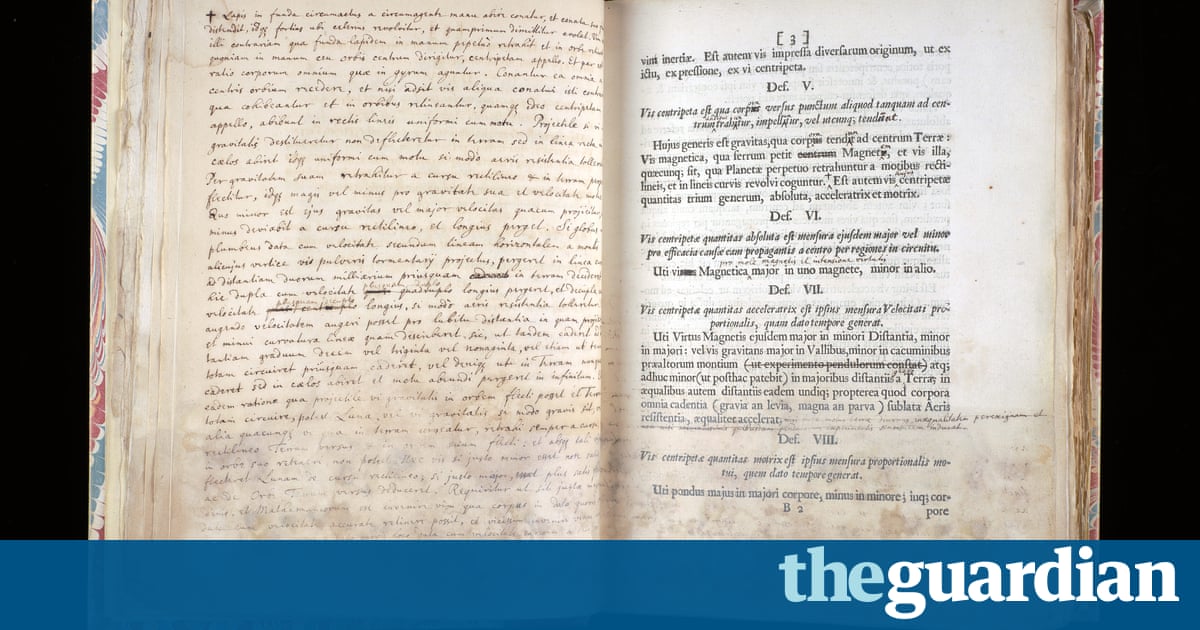 A first edition of Sir Isaac Newton's Principia Mathematica could become the most expensive print sold of the revolutionary text when it goes under the hammer with a guide price of at least $1m (790,000) this month.
The extremely rare continental copy being sold by auction house Christies in New York is one of a handful of texts thought to have been destined for Europe and has minor differences from those distributed in England by Newton and the book's editor, Edmond Halley.
The list price of between $1m and $1.5m is thought to be a record for the book. An English version also bound in red morocco leather, which was said to have been presented to King James II, sold for more than $2.5m in 2013. Its list price was $600,000.
About 400 copies of Principia's first edition were printed, of which the continental versions accounted for about 20%. Halley, the astronomer best known for the comet named after him, encouraged Newton to organise his theories into a text and paid for the printing because the Royal Society of which he and Newton were members had run out of funds.
The society retains two copies of the book, including the original manuscript on which the first print run in 1687 was based, which is described as its greatest treasure.
Written in Latin, the books full title is Philosophi Naturalis Principia Mathematica (Mathematical Principles of Natural Philosophy). It laid out Newton's groundbreaking theories in areas such as gravity and the forces of motion, and introduced a more rigorous mathematical method to physical science.
Keith Moore, the head of the Royal Society library, described it as a benchmark in human thought.
"It's not just the history and development of science; it's one of the greatest books ever published," he said. "It was hugely influential in terms of applying mathematics to basic physical problems."
Moore said the large sum set to be attracted by the book could be in part due to the growing influence of science within culture, as well as the huge earnings of some technology entrepreneurs.
"People who have big books these days maybe are the kinds of people who have made their money on the internet or the web … If you have a few million quid to spend, why wouldnt you buy a copy of Principia Mathematica?
"If you've made your money from a really cool algorithm, you will probably appreciate Newtonian physics."
Despite its wide-ranging impact, and the books use as a foundational physics text being unsurpassed until Einstein's general theory of relativity, Principia did not make a list last year of the top 20 most important academic books of all time. The list was topped by Charles Darwins On the Origin of Species.
But because it was published almost two centuries earlier, first editions of Principia are rarer and likely to continue selling for far larger amounts. One of the highest prices paid for a first edition of Darwins book laying out the theory of evolution was 103,000 in 2009, and subsequent sales have been lower.
While the prices differ, the impact of the two texts was comparable, Moore said. What Newton does in the 1680's is revolutionise the physical sciences. The fundamental laws of physics.
Darwin's great work published in 1859 revolutionised the biological sciences in the same way. They are similar books in the impact they had.
The picture caption on this article was amended on 5 December 2016 to clarify that the copy of Principia Mathematica up for sale is not the one held by Cambridge University.
Read more: https://www.theguardian.com/science/2016/dec/05/principia-sir-isaac-newton-first-edition-auction-christies-new-york
Editorial: We may be at a turning point in the nature of capitalism. That may not be such a bad thing.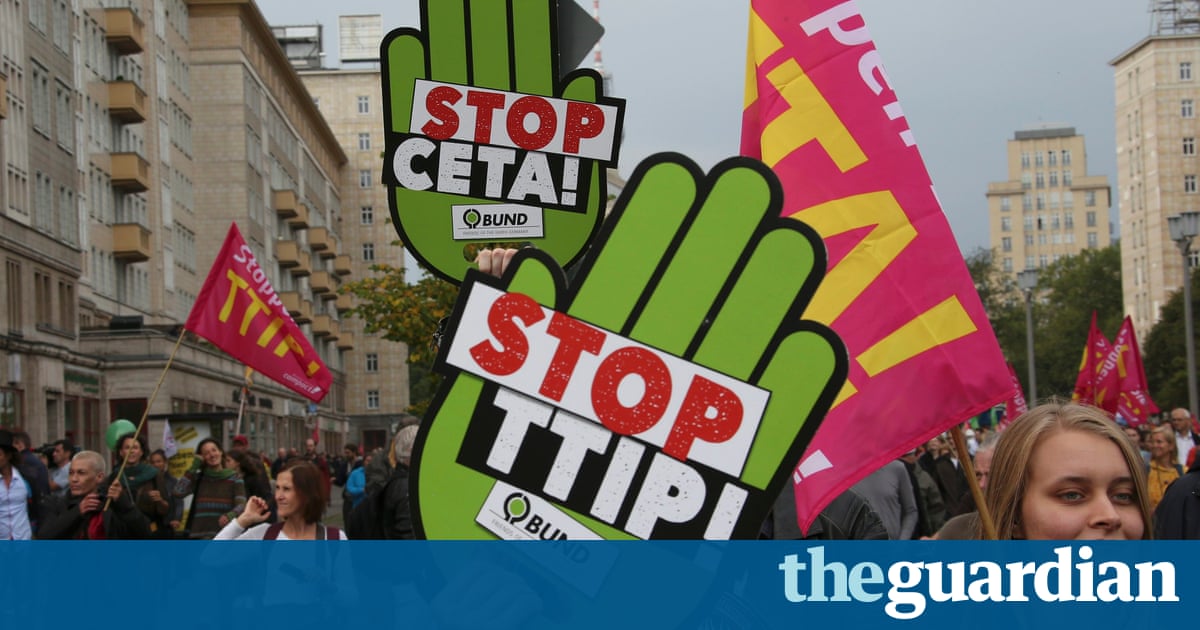 Ever since US presidential candidates railed against free trade, and anti-immigrant parties madesweeping gains in Europe, the question has been asked: are we witnessing the demiseof globalisation? A trend that has dominated economics and trade for decades appears to be coming to an end. As a percentage of global GDP, world exports, which have been on a slow steady decline in the past two years, have peaked. Fines on multinationals have reached record levels. Chinas breakneck industrialisation is probably over. Britain, a nation famous for building its empire on trade, will exit the worlds biggest free-trade area Europe by the end of this decade. Donald Trump, an opponent of free-trade deals all his public life, is about to become president of the United States. These signs point to the slow death of the form of globalisation that the rich world has invented, refined and patrolled since the end of the second world war. For many, the period from 1980 to 2008 marks the high-water mark of such policies a period that came to an end with global financial crisis. There is a worry that these years resemble the previously most integrated period of world history: the Gilded Age between 1870 and 1914. This ended bloodily with the first world war.
However, history does not necessarily repeat itself. It is important to note that global prosperity is bigger than any one nation. Some of the reason for the flattening off in the globalising trend is mathematical: poorer economies are growing faster than richer ones, and they import less. As developing nations share of global GDP rises, the effect will be to shrink the ratio of trade to global income. Others could take Chinas place as a driver of worldwide growth: India is probably the only country that has the potential to mount a transformation of similar scale and global consequence. Also a number of fast-growing nations could re-energise the pattern of global growth. The International Monetary Fund suggests that 6% annual growth in a dozen countries with a combined GDP of $4tn would add more to the global economy than the eurozone growing at full tilt.
Yet these feel like the wrong questions and answers. We need to settle whether globalisation in its current incarnation aids or relieves poverty in an equitable way. Given the worldwide revolts on the right and left of politics, the answer would seem to be that it doesnt. Fairer arrangements will help poor nations get richer. Trade is not a zero-sum game: all should benefit from engaging in it. But the world that exists has not been designed this way. The thinking that has dominated recent decades comes from classical free-trade theory which holds that although imports do cost jobs, exports will generate new ones and competition keeps prices low, so, over time, everyone gains. However, recent academic research tells a different story. When economists at the Massachusetts Institute of Technology looked at the impact of the trade relationship between the United States and China they found a heavy cost to American workers. When jobs vanish, the MIT paper found, the better-trained workers would bounce back, but many blue-collar workers did not. Losses in manufacturing are magnified by being geographically concentrated and entire communities were punished. Little wonder perhaps that Mr Trumps protectionist message has been central to the populist campaign that has made him the president-elect.
The trick is not to retreat behind walls. That would see a return to beggar-thy-neighbour policies and the threat of war. Policymakers must go back to watching the numbers that matter to left-behind communities: the trade deficit. International prices must be fairly set so exports are not artificially expensive and imports are not artificially cheap. Imports from nations where labour rights are trampled need addressing. These are concerns that sensible thinkers on the left have raised for years most notably the Nobel prize-winner Joseph Stiglitz, who has long worried about the corporate capture of trade deals. His warning that President Obamas Trans-Pacific Partnership operated under rules that would harm the economy and US workers was a call that went unheeded by Democrats until it was too late. Work must be done to resolve the tensions between democracy, the nation state and global economic integration. Trade deals need to show nations are open for business by putting peoples interests, not corporate interests, at their heart. We may be at a turning point in the nature of capitalism. That may not be such a bad thing.
Read more: https://www.theguardian.com/commentisfree/2016/nov/20/the-guardian-view-on-globalisation-its-death-is-the-making-of-it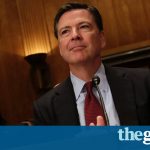 The former prosecutor and deputy attorney general has grappled with a series of contentious issues, including surveillance and the Ferguson effect.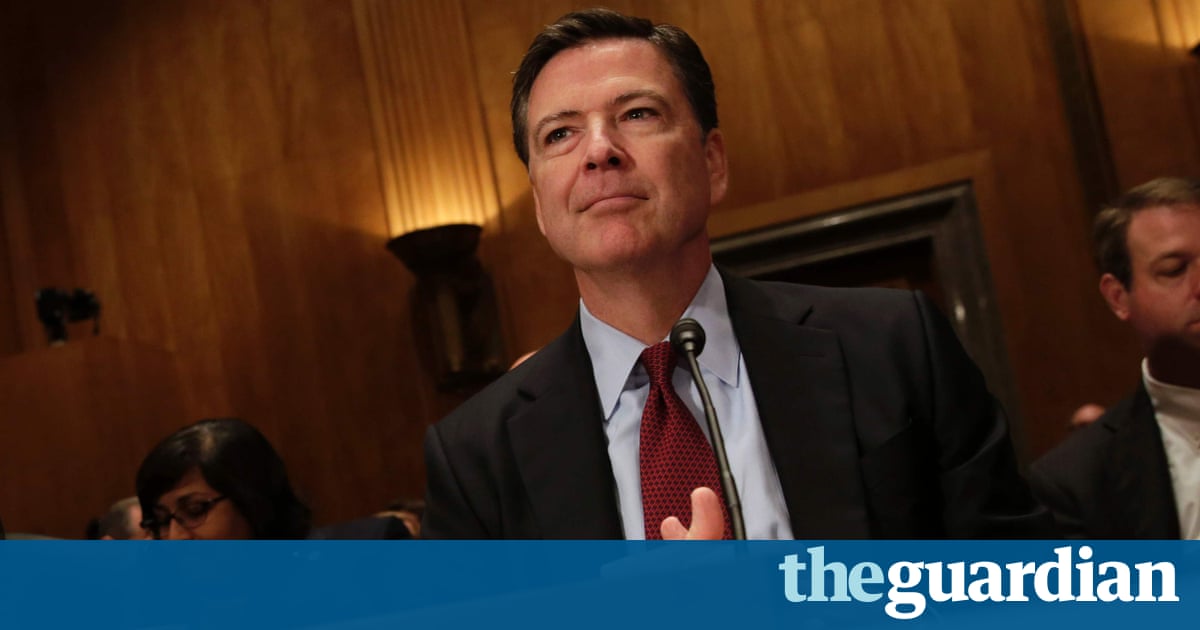 Three days ago, James Comey was one of Donald Trump's symbols of Washington corruption and a law enforcer of the highest integrity to Hillary Clintons campaign. On Sunday, the FBI director was the most controversial figure in the capital, heroic to Trump, irresponsible to Clinton and puzzling to nearly everyone.
Comey has a long history of trying to walk political tightropes, to varying success, dating to the earliest days of his career.
Comey, a career prosecutor who grew up in New Jersey and studied religion and chemistry, had his first brush with a high-profile investigation came in 1996, after a stint with the US attorney for New York. That year, he joined a Senate investigation into Bill and Hillary Clintons real estate investments, named Whitewater after a failed venture they joined.
He remained in the background of an investigation that ultimately petered out, but Comey soon joined two prestigious prosecutors offices, in eastern Virginia and Manhattan, where he pursued high-profile cases against identity thieves, a top Credit Suisse banker and Martha Stewart.
In 2003, he was named deputy attorney general in the administration of George W Bush, becoming a dissenting voice against surveillance programs of the National Security Agency revealed in 2005 by the New York Times.
Comey later testified to Congress that one night in March 2004, with attorney general John Ashcroft hospitalized for an emergency procedure, he raced to the sickbed to prevent the renewal of warrantless wiretapping programs which the justice department had determined were illegal.
Comey arrived just before Bushs top lawyer and chief of staff, and Ashcroft did not sign the renewal. "I was angry," Comey told the Senate in 2007. "I thought I just witnessed an effort to take advantage of a very sick man, who did not have the powers of the attorney general because they had been transferred to me. That night was probably the most difficult night of my professional life."
The next day, Bush modified the wiretapping program.
In those hearings, about possible misconduct by the White House chief counsel and, ironically, missing emails from the Republican National Committee, Comey told Congress he felt it imperative that the justice department stand outside partisan politics.
The Department of Justice, in my view, is run by political appointees of the president, he testified. But once they take those jobs and run this institution, its very important in my view for that institution to be an other in American life.
My people had to stand up before juries of all stripes, talk to sheriffs of all stripes, judges of all stripes. They had to be seen as the good guys, and not as either this administration or that administration.
Comey left the justice department in 2005 for Lockheed Martin, the largest military contractor in the US, and eventually an investment firm and Columbia Law School. In 2013, Barack Obama nominated the registered Republican to lead the FBI, joking that the 6ft 8in prosecutor was a man who stands very tall for justice and the rule of law.
He was confirmed as the agencys seventh director in a 93-1 vote only Kentucky senator Rand Paul voted against him, over domestic drone surveillance and quickly took on a series of controversial cases.
Though he opposed the NSAs warrantless wiretapping, Comey has emerged as a steady advocate of US security agencies since the Guardian revealed a host of programs in 2013, a system that gave the FBI access to a trove of data. Comey has repeatedly argued that security agencies should be given tools to bypass private encryption, and took the FBI to court against Apple over unlocking the phone of one of the San Bernardino terrorists.
Were asking Apple to take the vicious guard dog away and let us pick the lock, he told Congress in March. Its not their job to watch out for public safety. Thats our job. The logic of encryption will bring us to a place in the not too distant future where all of our conversations and all our papers and effects are entirely private.
The legal battle ended in anticlimax, as the FBI found another way into the iPhone. It has since said that the hack it used does not work on newer phone models.
Comey has walked a careful line on race and police killings. Last year he said it was unacceptable that the Guardian and Washington Post had better data on police shootings than the federal government, but also dipped into controversy by suggesting a Ferguson effect named after sometimes violent protests in Ferguson, Missouri, over the police shooting of an unarmed black teen may cause police officers to step back from their responsibilities.
Comey conceded he lacked evidence for that claim, which led him into an unusually public disagreement with the president, who warned last year: What we cant do is cherry-pick data or use anecdotal evidence to drive policy or to feed political agendas.
Since then, tentative research by the justice department and a St Louis criminologist has suggested the Ferguson effect is plausible as an explanation for a single-year spike in violent crime.
The director rose to national prominence in July, when he announced the FBI's findings in its investigation into whether Clinton and her staff had acted criminally in their use of a private email server. He concluded there was no evidence of intentional wrongdoing.
Comey used a press conference itself a break from tradition and his original sin, in one former officials words to lay out the facts at the time, correct several false claims by Clinton, and castigate her and her staff for their extremely careless email practices. He was then called to Congress to defend his decision, which ended months of expensive and inconclusive Republican investigations.
Read more: https://www.theguardian.com/us-news/2016/oct/30/james-comey-fbi-director-hillary-clinton-email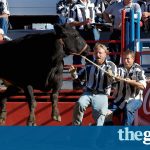 Cash prizes and the chance to be treated like a regular person are the lure for inmates braving angry bulls and bucking horses at Louisianas biggest prison.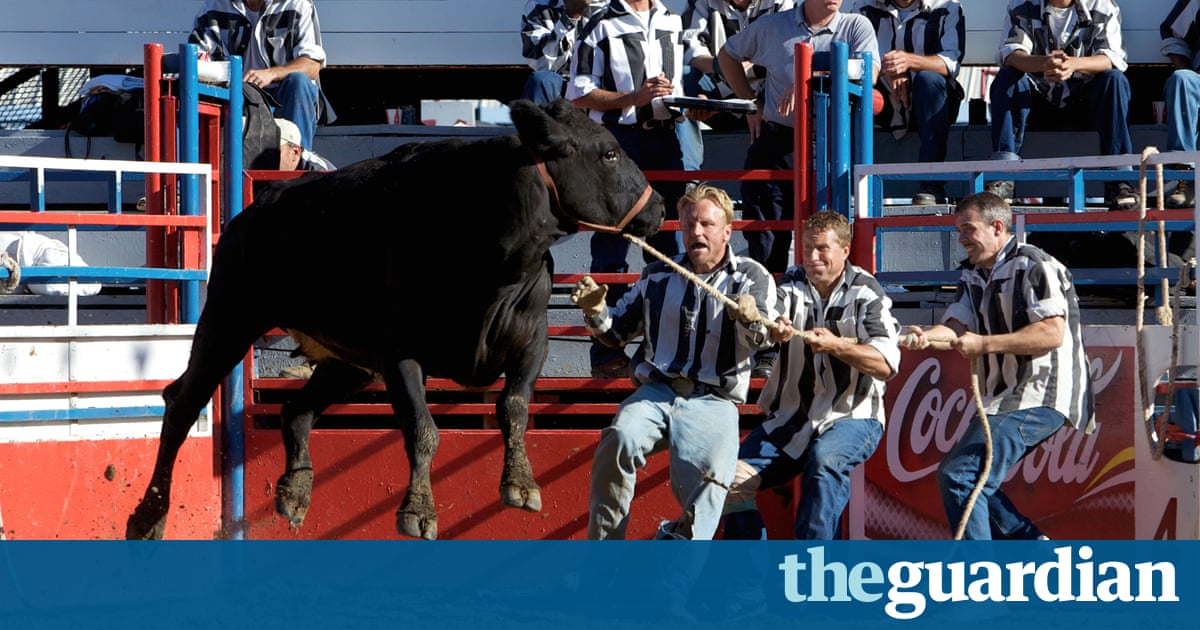 Four men wearing black-and-white stripes take their seats at a table. They have only a split second to brace themselves before a bull charges through the gate, flinging them into the air amid cheers from the 11,000-strong crowd.
When the dust settles, both the bull and the men return to their cages.
This is the Angola Prison Rodeo, a 53-year-old tradition at the biggest and most notorious prison in Louisiana, the incarceration capital of the world.
The prison rodeo is a distinctly American spin on the Roman Colosseum, and Angolas is the last remaining show in the country. For $20 a ticket, thousands flood into the 18,000-acre prison each Sunday in October and one weekend in April to watch inmates battle bucking horses and angry bulls.
Most are tossed to the ground immediately. Some break bones or worse. Those who manage to hang on are awarded varying amounts of cash depending on the riskiness of the event.
Theres convict poker, in which a bull is released on four inmates at a poker table. Whoever manages to stay in their chair the longest wins $250. The most dangerous event is guts and glory, where inmates try to pluck a poker chip from between the horns of a charging bull for a chance at the grand prize: $500.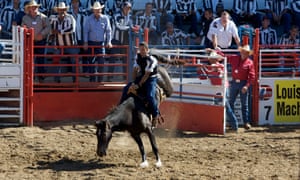 Read more: https://www.theguardian.com/us-news/2016/oct/29/angola-prison-rodeo-louisiana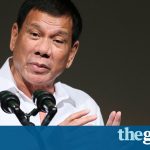 I want them out, says Rodrigo Duterte on visit to Japan, saying there will be an end to war games with US military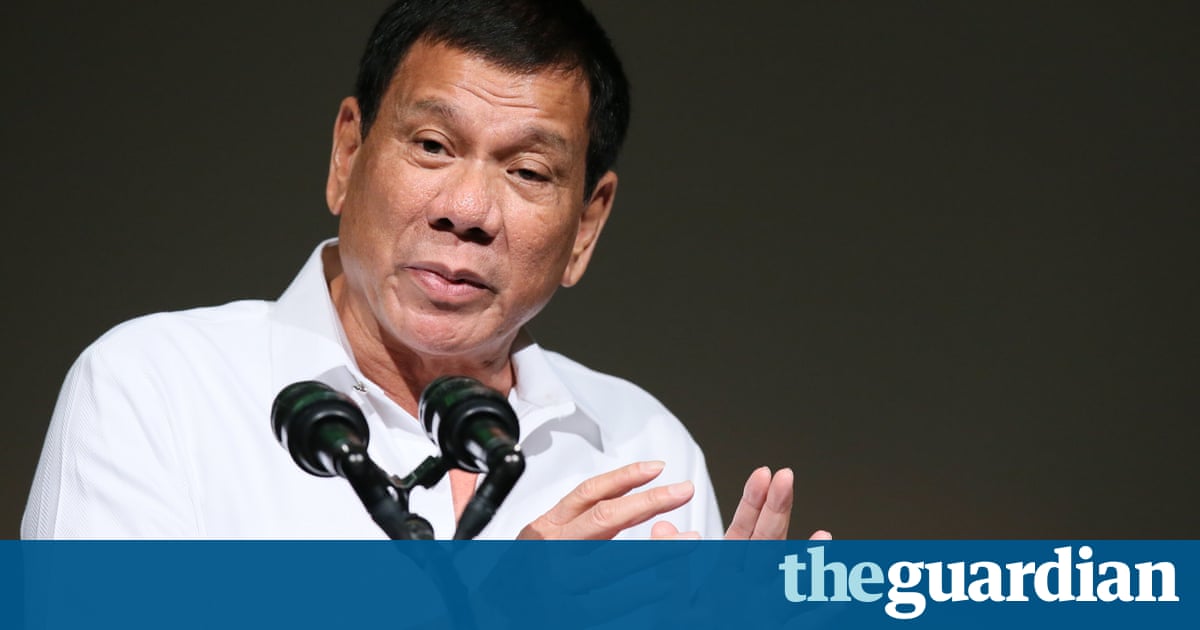 The Philippine president, Rodrigo Duterte, has continued his anti-US rhetoric by calling for the removal of all foreign troops from the Philippines, possibly within two years.
Speaking to an audience of business people at the start of a three-day visit to Japan, Duterte acknowledged that his recent remarks about Manilas military separation from the US had angered Washington, but said he was determined to pursue an independent foreign policy.
I want, maybe in the next two years, my country free of the presence of foreign military troops. I want them out, he added in a reference to US troops spread across five bases in the Philippines as part of a security agreement reached with Washington by his predecessor, Benigno Aquino.
And if I have to revise or abrogate agreements, executive agreements, this shall be the last manoeuvre, war games between the United States and the Philippines military.
Hours later, however, his foreign minister, Perfecto Yasay, attempted to soothe concerns over the future of the Philippines military ties to the US, Manilas long-standing ally.
Speaking to reporters in Tokyo on Wednesday, Yasay said that Manila would respect its treaty obligations with Washington. There is no reason at this time to terminate our agreements because our national interests continue to converge. We will continue to respect our treaty obligations.
Duterte conceded that he may have ruffled the feelings of some but that is how it is. We will survive, without the assistance of America, maybe a lesser quality of life, but as I said, we will survive.
His fierce criticism of the US and apparent desire to realign with China have caused unease in Japan, which under Shinzo Abe, the prime minister, has strengthened security ties with Washington and sided with the Philippines over its dispute with Beijing in the South China Sea.
Duterte, however, assured Japan that the purpose of his high-profile visit to China last week was strictly limited to economic cooperation. You know I went to China for a visit. And I would like to assure you that all there was, was economics. We did not talk about arms. We avoided talking about alliances, he said.
Later, during a joint press conference with Abe, Duterte said the Philippines shared Japans desire to uphold the rule of law and bring about a peaceful settlement to Chinas island-building campaign in the South China Sea.
Japan does not have any territorial claims in the area, but regards Chinas military build-up as an attempt to establish dominance of shipping routes through which about $5 trillion worth of trade passes every year.
Japan is also embroiled in a long-running dispute over the Senkakus, a group of uninhabited islands in the East China Sea that are administered by Japan but also claimed by China, where they are known as the Diaoyu.
Describing Japan as a special friend who is closer than a brother, Duterte said: Today we have taken steps to ensure that our ties remain vibrant and will gain greater strength in the years to come.
Read more: https://www.theguardian.com/world/2016/oct/26/philippine-president-calls-for-removal-of-all-us-troops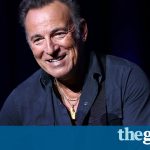 The Boss speaks out against Trump, and opens up about his approach to parenting, at an event in London to promote his autobiography, Born to Run.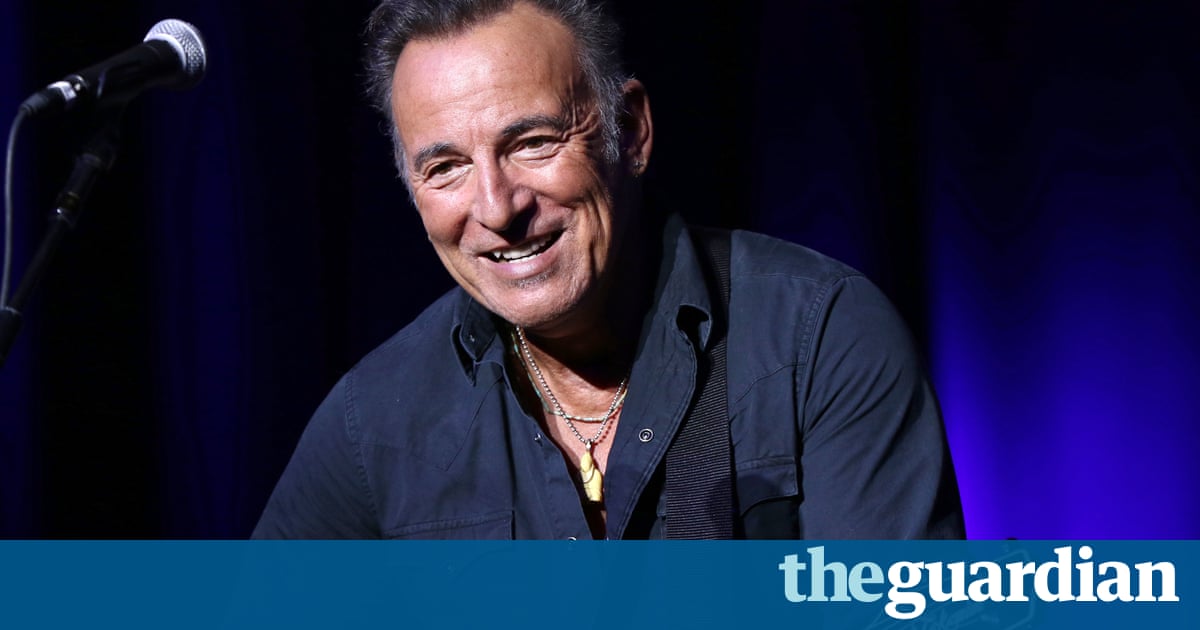 Bruce Springsteen has again condemned Donald Trump, with less than a month before the US presidential election. Springsteen, who had previously called the Republican presidential candidate a moron, told an audience in London: Its a terrible thing thats happening in the States. Hes undermining the entire democratic tradition.
Springsteen was speaking at an invitation-only event for European press at the Institute of Contemporary Arts in London to promote his autobiography, Born to Run. When asked by host Antoine de Caunes to explain to Europeans the appeal of Trump, Springsteen replied: Nobodys been able to explain that.
Springsteen also paid further tribute to Bob Dylan, following the latter winning the Nobel prize in literature. Like a Rolling Stone was the first time I heard a version of my country that felt naggingly real, he said. Long after all of us are forgotten, Bobs work is going to be ringing out loud and clear. He contrasted Dylans writing favourably with his own work: Bobs certainly a poet. Im a hardworking journeyman.
Born to Run dealt extensively with Springsteens family, covering not just his relationship with his parents and grandparents, but also the changes parenthood had wrought on his own life. He said the final section of the book, writing about everyone you know now, was the hardest to write. I showed my kids the things I wrote about them, he said. Patti [Scialfa, his wife] and I discussed that section of the book and she didnt change anything, [though] she wasnt necessarily comfortable with everything. There were some things I wasnt comfortable with myself. But she gave me a lot of room to explore.
Discussing how his troubled relationship with his father had affected his own parenting, he spoke of how people honour their own parents by trying to steer away from the things they had difficulty with and by passing on the things they did well. The difficult thing was not having a role model to pass on what it meant to be a good parent, he said. That meant being a father did not come naturally: the suspension of deep personal time; the giving over of yourself at any moment of the day. I was used to my work taking over my time. It was my sacred space. To have Hey! I need a ride to Billys house, was something it took me a while to get used to. But I have a good relationship with my kids. I wouldnt say I was perfect, but I did OK.
He spoke, too, about how playing live had helped him cope with the depression that had struck him at intervals over the past 30 years. Playing such long sets Springsteen routinely goes well past three hours when performing with the E Street Band meant he would be too tired to be depressed. To be depressed you need to have certain amount of energy, to go hunting through the weeds. Theres also a great centring element that wards off [the effects of depression]. It hardens your centre; that wards off self doubt and the unproductive questioning that comes with depression.
Read more: https://www.theguardian.com/music/2016/oct/17/bruce-springsteen-donald-trump-undermining-democratic-tradition-book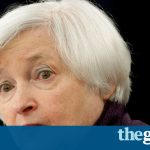 Three central bankers voted in favor of increasing rates amid easing risks of Brexit but experts still expect only one hike this year, after December meeting.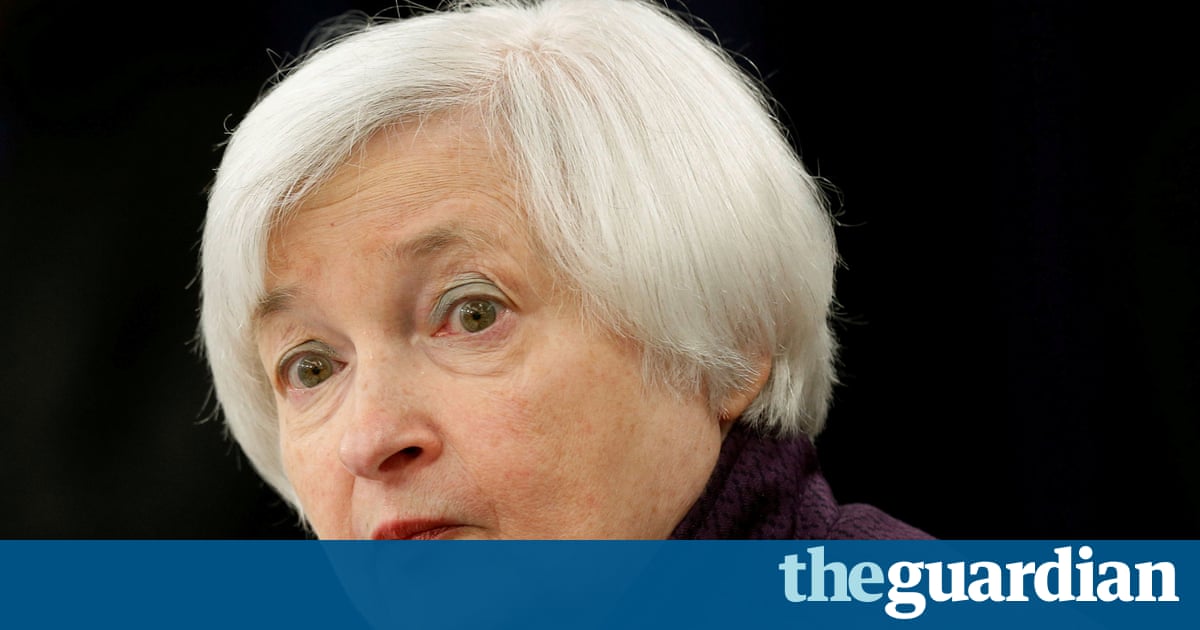 The Federal Reserves decision not to increase rates in September was a close call, the minutes released on Wednesday show. When the Federal Open Markets Committee (FOMC) met in September, three of the twelve members voted in favor of increasing interest rates as the US labor market continued to improve at a slower rate and the risks from Brexit, the UKs vote to leave the European Union, eased. Some members indicated that a rate hike might be appropriate relatively soon.
Up until September, Kansas City Fed president Esther George was the lone voice in favor of raising interest rates. Last month, she was joined by Cleveland Fed president Loretta Mester and Boston Fed president Eric Rosengren in her call to increase the target range to 0.50%-0.75%. The current range is 0.25%-0.50%, after it was increased last December for the first time in nearly a decade.
The FOMC which is the policy setting arm of the US central bank noted that the case for increasing interest rates has strengthened recently. After last years increase, the Fed was initially expected to hike rates four more times in 2016. With six FOMC meetings having come and gone, that forecast has now been revised down to just one rate hike. The Fed next meets in November, days before the presidential election, and once more in December.
Most economists expected the Fed to raise rates again in December, a year since its last hike.
Among the reasons for the delay were the continued slack in the labor market and inflation, which continues to run below the FOMCs 2% objective. According to the FOMC minutes, the majority of its members wanted to wait and see evidence of continued progress before hiking rates.
The majority of the members also agreed that the risks from Brexit had receded.
However, a few still judged that overall risks were weighted to the downside, citing various factors that included the possibility of weaker-than-expected growth in foreign economies, continued uncertainty associated with Brexit, the proximity of policy interest rates to the effective lower bound, or persistent headwinds to economic growth, according to the minutes.
The committee will continue to closely monitor global economic and financial developments.
On Tuesday, almost three weeks since the committees meeting, the pound recorded its worst four-day performance since the Brexit vote.
Those in favor of raising interest rates pointed to continuing job creation. September was the 78th consecutive month of private-sector job growth the longest streak of job creation on record. That month the US economy added 156,000 jobs even as the unemployment rate went up to 5%. The higher unemployment rate, however, was good news as it was a result of more people returning to the US labor market.
As the labor market has improved, people who were discouraged are coming back into the labor force, said William Dudley, president of New York Fed, on Wednesday. Thats allowing us to grow payrolls at a pretty decent clip without pushing down the unemployment rate.
The labor participation rate for September was 62.9%, up from 62.8% a month ago. In September 2008, when Lehman Brothers declared bankruptcy and the US economy shed 159,000 jobs, the labor participation rate was 66%. As the participation rate has remained near historic lows, the US Department of Labor has pointed out that a contributing factor are the many baby boomers who are leaving the labor market and retiring.
The central bankers voting in favor of a rate hike believe that the US labor market is nearing full employment, a condition where those willing and able to work are able to find jobs. According to these bankers, a further delay in raising the target range would unduly increase the risk of the unemployment rate falling markedly below its longer-run normal level.
Read more: https://www.theguardian.com/business/2016/oct/12/federal-reserve-minutes-september-interest-rates-hike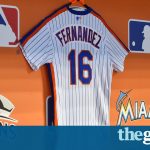 The new weekly show on ESPN2 is presented in English but slipping easily into Spanish is part of its makeup, much like its target audience.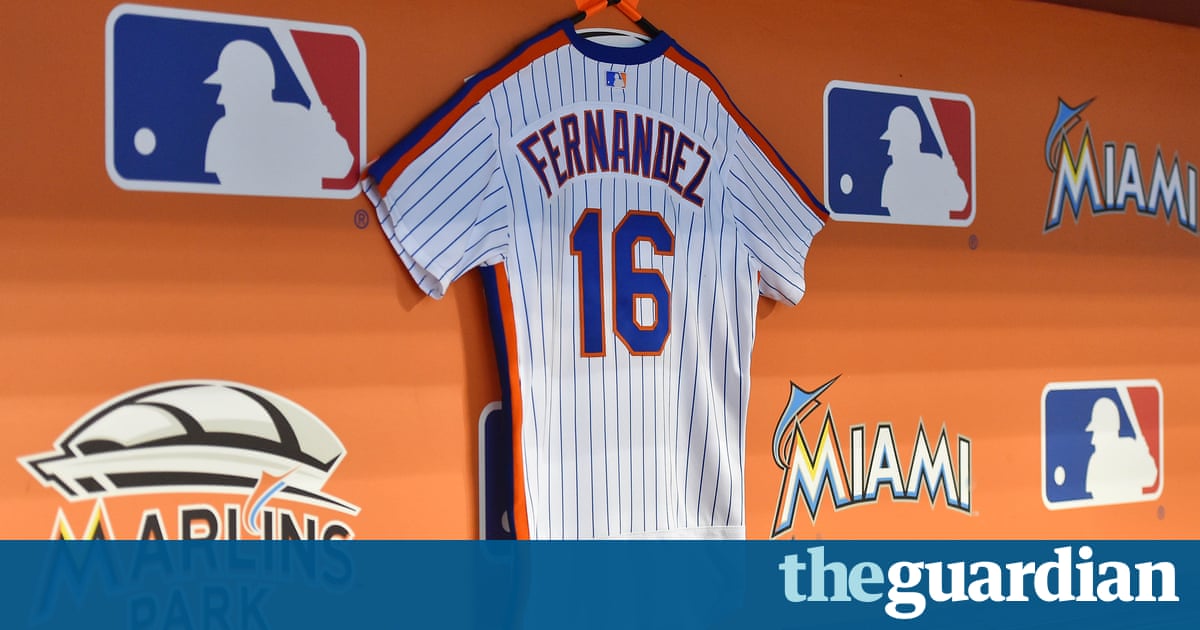 ESPN made television history with the premiere of Nacin ESPN last week, the networks first bilingual sports show, geared towards a US-Latino audience. The show has grown out of another of the same name on the Spanish-language ESPN Deportes but the new version airs on the English-language ESPN2.
Nacin ESPN will speak to the audience in a way that resonates with their evolving multicultural lifestyles and interests, said Freddy Roln, vice-president and general manager of ESPN Deportes. The new show will leverage the crossover that exists between the programs, serving as an authentic connection between the ESPN and ESPN Deportes audiences.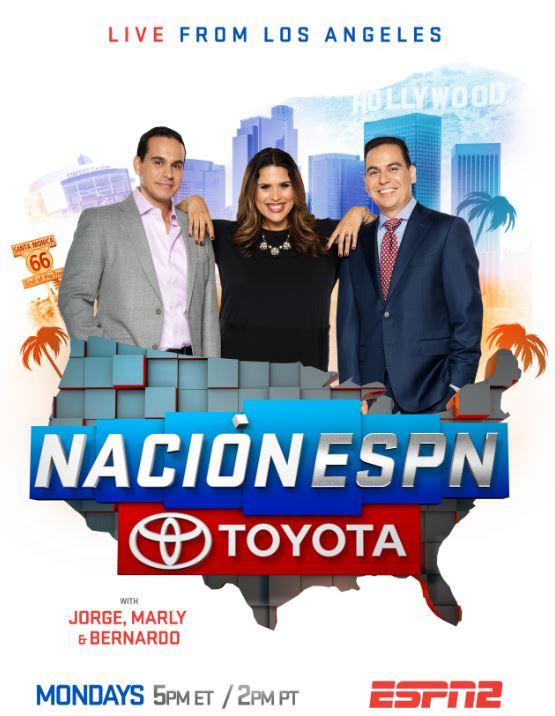 Even though its presented in English, the frequent use of Spanish is an important part of the shows makeup, and Spanish-speaking guests have the choice of doing interviews in their mother tongue where bilingual hosts Jorge Sedano, Bernardo Osuna and Marly Rivera are able to translate. Taped interviews from longer pieces will also have English subtitles. The first episode featured the segment Football or Ftbol, comparing two dance celebrations between a Mexican soccer player and an NFL athlete. The hosts then decided who was better and the bit was amusing precisely because it highlighted how a young, US Hispanic viewer finds both cultures equally relatable.
The nascent program, which airs weekly on Mondays, finally pays attention to a young Latino audience by creating a show that speaks both of their languages. The US-Hispanic audience is the youngest ethnic group in the country and according to the Pew Research Center, 79% of Latino families speak both English and Spanish at home. Young Latinos have been brought up with the same media content and information as their English-speaking friends, creating an acculturated consumption of news.
Naturally, Nacin ESPN is clearly a show that deals with daily sports coverage, said Hugo Balta, the networks director for multicultural content. But its also a commentary on the issues within the Hispanic community and how the hosts connect with the audience. For example, the first episode discussed how the untimely death of Jos Fernndez, the Cuban American baseball player who was killed in a boating accident, deeply affected Latinos.
Many Cuban Americans, including my family and many others, have come to this country as exiles and looking for a new life, making all the ultimate sacrifices to try and make a better life for people like myself, said Sedano on the show. He represents so many good things for this community.
This shift of language in order to connect and convey oneself in a conversation is called code-switching and it plays an important role in Americas multicultural society. When youre attuned to the phenomenon of code-switching, you start to see it everywhere, and you begin to see the way race, ethnicity and culture plays out all over the place, said Gene Demby, lead blogger for NPRs Code Switch.
And you do see it everywhere, from literature such as Junot Dazs Drown telling the various stories of a Dominican community in New Jersey to the voices of prominent artists such as Daddy Yankee and Jennifer Lopez, who have built empires on such fusion.
Code-switching is an important topic because the US simply is becoming more of a diverse society than it has ever been, said Ann Morning, associate professor of sociology at New York University. So this means people are more likely to encounter different groups and want to signal in some way their membership or affinity in those communities even though theyre not strictly members. I think there are probably more opportunities than ever before for people to use code-switching strategies.
There is a danger, however, of using code-switching to create a superficial familiarity, as opposed to being deeply rooted within a persons experience, according to Morning. A perfect example would be the recently created term Hispandering, which refers to a conscious political attempt to attract Hispanic voters by speaking Spanish or discussing Hispanic issues for their own benefit. When Tim Kaine speaks Spanish to an audience, said Morning, is that a kind of code-switching which is working or not? Im not the one to judge, but it has risks.
The hope is that Nacin ESPNs approach will help non-Latino communities recognize Latinos by interacting with a culture they dont always have authentic access to through a lens in this case, sports they already understand. I see code-switching as a positive in the sense that basically means people will have a cultural fluency in many domains, said Morning. Its sort of like speaking another language. It can only be a good thing, right?
Read more: https://www.theguardian.com/media/2016/oct/03/nacion-espn-pitches-for-sports-loving-code-switching-latino-youth